Have you ever seen a survival show and thought to yourself, "Pssht, I could do that?" Well, then you should consider joining the cast for next season of "Outlast," Netflix's new competition show. You might be able to be the last person standing.
Out March 10, the unscripted show tests contestants' survival skills and their ability to outwit one another.
The series, produced by Jason Bateman, sees "16 lone wolf experts" dropped in the Alaskan wilderness. As the title says, they have to outlast each other — but it's not enough to do it alone.
In order to win a $1 million payout, they need to follow one rule: They must be part of a team to win. So for all the cutthroat competition, experienced outdoorsmen and women also must hone their cooperation skills.
The trailer, which TODAY is previewing exclusively, shows the cast in varying degrees of agony and angst.
"I'm tired, I'm cold, I'm wet, I'm hungry," one contestant says in the trailer.
"Nothing's going to be ideal," another woman says. "I won't survive without you guys."
"If they had the opportunity, they would slice our throats," another guy says.
As for who is saying these things?
The intrepid cast includes Amber Asay, Andrea Hilderbrand, Angie Esparza, Brian Kahrs, Corey Johnson, Dawn Nelson, Javier Colon, Jill Ashock, Joel Hungate, Jordan Williams, Justin Court, Lee Ettinger, Nick Radner, Paul Preece, Seth Lueker and Timothy Spears.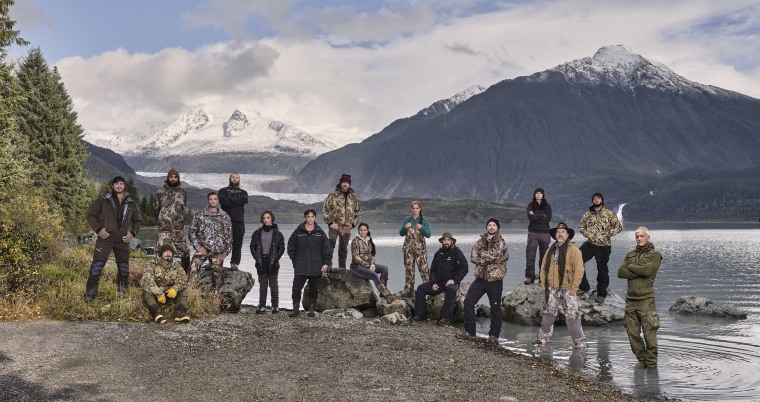 In the show, they'll work with each other to build camps, find food and learn to survive their minds and bodies will be challenged to the limits.
A scene in the trailer capture contestants, dirty and dressed in camouflage, running throughout the forest. Another scene shows two contestants firing a gun over a body of water.
"Outlast" is set to premiere in March 2023.