Jimmy Kimmel has a plan if anyone decides to rush the stage to slap him for telling a joke at this weekend's Academy Awards ceremony.
"Well, I size them up, and, if I'm bigger than they are, I beat the s--- out of them on television. And if it's the Rock, I run," Kimmel joked to The Hollywood Reporter.
The comedian and late-night star will host the Oscars for the third time on March 12, nearly a year after actor Will Smith approached the stage at the 2022 Oscars to slap presenter Chris Rock after Rock told a joke about Smith's wife, Jada Pinkett Smith.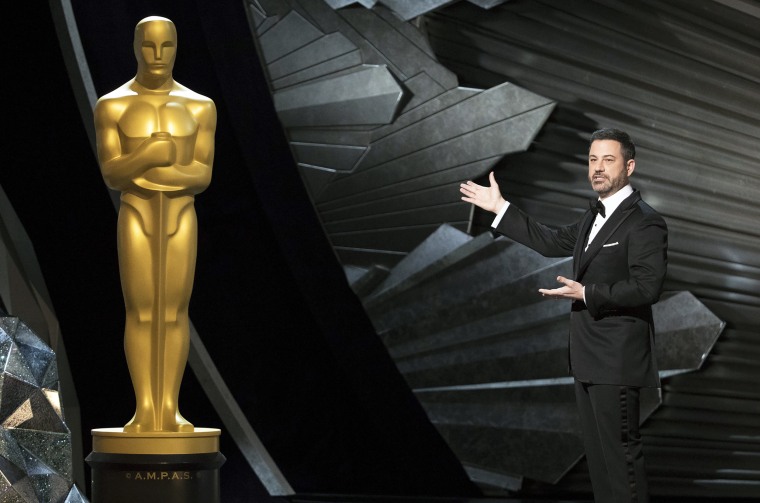 Kimmel had already been through his own Oscars scandal before he made the decision to return to this year's ceremony: When he hosted the ceremony in 2017, "La La Land" was mistakenly given the best picture award.
"Yeah, we got knocked down the list," Kimmel said of the now far-less-shocking moment. "It's disappointing in a lot of ways. If you're gonna be part of a f---up, it might as well be the biggest f---up ever. Being part of the second-biggest f---up doesn't carry as much cachet."
Still, Kimmel has every intention of addressing the slap during the March 12 broadcast — because, really, how can he not?
"Well, whatever I say about it, it's going to have to be great, right? Because so much has been said and there's so much focus on it. I obviously don't want to make the whole monologue about that, but it would be ridiculous not to mention it," he told THR.
After Smith approached the stage to strike Rock in 2022, he returned to his seat, where he yelled at Rock. Smith was later allowed to take to the stage to give an emotional speech when he won the best actor award for his performance in "King Richard."
The Academy of Motion Picture Arts and Sciences later apologized for being "unprepared" to handle the incident, and banned Smith from its organization's events for 10 years.
After remaining mostly silent about the slap for nearly a year, Rock finally addressed the incident in his new Netflix comedy special, "Chris Rock: Selective Outrage," last weekend.
"I got smacked at the f------ Oscars by this motherf---er, and people are like, 'Did it hurt?' It still hurts," Rock told the audience. "I took that hit like Pacquiao."
The comedian went on to accuse Smith of practicing "selective outrage," and suggested that Smith was actually angry with his wife, and not with him.
"Everybody who really knows, knows that I had nothing to do with that s---. I didn't have any 'entanglements,'" said Rock, referring to the term Pinkett Smith used to describe a relationship she said she'd had with another man during a separation from Smith.
"She hurt him way more than he hurt me," said Rock. "Everybody in the world called him a b----. I tried to call the motherf---er, I tried to call that man and give him my condolences, he didn't pick up for me.
"Everybody called him a b----. And who does he hit? Me."
Rock later said that despite celebrating Smith's successes for decades, he now finds himself viewing the historical drama "Emancipation" just so he can watch the actor, who plays an enslaved man, "get whooped."