Capt. Olivia Benson (Mariska Hargitay) has survived some pretty horrific things over the past 24 seasons of "Law & Order: SVU," like being kidnapped by a sadistic killer, but has managed to avoid getting shot — until now.
In the May 18 crossover finale event between "SVU" and "Law & Order: Organized Crime," viewers watched Benson get shot for the very first time. She had Detective Elliot Stabler (Chris Meloni) — her former SVU partner who had previously left for 10 years until he returned in 2021 — by her side through it all.
In the previous episodes of the shows, Benson's and Stabler's teams combined forces to track down the person behind a dark revenge-for-hire website called Shadowërk that rewards people who carry out horrific crimes, like assault and murder, on individuals targeted in postings on the site.
During "SVU's" "All Pain Is One Malady," Benson and Stabler share takeout in her office while working the case, and Stabler tells her he wishes he could "bottle this moment" they're sharing, before adding, "Things just keep changing, though." Then he asks Benson about an unopened Christmas gift behind her desk. Benson says the gift is from the McCanns. Benson first met the McCanns a few months ago when her son, Noah, discovered he has a half brother and began spending time at their house in Woodstock, New York, including when he needed a place to go after he and his mom were put in danger. Stabler reminds Benson he knows the McCanns since he met them when he once picked up Noah from their home.
"They're normal," Benson says, and adds, "They're like a TV family — they're wholesome."
"Maybe that's easier to get when you're not seeing what we see on a daily basis," Stabler responds, before asking if he can open the gift, which has sat untouched for five months now, to which Benson says no.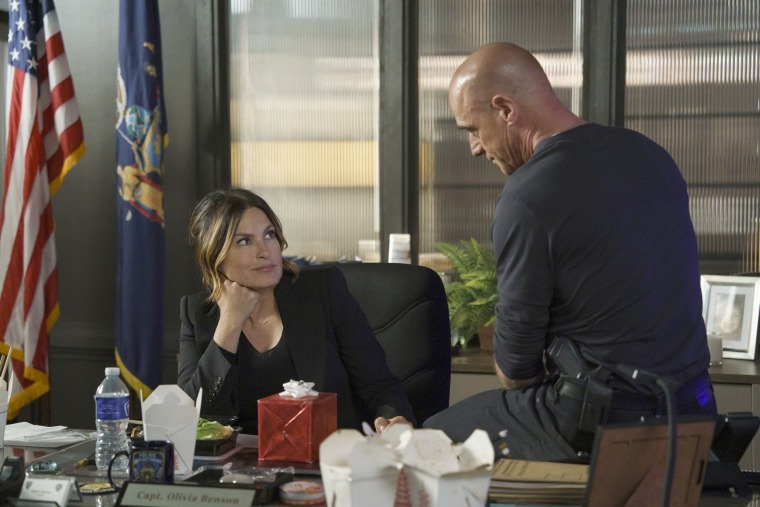 "Whatever's inside this box you are afraid is too normal," Stabler explains.
"I didn't know there was such a thing," Benson replies.
"There is, and it scares you more than anything you'll ever face in your life," Stabler says.
"Well, thank you, Dr. Stabler," Benson jokes. "I have normalitis."
"Liv, deflect all you want — it's the truth," Stabler says and adds if it were him, he would open it.
The moment is interrupted when their case resumes, and the chief sends Benson and Stabler out of town to Ohio to try to track down the perp in person.
Once in Ohio, Benson and Stabler see they're the latest targets on the Shadowërk website. The action picks up again on "OC's" "With Many Names," where Benson and Stabler go to a diner with two of their colleagues on the case.
The topic of normalcy resurfaces when Benson enjoys macaroni and cheese during her meal with the group.
"It's just good to see Capt. Benson embrace normalcy for a change," Stabler says.
The simplicity of their meal in the diner is shattered when a man with a gas mask carrying aerosol cans sprays substances inside the open windows of a vehicle of FBI agents outside, before continuing inside and spraying so no one in the restaurant can see. Once Benson sees the man, she dips her napkin in her cup of water and dabs her eyes. Stabler is slower to react and rubs his eyes, clearly losing his ability to see.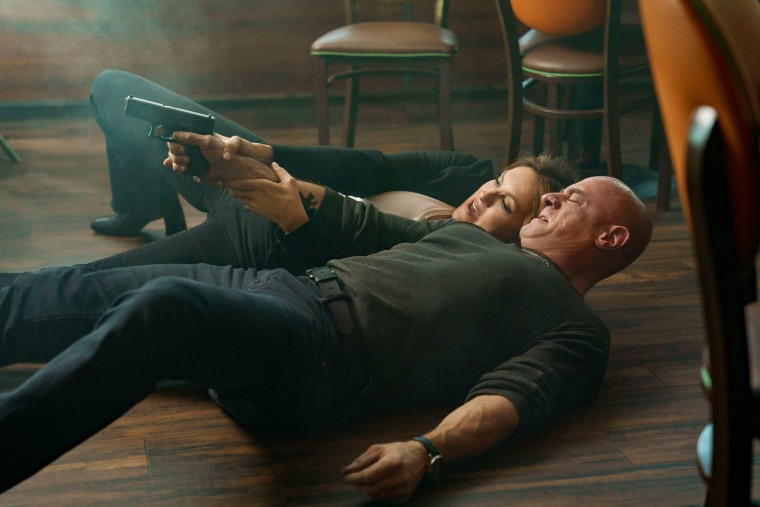 The man then pulls out a large gun and aims at Benson and Stabler. Benson stands and pulls out her gun, but the man fires and hits her. Stabler hits the ground next to her and tells Benson he can't see after pulling out his own gun.
"I can," Benson says as she wraps her hands around Stabler's on his gun, aims and shoots the man in the head.
Benson and Stabler remain side by side lying on the ground, and their heads crash together in relief when the shooter goes down.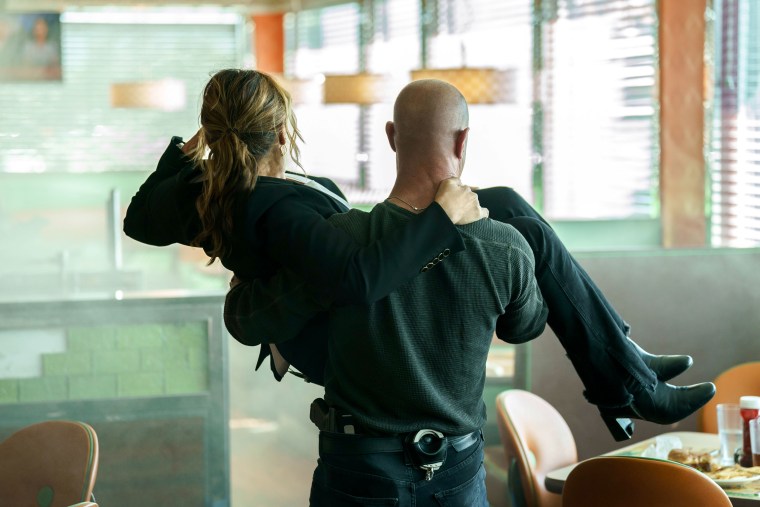 Benson rolls back and tells Stabler she's been hit in her left hip. Stabler stands and helps Benson up. Then he puts her arm around his shoulders, picks her up and carries her out of the restaurant. Since Stabler's vision is still hazy, Benson helps navigate them outside.
Benson receives treatment at an urgent care clinic, and gets the all-clear to leave after the doctor treats her wounds.
Stabler appears in the doorway after the doctor leaves the room and sees Benson lying on the table.
"How's your ass feeling?" Stabler cracks as he walks into the room. Benson asks him to help her leave, and she wraps her arms around him as he helps her stand up.
She asks him if he's OK as they continue to hold and stare at each other.
Stabler shakes his head and notes he "couldn't see anything" when the gunshot went off.
"I thought I'd lost you," he says.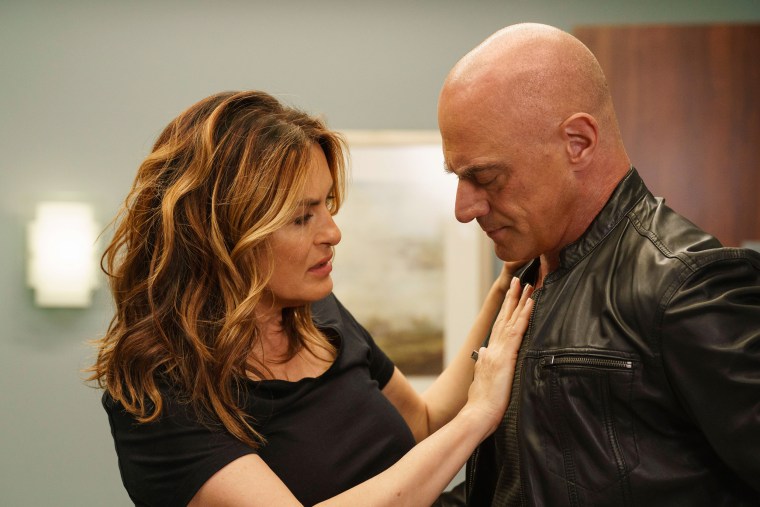 "I can't imagine what that brings up for you," Benson says, seemingly referencing how Stabler lost his wife a few years ago after a car bombing, and places her hand on his chest. They share a hug before Stabler leaves to return to help the squads with the case.
The two reunite in the final scene inside Benson's office.
Benson offers Stabler her condolences since one of his OC detectives, Jamie Whelan (Brent Antonello), died while working this case.
Stabler tells her the loss of Whelan has him thinking about "how precious life is" and places a paper bag in front of her.
When Benson asks what it is, Stabler says it's "a reminder" he wanted to give her before he left. He says he will be gone for a while as part of a new case.
"Well, thank you for telling me this time," Benson says, referring to when he left the SVU over 10 years ago without telling her.
Benson pulls a small jewelry box out of the bag, but Stabler stops her from opening it and says he wants to know what's in the Christmas gift from the McCanns first.
Benson says she will make Stabler a deal and hands him the box.
"You open it, you keep it," she says.
Stabler opens the gift and sees it's a holiday ornament with the words "live," "love" and "laugh."
"Having a little regret there, aren't you?" Benson jokes.
Stabler shrugs and says no before breaking the "e" off of "live," leaving behind "Liv" — Benson's nickname.
"You can always fix things," he says, holding up the ornament.
Benson opens her gift from Stabler and sees it's a compass necklace.
"Elliot, this is beautiful," she tells him, before asking if the necklace is "supposed to lead" her somewhere — or to something.
Stabler shrugs and says, "Lead you to happiness, Liv."
"I sure as hell am going to try," Benson says.
"Me too," Stabler responds as he opens the door to leave Benson's office.
"Partner," he adds, as the two smile at each other while Stabler makes his exit.
We'll have to wait awhile to see how things shake out between the partners, as "OC" will not be returning until 2024 for a 13-episode season. "SVU" plans to be back this fall for a historic 25th season with 22 episodes.