Is this finally the moment between Benson and Stabler that "Law & Order: SVU" fans have been waiting decades to see?
The latest teaser in the long-simmering "will they/won't they" romantic tension between Mariska Hargitay's Capt. Olivia Benson and Christopher Meloni's Detective Elliot Stabler has fans freaking out by appearing to show Benson cradling Stabler's face like she's about to kiss him.
The electrifying moment is in the promo for the Jan. 26 episode of Season 24 of "SVU," "Blood Out," that was shown at the end of the Jan. 12 episode.
Of course, the scene immediately cuts away to leave fans wondering if this is really the moment their love for one another becomes romantic after 20-plus years or whether it's another head fake to get fans in a frenzy.
Is she going in for a kiss or just whispering something in his ear?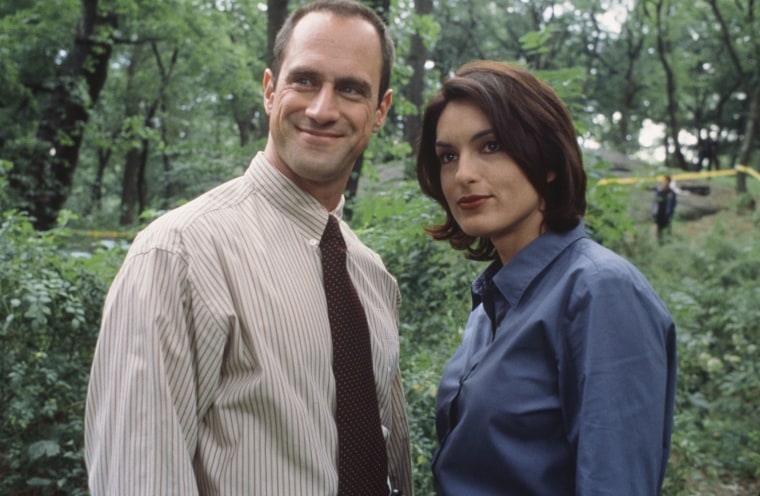 "Even if they don't kiss this is physically the closest and the most intimate they've ever been. THIS IS HUGE!!!" one fan commented on YouTube.
"When I tell you I did a flip in my living room, then began hyperventilating and started crying...I'm not kidding," another fan commented.
"I WAS A PERSON BEFORE OLIVIA BENSON PULLED ELLIOT STABLER IN FOR A KISS AND I AM A DIFFERENT PERSON AFTER I SAW THIS ARE YOU KIDDING ME," one fan tweeted.
"GOOD MORNING, we now live in a world where Olivia Benson and Elliot Stabler touch foreheads and noses while she cradles his face and they HOLD EACH OTHER," another fan tweeted.
There have been more hints about their feelings for one another that have dropped on both the current seasons of "SVU," which stars Hargitay, and "Law & Order: Organized Crime," which stars Meloni.
Benson opened up about her feelings for Stabler in a drunken chat in a hotel room with Detective Amanda Rollins (Kelli Giddish) on the midseason finale of "SVU," saying Stabler was her "home."
She agrees with Rollins that Stabler's wife, who died from injuries sustained in a car bombing during Stabler's return "SVU" episode, "Return of the Prodigal Son," was the "boundary" stopping her from having a relationship with Stabler.
"With her gone it's like there's nothing but possibility, which is paralyzing," Benson says.
Meanwhile, on "Organized Crime," Stabler had a drunken confession of his own earlier this season to Italian cop and former acquaintance Tia Leonetti (Ayelet Zurer) during a case.
After Leonetti comes over for a boozy late night at his apartment, Stabler wakes up on his couch to be informed by her that he spilled the beans after too much grappa.
"You said there's a woman you're in love with," Leonetti says.
"I did?" Stabler responds.
Stabler also goes to see a therapist in a recent episode, where he speaks about loss, including his rocky relationship with Benson.
"I recently lost a friend, a very close friend, partner," he says. "Through neglect on my part. Fear, selfishness."
"Sounds like you're a man in need of a new beginning," the therapist replies.
Will that new beginning come in the arms of Benson? Hopefully we're about to find out!