Nika King may be more well known for her improv comedy skills than for her characters on the screen. But her breakout role in the drama series "Euphoria" as Rue's mother, Leslie Bennett, has established King as the show's emotional center, with a simple motivation: saving her child.
Or as season two reminded us, children.
In season one, Leslie appeared to handle it all: coping with the trauma of having a child overdose and reeling from the stresses of keeping her daughter from relapse — all while surviving as a single mom grieving the death of her husband. But according to King, season two brought an evolution for Leslie.
This turning point in Leslie's character came suddenly and without warning for many viewers, just like hard conversations often do when they spring up in real life. In the penultimate episode, in between the comedic scenes of Lexi's too true-to-life play, there seemed to be a moment of calm: Rue, laying next to her mom. Leslie, holding her daughter close. But in true "Euphoria" fashion, even the gentlest moments often turn into the most painful.
"You broke me, completely broke me," Leslie starts. "I give up. Hey, you want to kill yourself doing drugs, go ahead."
Even through Rue's disbelief, Leslie stays firm regarding Rue's independence: if she wants to do drugs, she can do drugs. Leslie states that she needs to focus on her youngest daughter Gia, informing Rue that her sister is not in fact "fine," as Rue believes. And finally, in a line that solidifies Leslie's new boundaries, she says:
"If I have to choose between losing one daughter, or two? I'm a fight to save her."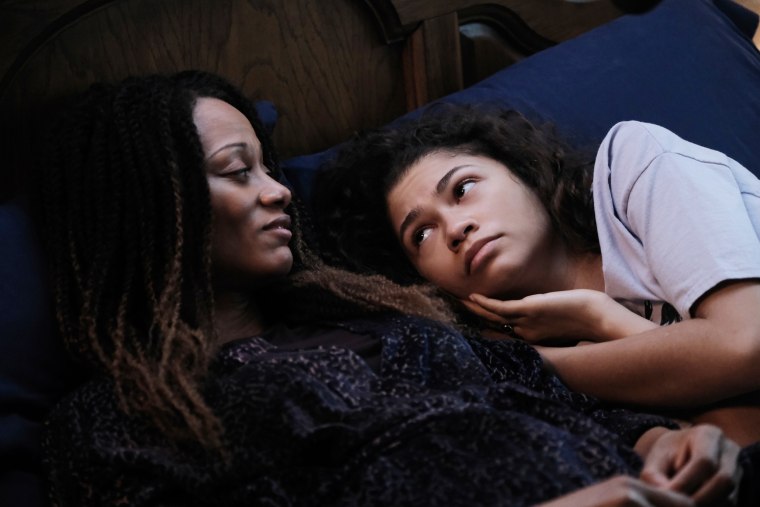 Following the conclusion of season two of "Euphoria," TODAY talked with King about her sense of responsibility for bringing to the screen the impact of drug addiction on families and her hopes for the Bennett family's future.
Highlighting a 'mother's love'
While "Euphoria" is known for its harsh spotlight on the gritty reality of young adulthood, season two expanded on the role of mothers and their influences on their teens' lives. Paula Marshall's Marsha Jacobs dealt with the aftershocks of her husband's dramatic exit from their family and reckoned with the violence displayed by her son Nate. Suze Howard, played by Alanna Ubach, balanced her younger daughter's attempts to break out of her shell with her eldest's self-destructive, toxic romance.
For King, creating the Bennett family dynamic started all the way back with her first chemistry read with Zendaya. From the beginning it felt like a friendship, she said. They were chatty, even goofy in between scenes.
"At the end of the day, this is her mother, and there's nothing like a mother's love."
NIKA KING on her character leslie bennett in "euphoria"
"As the season went along we became more like family," King said. "I met her mother a couple times, and so I saw it as an opportunity to really just connect with her on a level that is just beyond an actor. And Zendaya's so beautiful to work with, it really was easy."
King sees season two as a reckoning with the repercussions of Rue's actions on her family. In season one, a haunting scene followed Gia in her discovery of Rue's body after she overdosed. That trauma is why King hopes the show will tell Gia's story.
"I would like the focus to turn to Gia and see how she was affected, because yes, Rue is clean and sober for now, but that doesn't take away the hurt and damage that's been done to Gia," King said.
Episode five in particular followed the Bennett family through their gut-wrenching attempts to hold an intervention for Rue. In just the opening scenes, their altercation escalates to verbal abuse and violence. Zendaya herself warned in an Instagram post before the episode aired that it would follow Rue to rock bottom.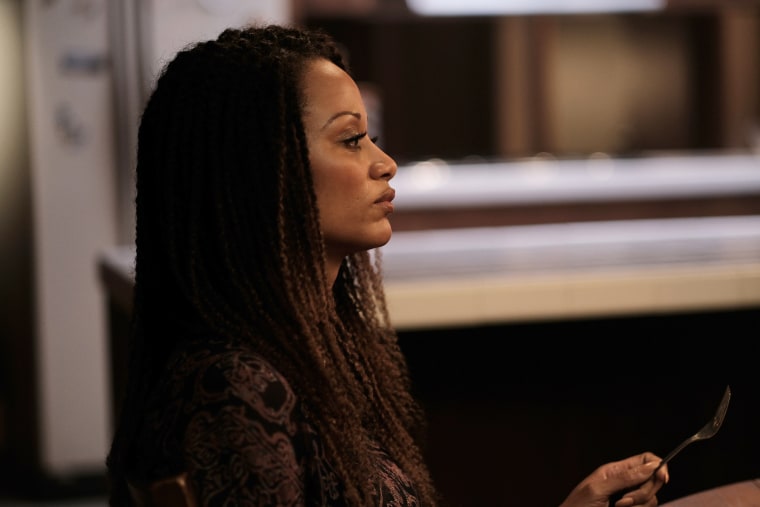 As Rue experiences the pain of withdrawal, her every word is laced with hurt. The camera often flashes to Gia's face — tears streaming down her cheeks — as Rue shoves her mother, details her ideation of suicide and eventually sprints out of the car into traffic instead of going to rehab. The final shot shows Leslie, sitting hunched over at her kitchen table in the early hours of the morning, exhausted.
Then, the door opens, implying Rue has finally returned home. By the season finale, Rue says in a voice-over that she is clean and stays that way for the rest of the school year.
While King was mostly missing from that episode, she believes Leslie is doing well at the end of season two. She sees Leslie's overall character arc as growth towards prioritizing self care and "trying to save something in the tank for Gia."
"I do not take this lightly, I do not go into this thinking, 'Oh it's just a role, it's just acting.' No, I understand the gravity of addiction."
King
"Because Rue is sober and healthy and has a clear mind, I think Leslie ultimately is in a good space," King said. "Maybe she's somewhere with Gia, having an outing, giving her some quality time. And I think for season three, I hope to see us be a family and kind of go through some normalcy.
"But once again, you never know with Sam," she added, referring to "Euphoria" director Sam Levinson.
Even after their tumultuous experiences, King still believes there is hope for reconciliation between mother and daughter. 
"I think Rue and Leslie are going to be OK," King said. "At the end of the day, this is her mother, and there's nothing like a mother's love, and the fact that Rue seems to want to be sober, Leslie is going to support her 100%."
Preparing for the role
While Ubach's Suze often brings moments of levity and comic relief, King's time on the screen explores the depth and limits of a "mother's love." While King herself doesn't have children, she said she finds this wellspring from witnessing her sisters' and friends' relationships with their children.
"They're not going through what Leslie's going through but I can still, you know, talk with them about dealing with teenage problems," King said. 
Before filming intense scenes with Zendaya and Reid, they each prepare separately. Everyone has their own process inside their trailers — for King, it entails a meditation in the morning.
Upon arrival, the actors bring a "heaviness" to the set, a palpable sobriety felt by even the crew, King said. 
"What we're about to do is important, so we want to make sure that we stay in the moment," she said.  
With every take, the trio aims to "elevate" the scene, King said, tapping into new emotional depths that result in the signature rawness that has made "Euphoria" so special to so many. 
"That's done because we trust each other," King said. "We know that no matter what happens in this scene, we're still going to be family, we're still going to hug and tell each other 'We love you.' So it's about serving the characters."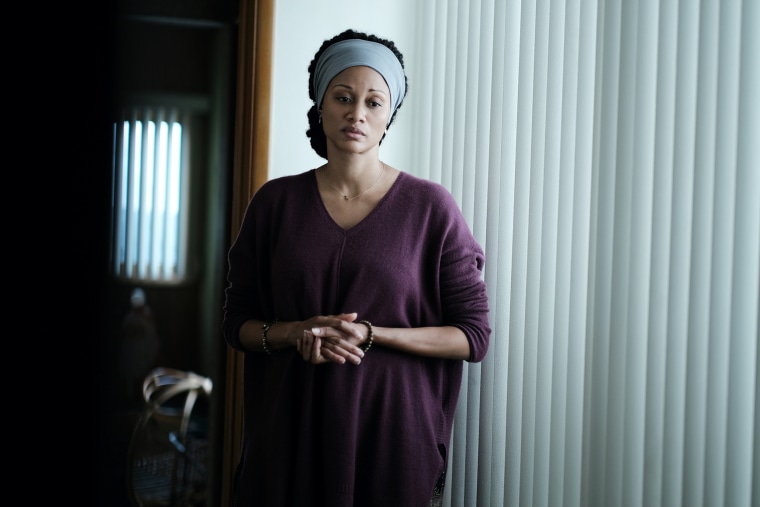 Most of King's past experience lies in comedy. But the biggest preparation King had for bringing the role of Leslie to life is just that: life.
"I do not take this lightly, I do not go into this thinking, 'Oh it's just a role, it's just acting' —  no, I understand the gravity of addiction," King said.
Through her work with an acting coach, King brought out "dark moments" in her life to the forefront, turning them into visceral experiences from which she can fuel her portrayal of Leslie.
"On set I was able to go back into those moments where I was on the receiving end of someone hurting me, or dealing with an adult who had an addiction," King said.
King told Forbes before the show first premiered that her uncle died three months before season one began filming due to causes related to drug addiction.
"I know I was born to play this role because of all of the things that I went through," King told TODAY.
She added, "I'm always committed to telling Leslie's story and making sure parents and families who are dealing with addiction understand that what you're seeing is a true, honest portrayal, at least from my end."
Coping with criticism
As the most-tweeted about show of the decade so far, "Euphoria" is known for sparking debate, not just over plot points and off-screen drama, but over its position as a form of media with young audiences. D.A.R.E. has previously condemned the show's depiction of substance abuse, saying HBO chose to "misguidedly glorify and erroneously depict high school student drug use ..."
King believes the idea of "Euphoria" as a glorification of drug abuse is a likely "knee-jerk reaction" from "someone who hadn't watched the show or didn't give the show a chance."
Zendaya told Entertainment Weekly that if anything, the show aims to "to hopefully help people feel a little bit less alone in their experience and their pain."
"It's unfair, but at the same time, you know, that's what happens when you put TV out into the universe," King said. "People are gonna have different reactions to it."
On a personal note, King has also received criticism from fans in regards to her character through direct messages on Instagram. Some have said, "the wrong parent died." Others have accused her of pushing Rue to commit suicide.
But at the same time, she's received notes commending her character's realism and recognizing that sometimes you have to say hard things to someone you love.
"I know viewers took away the idea of a mother really trying her hardest to save her family," King said. "... I just hope people realize, no matter what, anything you go through can be overcome, if you really, really want to get on the other side of it."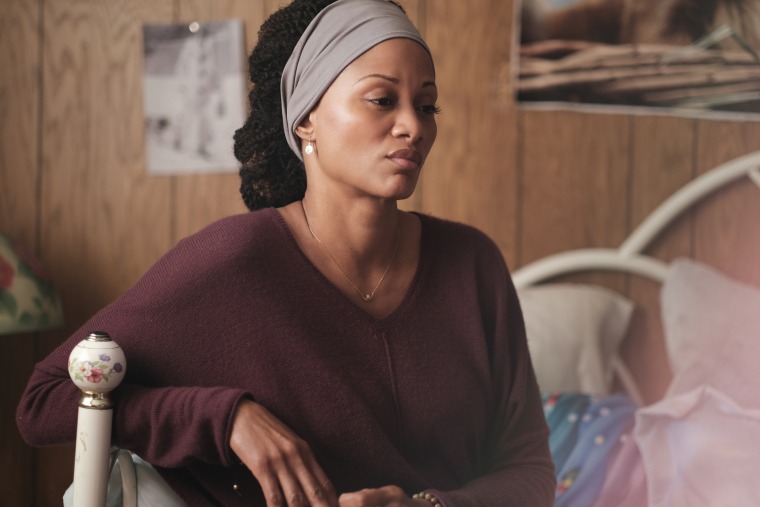 In general, King doesn't take the hate personally. If a message truly touches her heart she will respond, but she keeps her distance.
The main moments where King can at times struggle to separate herself from her character is during the throes of an intense fight scene. In those moments, it's hard not to react like "Nika" based on her own experiences.
"Within that moment, it's not what Leslie would do," King said. "So I have to find reasons and justifications to do things that are against my own nature."
And after the premiere of episode seven, when some viewers took to Twitter calling Leslie a "bad mother" for her harsh, honest words to Rue, King came to her character's defense, tweeting, "Leslie is a mom but she's also a person with another child to worry about. On top of her own mental health."
But for the most part, when King leaves set, she's back to herself.
Once she strips off Leslie's oversized cardigan, she puts on her preferred outfit of skinny jeans and sneakers. And like Leslie, King makes self-care a priority. Back at her loft, she has a prayer closet. It's simply her regular closet, but with a mat, giving her a dedicated space to stretch and decompress. She'll do some aromatherapy, relaxing to the scent of lavender and releasing the day, letting go of the "heaviness" required for her role as a mom trying to save one child while not turning her back on another.
With Leslie left behind, she finds Nika, again.