Fans are still recovering from the most recent installment in the new HBO series "The Last of Us."
Based on the video game of the same name, the show follows a group of survivors who fight to stay alive after a fungal-driven pandemic wipes out most of humanity, leaving zombies in its wake.
Titled "Long Long Time," the third episode in the action-adventure show is generating buzz for its emotional story portraying Frank (Murray Bartlett) and Bill (Nick Offerman), two post-apocalyptic survivalists who meet and fall in love.
During a recent interview with Jimmy Kimmel on "Jimmy Kimmel Live!", Offerman says he nearly turned down the already-iconic role because he "didn't have time on the calendar to say 'yes.'"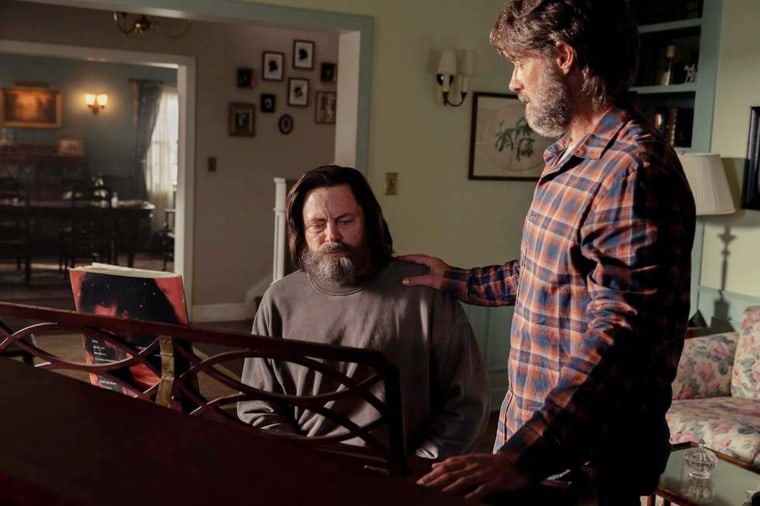 That all changed after wife Megan Mullally, star of the hit TV series "Will and Grace," read the script and said, "You're going to Calgary, buddy. Have fun."
Referring to Mullally as his "incredible goddess of a wife," Offerman said she insisted he take the part, telling him, "You have to do this."
Since the premiere of the episode on Sunday, Jan. 29, viewers have flooded social media with heartfelt messages, with some calling it one of the best episodes of television for 2023. "What a perfect and unexpected love story," one viewer summarized on Twitter.
Even Amazon founder, Jeff Bezos, weighed in, tweeting, "Episode 3 of Last of Us is unbelievably good story telling. I am in awe of @Nick_Offerman performance. Incredible."
The 1970 Linda Ronstadt song, "Long Long Time," which serves as Bill and Frank's tender anthem in the show, has experienced an upsurge in popularity.
In the hours following the premiere of the episode, streams of the former Billboard hit shot up more than 4900 percent on Spotify, reminiscent of Kate Bush's "Running Up That Hill," which returned to charts after its use in Season Four of "Stranger Things."
Of the episode's success, Offerman told Kimmel that "it's a tsunami of wonderful, generous plaudits."
"The episode began airing on Sunday, we had 6.4 million viewers," Offerman said and jokes that HBO sent him on Jimmy Kimmel Live! to "cull the stragglers," or "the 17 of you" who haven't seen it yet.
Offerman got serious when talking about working with Bartlett, however, whom he said he watched in Season One of HBO's "The White Lotus" prior to filming their shared HBO show.
"It felt like I'd just seen the 'Raiders of the Lost Ark,' and (HBO) said, 'All right, we want you to do this show and your co-star is going to be the guy with the hat and the whip," Offerman said, calling Bartlett's work on the resort-set series "the most charismatic performance of the year."
Of his wife, the former "Parks and Recreation" star told Kimmel that Mullally is his "curator," joking that "she chose every garment that I'm wearing tonight."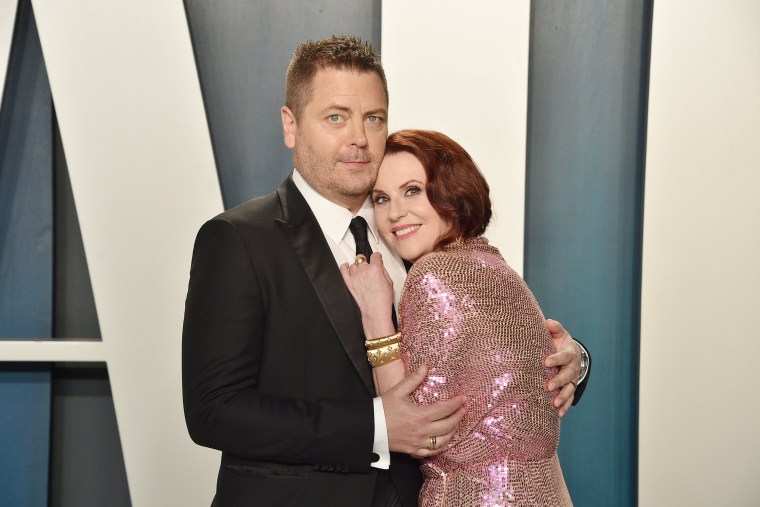 Married for more than 20 years, the couple met in 2000 while doing a play in Los Angeles. Mullally writes in their 2018 book "The Greatest Love Story Ever Told: An Oral History," that Offerman didn't "register on the fling-o-meter" at first.
However, after rehearsal, she writes that he introduced himself to her saying, "That was really fun. I think this is going to be a blast."
Mullally sweetly writes that he turned out to be the only one for her saying, "End of book. We're done."
In the last two decades, the pair have shared the screen multiple times in films and television including "Hotel Transylvania 2" and "The Kings of Summer."
Offerman also appeared in two episodes of "Will and Grace."