For anyone who has ever looked around their home and wondered where exactly all their stuff came from, Peacock's latest show "The Gentle Art of Swedish Death Cleaning" is for you.
The show, narrated and executive produced by actor and comedian Amy Poehler, stars three Swedish "death cleaners" — a home organizer, a designer and a psychologist — whose goal is to help the people declutter their homes and their lives.
It takes the idea of "death cleaning" from the Swedish concept of döstädning, made famous in 2018 by Stockholm-based author Margareta Magnusson in her book, also titled "The Gentle Art of Swedish Death Cleaning."
"The idea is that we should not leave a mountain of crap behind for our loved ones to clean up when we die," she wrote in her 2022 follow up, "The Swedish Art of Aging Exuberantly: Life Wisdom From Someone Who Will (Probably) Die Before You."
"Why would your family and friends want to take time out of their busy lives to clean up your mess when you clearly could have taken care of it yourself?" Magnusson asked.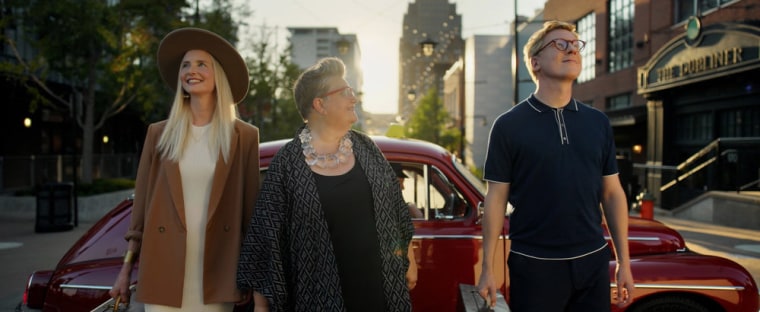 It's a question the show tries to answer as the three death cleaners head to Kansas City, Missouri, to help eight people go through their things — both physically and emotionally.
Each episode features quippy narration from Poehler, who informs the viewer at the beginning of the show that they're "cleaning out your crap so others don't have to when you're dead. It's a very Swedish thing. You'll get it."
The idea of death cleaning is "deeply rooted in our culture," Katarina Blom, the psychologist, tells TODAY.com. She says she used to do it with her mother, who would suggest things like cleaning out one drawer at a time.
The concept, organizer Ella Engström tells TODAY.com, is an "ongoing process."
"It's like doing it in different layers," she says. "So they got the tools to keep on moving and doing it."
Designer Johan Svenson adds that the show isn't meant to be exactly a template or manual to the viewer.
"If you watch all the episodes — see all the people and different destinies — (then) that ... might ignite your own inner voice, your own compass, instead of having some authority or expert telling you what to do because we don't really do that in the show," he explains. "We implement something that we think that we can share with anyone."
The three, however, do offer practical advice throughout the series. Engström says it's important to look where you are in life and "what serves you, here and now. During your lifetime, your needs change."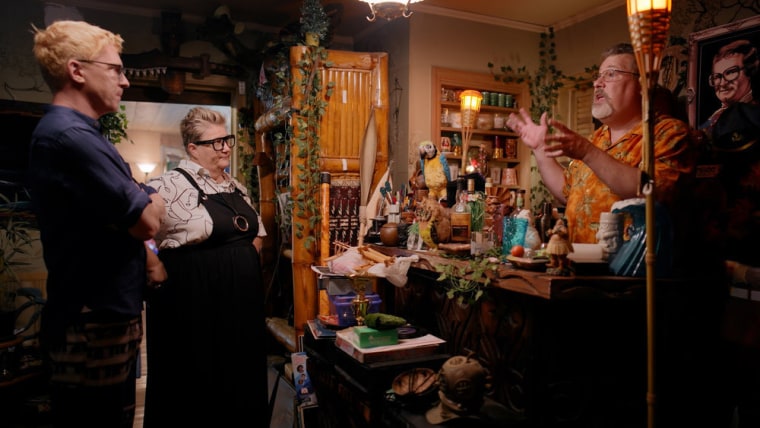 "It's important to look at your home through the lens of, 'Whoa, my whole life has led me up to this point,'" Blom says, adding that no one should feel ashamed if it's "a bit over-cluttered." "But it's time to update your home to your present needs."
She says it's important to have spaces in the home that exist on purpose, "not just, 'Oh, this just happened to be accumulating over time.'"
The series features a new home and central character each episode, filmed over about one week, in the Kansas City area.
While other cleaning shows like "The Home Edit" and "Tidying Up with Marie Kondo" have leaned into creating a stunning if occasionally bland aesthetic, "Swedish Death Cleaning" leans into comedy. For example, the first episode features former lounge singer and self-professed "horny, old broad" Suzie Sanderson, who is reluctant to dispose of the eclectic penis art she has collected over the years. (And that episode ends with the death cleaners and Sanderson at a drag show featuring her old costumes!)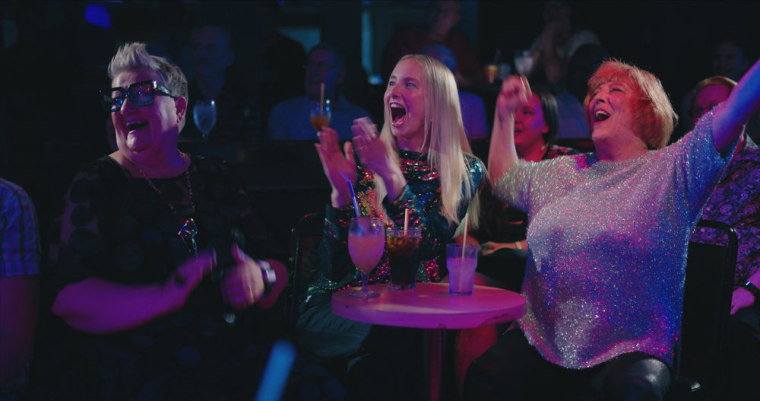 For its slightly morbid title, the show is surprisingly uplifting.
The process of cleaning up the clutter is a "gentle" one, Blom says. "It takes time."
For people who want to clean their space, she suggests asking their loved ones what they actually want from their home and "asking for help."
"We met a lot of strong individuals who were like, 'I'm independent. I will just muscle through this very, very tough situation,'" Blom says. "And where we came in, we were like, 'You don't have to! Ask for help.'"
Svenson adds that each episode isn't meant to be a "reveal" at the end.
"I hope that people who watch the show...(understand) that this is a philosophy and process," he says. "When we enter the people's home, there's a journey that we ignite together with them. It's not that we just come in and start to point fingers."
He adds that it's more about listening to what's going on in their life at that moment — from battling cancer to loneliness. They hope getting people to tackle those big emotions will get them to a better place.
"Hopefully, (we help) people get closer to their authentic self and the home becomes more of a reflection of who they are and who they want to be," he says.