Warning: This post contains spoilers from the series finale of "Never Have I Ever."
Although the series finale of "Never Have I Ever" officially revealed Devi's final choice between academic rival Ben Gross and jock-turned-swim coach Paxton Hall-Yoshida, the show actually confirmed her decision months ago. 
Throughout Season Four, released to Netflix on June 8, fans watched Devi (Maitreyi Ramakrishnan) and Paxton's relationship slowly turned platonic. They share a kiss in Episode Seven, but then shut down any possibility of rekindling their romance. Paxton (Darren Barnet) says the sparks are gone, picking up on a stronger vibe between Devi and Ben (Jaren Lewison).
Plus, Devi spends most of the season secretly pining for Ben, wishing they would get back together despite their fiery arguments and sometimes poor communication. 
In the series finale, Ben, who already relocated to New York for the summer after getting accepted into Columbia University, rushes home to Sherman Oaks, California, and surprises Devi at her grandmother's wedding. 
He professes his feelings and they exchange "I love yous." With that, Team Ben has officially outlasted Team Paxton, but Ramakrishnan tells TODAY.com that she "wasn't surprised" by the sweet moment because Devi made her choice a long time ago. 
"I think it was Season Three," she points to as the instant the love triangle actually ended. "It was done Season Three. It was endgame."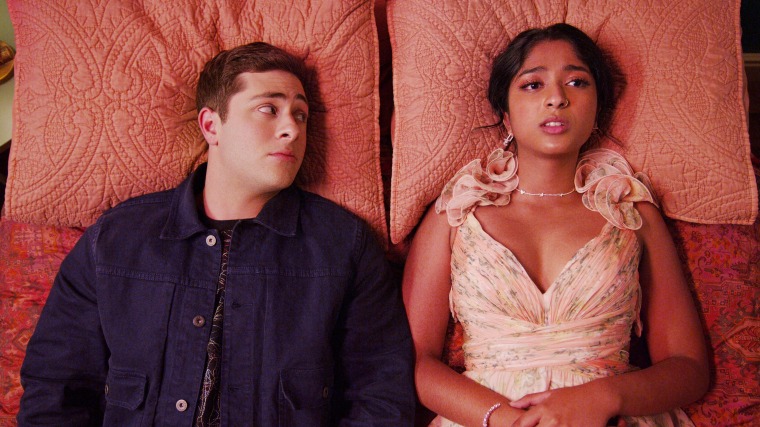 She recalls Paxton's graduation speech at the end of the third season when he gave Devi a special shoutout. During the scene, narrator John McEnroe asks, "Where did Devi's butterflies go?" 
Ramakrishnan says at that moment, she felt "the scales were tipping" in Ben's favor and that Devi's feelings for Paxton had faded.
"You gotta have that spark that comes in to throw things off," she explains, referring to Devi and Paxton's brief kiss in Season Four. "But I'm happy with the way things ended."
The 21-year-old actor continues, "Obviously, Team Devi all the way. But, like, Team Ben, too."
She thinks Devi and Ben complement one another. 
"They support each other very well. I think that it also just makes sense for their personalities. They're both hot messes, in the right ways, for one another. I think the writers made a good call. They nailed it," she praises. 
Barnet agrees the graduation scene was a hint that Devi's interest in Paxton had dwindled. 
"I knew they were going to bring it back because that's what the people want. They want the triangle," he says. Barnet adds that Paxton served as a representation of always having feelings for a first crush.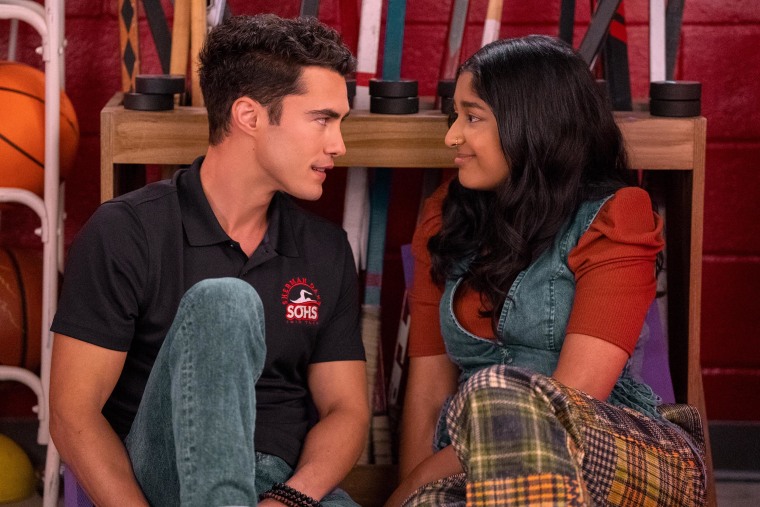 "That's something that I remember, my first crush from high school. And it's something that carries with you," he continues. "But I really think I started seeing it warm up then, so I wasn't super surprised by the outcome of Season Four." 
Although Season Three set up the endgame, Lewison says there were moments from the beginning of the series that proved Devi and Ben understood each other better than Devi and Paxton. 
Lewison says, "I always say, like I'm biased, but I think even if you look back at Season One and you go through the series, like really comb through, in difficult moments, through their trials, tribulations, that adversity, they always find each other."
One scene that highlights their connection, Lewison says, comes in Season One, when Devi literally gives Ben the shirt off her back when he needs help. 
"He's always there and sometimes he is a little funky in the way that he goes about it. But he does love her. And I think that they do love each other," he says. 
Poorna Jagannathan, who plays Devi's mom Nalini, also commented on the love triangle. Jagannathan says she was "moved" by the moment Ben tells Devi he loves her, even though it was expected. 
"Obviously we saw it coming from like a mile. It's very Mindy Kaling's style," she says. "It was very moving."
She says the declaration of love doubled as a great conclusion to Devi's journey after beginning the show grappling with the death of her father. 
"I think we're all in such (a) search of love, especially out of grief," Jagannathan says. "Devi's really looking for love. To finally get that acknowledgement, to hear Ben say it, was really, really beautiful."