Mayim Bialik honored her late co-star Leslie Jordan by wearing Jordan's shoes in the Jan. 5 episode of "Call Me Kat."
The 47-year-old actor opened up about the touching gesture on Instagram in the caption of a photo showing her posing in Jordan's rainbow-striped sneakers. A second photo showed a close-up of the sneakers on Bialik's feet.
"I didn't know until Leslie died that he and I wore the same size shoes," Bialik wrote. "For our tribute episode, I am wearing one of his signature rainbow sneakers he's been wearing on our show. They're under the table and you may not even see them on camera, but I knew they were under there. Looking for any way to keep him close I guess. 🌈"
Biliak's followers hopped into the comments to express how much they were moved by her sweet tribute to the late Emmy winner.
"That's sweet and so very sad too. Glad you are honoring him. 🌈 Such a gentle funny beautiful man. So Sorry for your loss. Hugs," wrote one.
"This is beautiful!!" wrote another.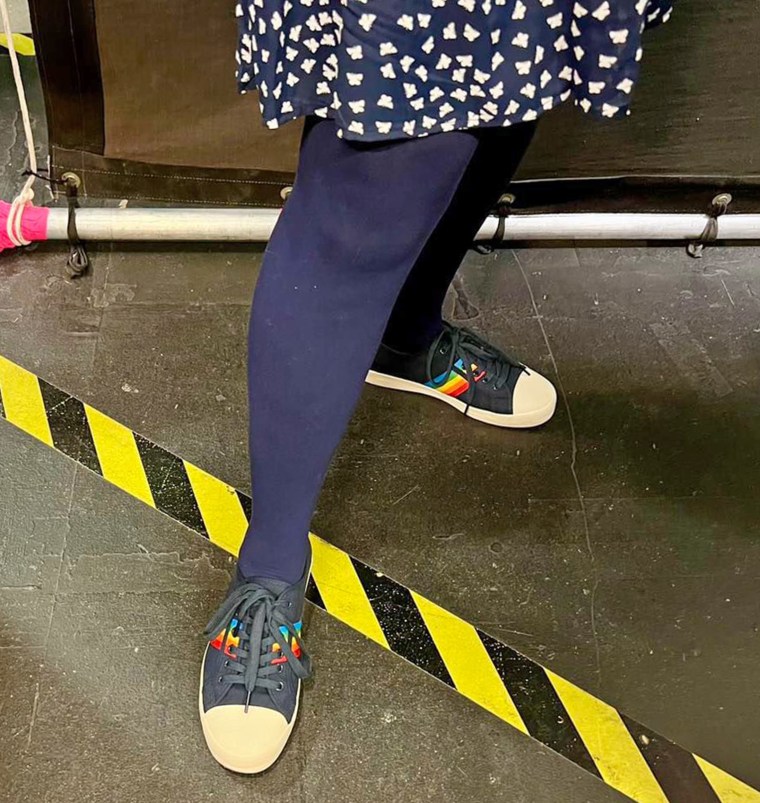 Jordan died in a car accident at age 67 on Oct. 24 after suffering a medical emergency while driving.
"Call Me Kat" stars Bialik as Kat, the owner of a cat cafe in Louisville, Kentucky. Jordan played the cafe's lively baker Phil. The Jan. 5 episode of the Fox sitcom finds Kat and the rest of the show's characters adjusting after Phil moves away, reports Entertainment Weekly.
Bialik told EW that she and her co-stars, who also include Cheyenne Jackson, Kyla Pratt, Christopher Rivas and Swoosie Kurtz, "felt very strongly" that Jordan's character shouldn't die on the series, in part because they were all still "actively grieving" him.
"So, we found a way for him to live forever," she explained. "His character will live forever, and he can have whatever adventures we all imagine. And because we break the fourth wall anyway, we were able to use that convention to say simply, we gave this character a happy ending, but there's a lot more going on here."
In early December, shortly after the airing of Jordan's final pre-taped appearance on "Call Me Kat," Bialik paid tribute to the late actor in a TikTok video.
"We didn't know it at the time that that was Leslie's last episode," said Bialik. "I couldn't bring myself to watch it because I'm not ready. That week was so incredibly special because of our dialogue coach directing for the first time and just how much fun we had."
The former "Big Bang Theory" star added that the episode, which was filmed to resemble a murder mystery, featured a milestone in Jordan's long career.
"It was Leslie Jordan's first onscreen kiss in last night's episode," she said. "He and John Griffin, who played his boyfriend on the show, were very specific about their appreciation for our writers' sensitivity and writing a gay couple that was navigating the newness of living, I guess, a truly authentic, out life that their characters wanted to live."
She added, "It was a very important episode for Leslie in particular."