The late Matthew Perry nixed a "Friends" storyline that would have put his beloved character in bed with another woman, the actor cast as his would-be fling revealed on Tuesday.
Perry feared that fans would "never forgive" Chandler Bing for cheating on Monica Geller — his on-screen love interest played by Courteney Cox — according to actor Lisa Cash, who had been tabbed to play the other woman.
For two days, Cash rehearsed the role of a Las Vegas hotel worker bringing room service to Chandler, who was upset that Monica had lunch with former boyfriend Richard, played by Tom Selleck. And in the course of Chandler pouring his heart out, he was set to cheat on Monica with Cash's character.
But on the day Cash's part was going to be shot, an assistant director told the actor that the scene — and her role — had been cut, she recalled.
"Matthew Perry said the audience would never forgive him," Cash told NBC News on Tuesday. "Matthew Perry went to the writers and said the audience would never forgive him (Chandler), which made a lot of sense."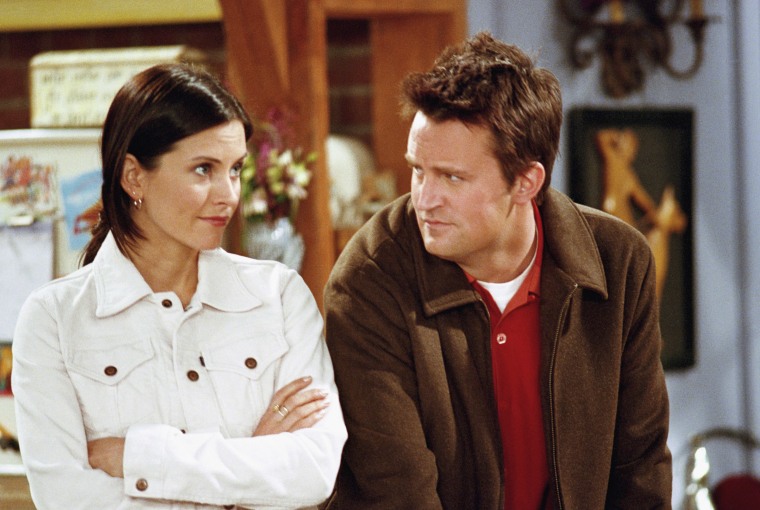 Cash said Perry was correct and that a cheating arc could have altered the show.
"I think he was very right," Cash, 54, said from her home in suburban Atlanta. "The Ross and Rachel (David Schwimmer and Jennifer Aniston) thing, 'They were on a break,' but this wouldn't have been on a break. This would have been a decision he would have made while they were together."
She continued: "I think it would have really changed how the audience would have (viewed) Chandler and that whole thing. I don't know if they could have survived it."
"Friends" still used Cash in that Season Five episode — "The One in Vegas: Part I," which aired on May 20, 1999 — casting her as a flight attendant.
Over the years, Cash has wondered how that potential role as Chandler's fling could have impacted her career.
"I wonder a lot because I could have been, 'Oh, that character that you love to hate.' But I could have also been the girl who broke up Chandler and Monica and no one would forgive," said Cash.
"So I could have gotten a lot of bad publicity from it. But I wouldn't have minded finding out. But I do think it was the best decision for the show and in the end, that was the most important."
Representatives for Warner Bros. TV and show creators David Crane and Marta Kauffman could not be immediately reached for comment on Tuesday.
Even though Perry ended up pulling rank to get that storyline killed, Cash said the actor never showed his displeasure during rehearsal.
"I didn't know at all, that he had a problem with it," she said. "But he was completely professional (during rehearsals). He made me feel very comfortable in the scene and we just had fun and we played and did what actors are supposed to do."
This story first appeared on NBCNews.com.