Mariska Hargitay sounded just like a proud mom when she sent a heartfelt birthday message to her TV son, Ryan Buggle.
The "Law & Order: Special Victims Unit" star, 59, shared two sweet pics of herself and Buggle, who plays Noah, the son of her character Olivia Benson, Jan. 31 on Instagram. In her caption, she opened up about how much the young actor means to her.
"Happy birthday to this newly minted teenager! @ryanbuggle, you've always been wise — and magnificent and inspired and inspiring — beyond your years. I cannot wait to see what your thirteenth year has in store," Hargitay began.
She continued, "It's been such a joy working with you and getting to know your beautiful heart. I love your spirit and I love you. Happy happy birthday!"
The Emmy winner added several hashtags, including #BestKidEver and #MyNoah.
Buggle responded in the comments of Hargitay's post, writing, "Love you so much! Thank you," with a heart emoji at the end.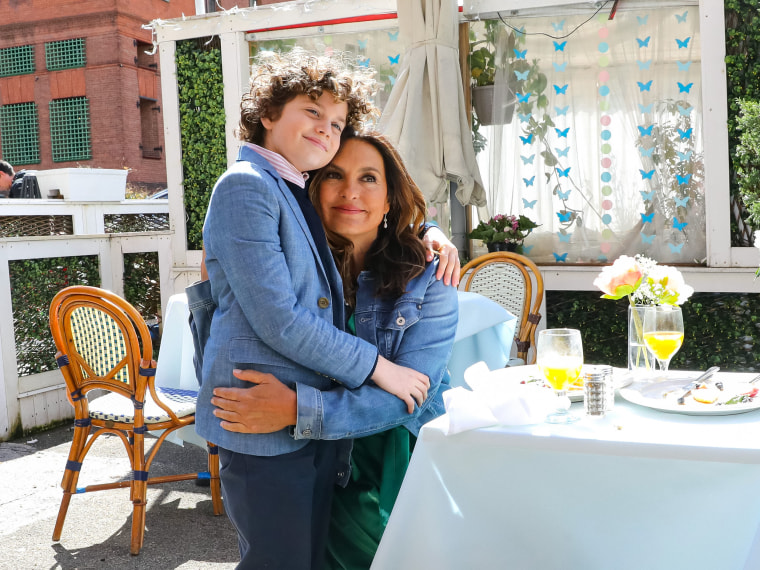 Fans of "SVU" commented to say how much they've enjoyed watching Hargitay and Buggle play mother and son on TV.
"These (pics) are so cute 🥺 forever my favorite tv mom/son duo ❤️ happy Birthday Ryan!" wrote one.
"You two are the cutest ever!" gushed another.
In January 2022, Hargitay and Buggle showed off their special chemistry in an emotional "SVU" episode that found Noah coming out as bisexual to his mom.
Noah tells Olivia about his sexuality after Olivia discovers he's been cruelly bullied by a boy named Hudson who's supposed to be his friend.
"Hudson's just an idiot, no one likes him anyway," Noah says. "He bullies everyone: It was just my turn to be his target."
When Olivia asks her son why it was his turn, Noah says he doesn't understand why, and explains that Hudson has bullied other kids, including a child who uses they/them pronouns whom Hudson calls "a fairy."
"Then I said that I was bi," Noah continues. As the camera lingers on Olivia's face, Noah adds, "And that there's no shame in being true to yourself."
Olivia can't help but be proud of her son for standing up for both himself and another child. "That's right, Noah," she tells him, adding that he is "incredibly brave."
"Well, it's my truth. I just hadn't told anybody before," Noah tells his mom.
"Well, thank you for telling me," Olivia responds.
Buggle opened up about shooting the powerful episode with Hargitay in a candid Instagram post.
"Filming this episode was such an important, incredible and exciting experience for me. @therealmariskahargitay personally called me to talk about the script before it was finished and I felt so involved and respected," he wrote.
"It is incredible to see Noah beginning to discover who he is," he added. "My feelings are the same, there is no shame in being true to yourself and no one deserves to be left out or bullied because of it."
Related: