Ahead of the third season of "Outer Banks," which hits Netflix later this month, two of the show's stars Madelyn Cline and Chase Stokes are getting candid about working together after their breakup.
Cline and Stokes, who play star-crossed lovers John B and Sarah Cameron in the hit series, confirmed their real life relationship in June 2020 before dating for a year and half.
Cline and Stokes spoke to Entertainment Weekly about their on-set working relationship after their split in November 2021, which occurred just months before production started for Season Three of the show.
"Mads and I have been working together now for 30 episodes, and we made a promise to each other before we even started dating that the work was always going to come first," Stokes, who recently sparked dating rumors with country singer Kelsea Ballerini, said.
The actor added, "And that no matter what happens in our personal lives, and the ways that life sometimes takes you in different directions, that we're always going to honor the work. That stayed 100 percent truthful this season."
Cline said that the former couple have "always shown up for each other when it comes to work and this show."
"We had a working relationship before we had a personal relationship, and our job from day one has always been to leave the show better than we found it," the The "Glass Onion" star said. "I'm really, really happy and I'm very proud of the work this season, and I'm incredibly grateful for my co-stars and their professionalism and just how talented each and every one of them are."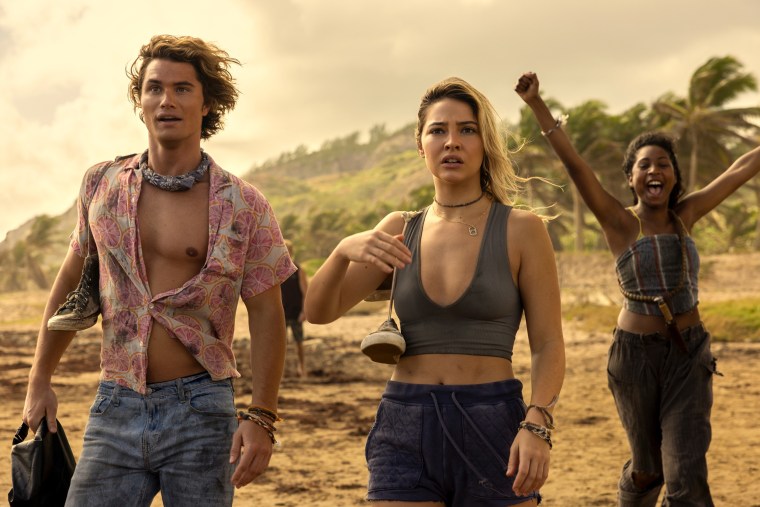 While Season Two of the streaming hit contained plenty of action, adventure and drama, it also saw the continuation of the budding romance between John B and Sarah, mimicking their off-screen chemistry.
But the showrunners said the change in their personal relationship didn't impact their characters' storyline.
"Honestly, and this isn't just me: they're pros," co-creator Jonas Pate told EW. "They handled themselves unbelievably on set, and you would never know that they had an off-camera relationship."
"They were never once a problem," co-creator Shannon Burke added. "Whatever their off-screen stuff was, they didn't bring it to set, as far as I could tell."
Pate told the outlet that Season 3 will "expand on their love affair with shocking turns."
Netflix dropped a new trailer for Season Three this week, giving a sneak peek into some of the dramatic scenes set to play out for fans when the season comes out on Feb. 23. From the looks of it, John B and Sarah appear to still going strong.
But it's not all smooth sailing ahead for the fan-favorite couple, Stokes told EW.
"Part of me wants to continue down the road of peace for John B and Sarah, but if there's anything we know about this show, it's that it's going to take you for a wild ride," he said. "They're definitely, yet again, going to be tested."
In a July 2020 interview with TMRW, Stokes said that he and Cline first started to grow close while filming the show's first season, which premiered in April 2020. They began dating after filming wrapped.
"It was cool to work with somebody you're really good friends with," he said at the time. "And to take the time to fall for each other after the show had wrapped was really cool. I was talking to my mom about it … it was cute and fun and it's super cool to be a part of something with your partner and watch the success of it all together."