Bags are no longer oversized, roomy or big. No, they're ludicrously capacious.
After the Season 4 premiere of "Succession," a scathing critique of a handbag delivered by Matthew Macfadyen's character, Tom, has become one of the internet's new favorite memes.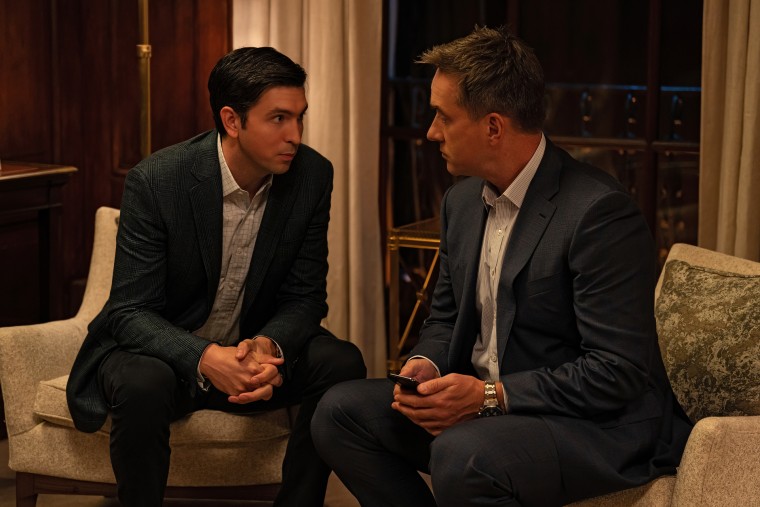 After cousin Greg (Nicholas Braun) brings a date to patriarch Logan Roy's birthday party, she immediately sticks out in the affluent gathering. While the rest of the group refers to her as "Bridget randomf---," Logan's personal assistant Kerry (Zoe Winters) approaches Greg to remind him that this isn't a "f------ Shake Shack."
Greg is confused about why his date was so quickly singled out as a cut below the company. Tom later pulls him aside to explain his "faux pas," delivering a now viral monologue about her fashion choices.
"Why? Because she's brought a ludicrously capacious bag," Tom starts. "What's even in there, huh? Flat shoes for the subway? Her lunch pail? I mean, Greg, it's monstrous. It's gargantuan. You could take it camping. You could slide it across the floor after a bank job."
People were quick to turn Tom's loquacious rant into a meme, attaching his advanced vocabulary to stills from movies like "The Devil Wears Prada."
"Are you wearing the ludi— The ludicrously capacious bag? Yeah I am," one user wrote, captioning a meme of Anne Hathaway's character, Andy Sachs, holding a Burberry bag.
Another referenced Mary Poppins' seemingly endless carpet bag, which carried a large potted plant, a coat rack and a tall lamp in the 1965 classic.
"the OG ludicrously capacious bag," one user commented.
Another user tweeted, "Only a matter of time before teachers begin using the 'ludicrously capacious' bag scene from #SuccessionHBO to teach SAT words."
Merriam-Webster, meanwhile, was here for all of it.
The online dictionary posted Tom's monologue on its official account, adding a picture of its own "ludicrously capacious" tote bag, before adding links to the words' definitions in the replies.
Ludicrous, according to Merriam-Webster, means "amusing or laughable through obvious absurdity, incongruity, exaggeration, or eccentricity." Capacious is defined as "containing or capable of containing a great deal."
According to The Cut, Bridget's bag was a $2,890 vintage two-handle bag in the classic Burberry pattern.
Since the episode, fans were quick to adopt Tom's remark to refer to other notable big purses — such as a brown handbag worn by Gwyneth Paltrow during her ski collision trial.
On Twitter, another user posted several photos of Kyle Richards from "Real Housewives of Beverly Hills" holding oversized totes.
"kyle richards wearing ludicrously capacious bags," the Twitter user wrote.
And while some users noted that being on the receiving end of Tom's comment would leave them in tears, others proudly shared their own ludicrously capacious bags.
The "Succession" line has also created a market for users in need of their own oversized bag. On Etsy, users can find tote bags labeled as "ludicrously capacious." Some have Tom's full monologue emblazoned on them.
Still, others have taken Tom's insult as a new fashion guideline.
"I will never take a ludicrously capacious bag anywhere ever again. My bags will always be appropriately sized for the event, if not slightly smaller," one user wrote.