"Love Is Blind" will bring the Season Four cast back together for its first-ever live reunion.
During an appearance on TODAY April 4, Nick Lachey, who hosts the hit Netflix reality series alongside wife Vanessa Lachey, announced that the Season Four reunion will stream live April 16 at 5PM PT/ 8PM ET.  
All five couples from the show's dramatic fourth season — Brett Brown and Tiffany Pennywell, Zack Goytowski and Bliss Poureetezadi, Chelsea Griffin and Kwame Appiah, Marshall Glaze and Jackie Bonds and Paul Peden and Micah Lussier — will reunite for the first time to answer Nick and Vanessa Lachey's tough questions about their relationships.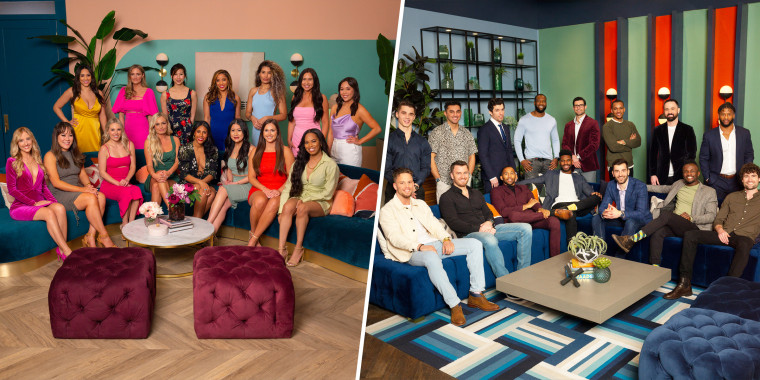 The Season Four reunion will be Netflix's first live reunion special as the platform experiments more with live broadcasts. The highly-anticipated event follows the streaming giant's first-ever live stand-up special, "Chris Rock: Selective Outrage," on March 4. 
The couples will break down their final decisions at the altar and how their lives have changed since the cameras stopped rolling.
Viewers will hopefully see Kwame and Micah address their flirty behavior during the pool party, Marshall and Jackie break down their explosive argument about their sex life and Zack explain why he proposed to Bliss after initially breaking up with her in the pods. 
Whether Irina Solomonova, who first accepted Zack's proposal in the pods before the two ended their brief engagement in Mexico, attends the reunion is to be determined.
While Irina was only on the show for a short time, she will likely have plenty to discuss as fans have called her and Micah out on social media for their behavior in the pods. 
The cameras captured the two friends laughing while another cast member, Amber Wilder, cried after her break up with Paul. Irina and Micah also mocked other contestants, and Irina criticized Bliss during her conversations with Zack.
Two weeks before the reunion, on April 2, Irina uploaded a two-minute clip to TikTok holding herself accountable for her controversial actions. 
"I want to start off by saying sorry that this video is a little delayed," she said. "I really wanted to take some time to process everything that has been going on this past week and really get my thoughts together before I responded."
She said she privately apologized to the people affected by her comments. 
"And second of all, I wanted to say I'm so so sorry for the people that watched the show that felt frustrated, angry hurt by the way that I was mistreating people," she said. "It was very immature and naive of me in a lot of those situations." 
She specifically named Zack, Bliss, Amber, Jackie and Micah. 
"None of those people deserve to be treated the way that I treated them and I'm genuinely so so sorry," she said. 
A few days earlier, Micah also apologized for her "emotionally immature" behavior on the show in a statement uploaded to her Instagram story. 
"I have apologized privately to the people that were hurt on the show by my hands," she wrote March 29. "I would like to apologize publicly. An emotional immaturity was shown and I will grow from it." 
She then spoke directly to "Love Is Blind" fans. "I'm sorry I've triggered so many of you with my behavior. Seeing that person on the screen would make me feel the same anger."
At the end of the post, she added, "I promise to do better in the future," and included a red heart emoji. 
Speaking to TODAY.com in a separate, post-broadcast interview, Lachey said he and wife Vanessa have the "same questions" that audiences have, especially about Irina.
"Sometimes they don't realize that everyone is gonna see what you've done. You're on TV! But it's easy to forget that sometimes. I want to hear how she stands by it," he said.