Many fans of "Love Is Blind" hit play on the "After the Altar" episodes that dropped on Netflix last week specifically to hear what Raven Ross had to say.
Thanks to her guarded but relatable sense of humor and candor, Ross became a Season Three fan favorite. Viewers watched her relationship with Sikiru "SK" Alagbada deepen and fell in love with their love story. They broke up at the altar, but revealed they started dating again and their relationship was going well during the reunion special.
In the three "After the Altar" episodes released on Feb. 10, Alagbada surprised Ross by getting down on one knee and proposing again. The joy fans saw on-screen was short-lived, however: Moments later, a clip aired of Ross explaining that Alagbada had cheated on her after their engagement.
Now, Ross is opening up to TODAY.com about the "painful" breakup with Alagbada and why she remains "delusionally optimistic" despite it all.
She opens up about her split with SK Alagbada
The update at the end of the special confirming Ross and Alagbada had called it quits wasn't shocking to fans who followed the former couple's relationship off screen. 
After the reunion aired in November 2022, rumors circulated on Tiktok about Alagbada allegedly cheating with multiple women while he was still in a relationship with Ross.
Alagbada denied the claims in an interview with Life & Style in November, saying he was "a single guy" at the time those connections formed.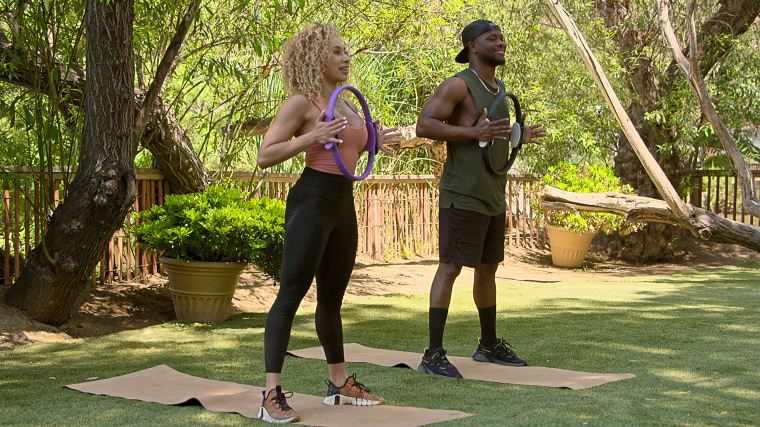 "When Raven and I left the altar, I went about living my life as a single guy and she went about living her life as a single woman," he said at the time. "The path leading to Raven and I together was not straightforward. It took a while for Raven and I to even consider or attempt to start dating again. People don't realize that."
On Nov. 20, days after the reunion aired, Ross and Alagbada posted identical statements on their Instagram stories revealing they had split. 
In "After the Altar," Ross characterizes Alagbada's actions as infidelity. He did not provide comment in the special.
Ross tells TODAY.com that she was not aware her former fiancé had had other relationships in this time period before the stories went viral on TikTok.
"When I learned about it was when y'all learned about it," she says. Up until that point, she says their relationship was going "really well." 
"Even though it's so hard to go back and watch, I feel so blessed that you guys really got to see the bottom of our relationship, which was the pods and our wedding. That was nowhere near where we ended up," she shares with TODAY.com. 
Ross continues, "We grew together in a great way, I thought. We were able to be vulnerable with each other especially by the time we got reengaged and even after that."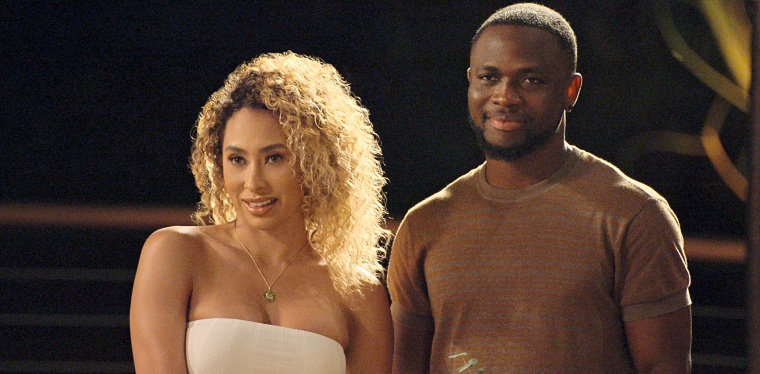 She's 'proud' of herself for 'breaking walls down'
Looking back on her time as a contestant on "Love Is Blind," Ross says she will focus on the growth rather than the pain. She came on the show a closed-off person and left changed.
"I found my first relationship where I was able to break walls down and communicate and grow and get to know someone. I'm still really proud of that," she says.
She calls herself "delusionally optimistic" in her interview with TODAY.com, saying that she tries to always look for a silver lining. 
"My situation really sucked and was very painful for me to go through," she shares. "But I hope that other people can learn from it, especially other women who've gone through something similar."
The pilates instructor says, "I can take this into my next relationship and be even better, so thank you." 
Diversity on 'Love Is Blind'? Ross has thoughts
Ross and Alagbada were the only Black couple featured on the show in Season Three. They spoke candidly about differences that are sometimes glossed over on reality shows, like dating someone from a different cultural background. 
Some viewers, including Season One alum Lauren Speed, called out the season for not showcasing enough Black women after the pod stage. 
At the time, Ross addressed Speed's tweet about "Love Is Blind" "cutting all the black women," in an interview with Buzzfeed. 
"I consider myself a Black woman," she told the outlet in November. "So it's hurtful to me. Also, I ended up with an African man. So I'm just confused why they're talking about race as if we don't have diversity on the show."
Ross also told Buzzfeed she felt that some men "weren't looking" to date people of color.
Speaking to TODAY.com about her experience in the pods, Ross says, "I'm not even going to try to be politically correct. I'm rooting for everybody Black and especially being the only Black woman who was showcased on the show this season, I'm definitely trying to represent."
Ross also acknowledges that the dating pool of men selected for "Love Is Blind" are from a specific city each season (Dallas for hers), potentially limiting a wide range of opinions and preferences. Still, her interactions with strangers in the pods took a toll on her: "As a whole, we don't get asked a lot how we felt about those specific comments" from other cast members.
Ross hopes that selecting cast members who explicitly say they are open to dating people of any race, ethnicity or body type becomes a bigger topic of conversation for future seasons. 
"For 'Love Is Blind,' the whole point is to go outside of your comfort zone and to experience something new. I'd never dated an African person before. I almost married one! That would never work if I wasn't open-minded. So many people want the reality show dating experience, but they aren't actually that open-minded," she explains. 
She says more mindful casting would make for more surprising pairings, and therefore better TV, as people seriously challenged their assumptions about what would work in the real world.
In her future? Pilates ... and maybe more TV
Now that her time on "Love Is Blind" is over, Ross is focusing her energy on one of her biggest passions: pilates.  
Her business, Pilates Body by Raven Ross, has taken off thanks to all the followers she has gained across multiple social media platforms since Season Three was released. She currently has almost 850,000 followers on Instagram and her funny TikTok videos have over 11 million likes. 
She says seeing her business grow over the last few months after years of posting videos on YouTube has been amazing. She refers to her transformative workouts for women as her "purpose." 
"Seeing that on a bigger scale even sometimes transcends 'Love Is Blind,'" she says. She recalls strangers who come up to her and say they recognize her as being the "pilates girl" instead of a contestant on the show. 
"It's been so cool to bond with other women over their (health and fitness)," she says. 
She shares that she is partnering with a fitness app called Playbook and that she also has plans to work on her own app and film more workouts. Ross says her goal is to make pilates accessible for anyone who wants to try it. 
Fans might be able to see her on their television screens in the future. Ross reveals she isn't opposed to doing reality television again. 
"I don't know if I would do a dating show," she says. "It would have to be like a really different kind of concept. I'm super serious about marriage and starting a family. I want to do all of that. I don't know if that's going to be possible on another dating show, but I'm all ears. Send me an email."