Chelsea Griffin and Kwame Appiah, one of "Love Is Blind" Season Four's success stories, are celebrating one year of marriage.
Griffin, who recently turned 32, posted a sweet video of her and Appiah, 33, toasting on a plane, overlaid with the text, "The Appiah's est. 5.6.2022." She also penned a sweet message to her husband, addressing Appiah as "my hero, my rock, my teacher, my lover, my adventure and rap partner for life."
"What a year it's been baby," she wrote. "Let the good times roll. Anniversary weekend about to be amazing! Let's continue to be present, supporting each others growth keeping at the forefront what matters most."
"I love you beyond words," she said, in closing.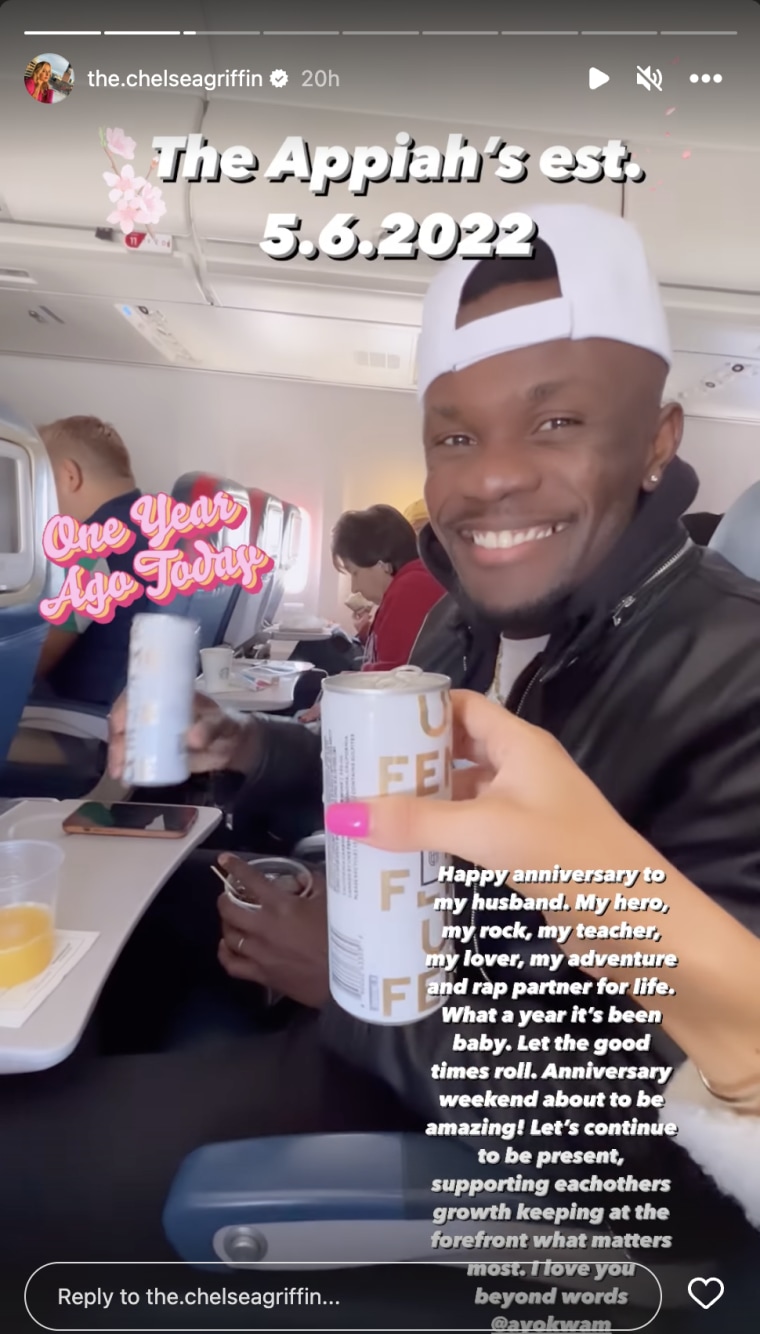 The happy couple also celebrated the milestone with another couple who got engaged and married on Season Four of the Netflix show — Tiffany Pennywell and Brett Brown. 
The four dating show stars attended a Los Angeles Lakers game and posed for a photo together, and Griffin noted in her post that she isn't the only one celebrating a big anniversary.
"We all got married on the same weekend … guess whose anniversary is tomorrow!?" she wrote over the post with Brown and Pennywell.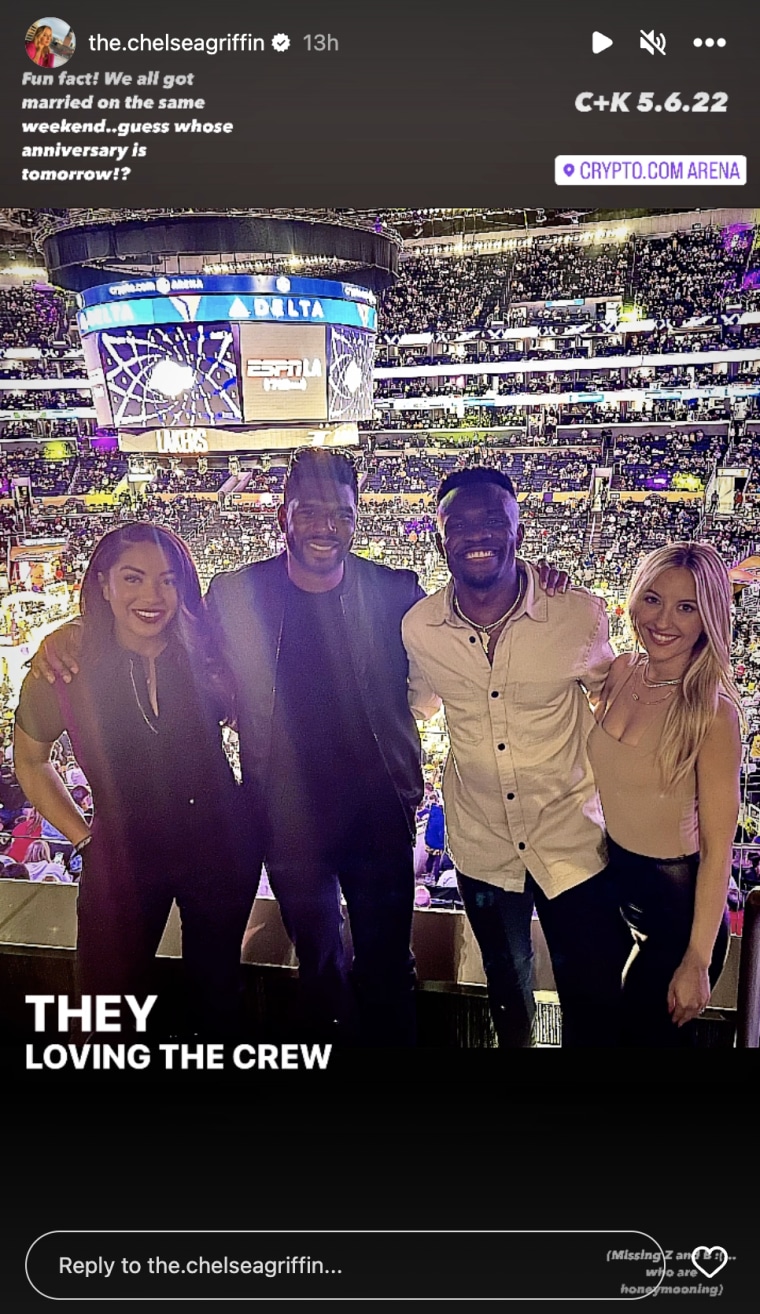 Anticipating a potential follow-up question from fans, she also shared why Zack Goytowski and Bliss Poureetezadi, the third couple to get married on "Love Is Blind" Season Four, weren't present for the mini-reunion.
"Missing Z + B :( … who are honeymooning," she wrote at the bottom of her post.
On her own Instagram, Poureetezadi revealed on May 7 that she and her husband were "en route to Rome." She shared the news in a caption over a photo of her and her husband holding hands, while she flashed her ring.
"Catching flights and feelings," she wrote over the picture.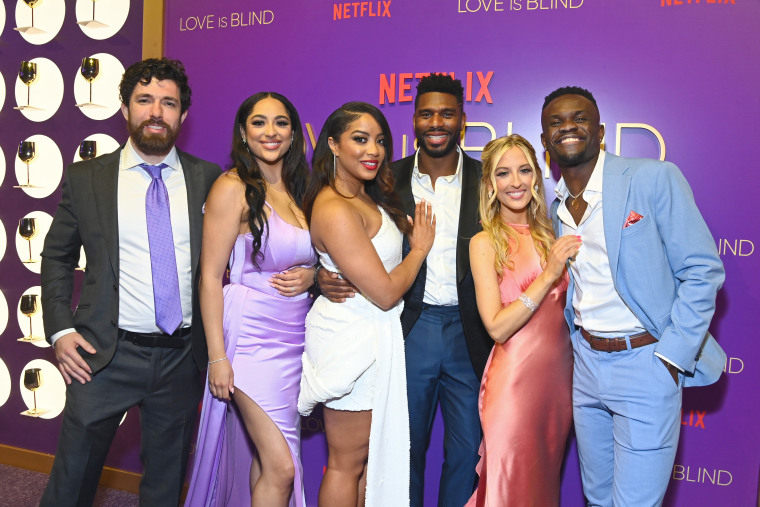 One of the highlights from Griffin and Appiah's first year of marriage included meeting their families, they revealed to TODAY.com.
Griffin said she met her husband's mom for the first time while celebrating Thanksgiving in 2022. Despite some initial hesitation over the speed at which their relationship progressed, Appiah said they are "on great terms" with his mom.
"It was a loud, fun, loving family, and I loved it," Griffin told TODAY.com. "Yes, there's still room to grow with his mom but it was a perfect first visit. She really saw my character and who I was."
Griffin and Appiah's relationship faced several hurdles during Season Four. During the (much delayed) live reunion, Appiah apologized to his wife for his "immature" actions, namely his flirting with contestant Micah Lussier in Mexico after the couple got engaged.
Many fans also commented that the couple seemed to have "no chemistry" based on what they saw air on the show.
Appiah addressed these claims the day the Season Four finale premiered, sharing photos and videos from throughout their engagement that viewers didn't see on camera.
"Just a quick response to anyone saying 'they have no chemistry,' or 'they don't even love each other'.. based on what you saw, I don't blame you for thinking that. But actually, we had the MOST fun together falling in love!" he wrote in the caption.