Warning: This post contains spoilers for "Love Is Blind" Season Four.
"Love is Blind" fan favorites Cameron Hamilton and Brett Brown hung out together in Nashville, and fans can't get enough.
In a joint post on Instagram, the two shared a picture standing next to one another at a popular bar in the bustling Tennessee city.
"From the pods to Nashville," Hamilton, who appeared in the show's first season, captioned the picture, adding guitar and cowboy emojis.
One Instagram user's comment, which read, "The best men on LIB period!" has amassed nearly 3,000 likes.
"Real recognizes real!" another wrote.
"I see this friendship being so mature, reliable, honest and real," one person commented with clapping emojis. "Diggin it. Same energies here."
"Are You the One" star Uche Nwosu even piped in, commenting, "THE MVP's OF LIB (not pictured: Lauren & Tiffany)."
Hamilton married Lauren Speed-Hamilton after Season One of the show, and Brown got engaged to Tiffany Pennywell during Season Four of the show.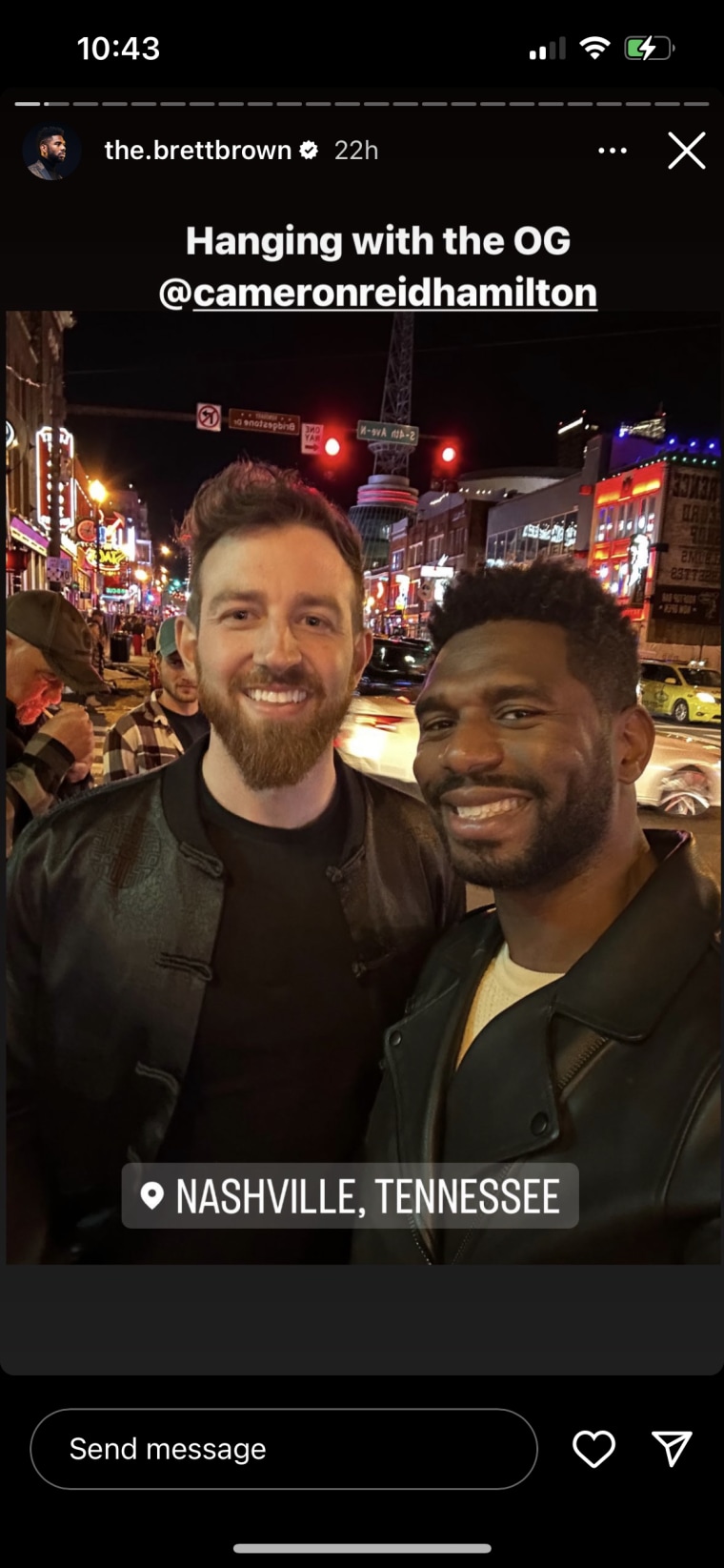 Brown took to his own Instagram story to share a glimpse into their evening, posting a selfie image of him and Hamilton smiling while standing on Broadway.
"Hanging with the OG," he wrote over the photo, tagging Hamilton.
Season One's Speed-Hamilton and Hamilton are still one of the show's greatest success stories. On social media, they often gush about their loving relationship.
On March 30, Speed-Hamilton shared several sweet photos with her husband from over the years.
"I appreciate how every time a new #LIB drops y'all show me and @cameronreidhamilton so much love 3 years later," she captioned the post. "y'all really hold us down."
Brown, a current contestant on "Love Is Blind," connected instantly with Pennywell. At one point, though, she fell asleep in the pods as Brown is telling her he's falling in love with her. As he called her name, Pennywell remained asleep, so he left.
The following day, Pennywell apologized, and Brown confessed that he loves her. She accepted his proposal with an emotional, "yes."
Meeting for the first time, Brown gets emotional seeing his fiancé. After embracing, they headed to Mexico to celebrate their engagement.
The season finale of "Love Is Blind" airs April 14. Two days later, Nick and Vanessa Lachey will stream the show's first-ever live reunion special April 16 at 5 p.m. PT / 8 p.m. ET.