It's not often a loyal fan base, especially one as observant as the "Law & Order" contingent, is caught completely off guard by a twist, but that's exactly what happened on "Organized Crime."
At the beginning of the May 4 episode, "Pareto Principle," a name appeared on screen during the guest star credits that viewers haven't seen in years: Isabel Gillies.
Gillies portrayed the longtime wife of Detective Elliot Stabler (Chris Meloni), Kathy Stabler, until Kathy died during Stabler's return to the "Law & Order" universe in 2021 after a 10-year absence. She died after succumbing to injuries sustained in a car bomb explosion in the "SVU" episode "Return of the Prodigal Son." The episode rolled into the series premiere of Stabler's spinoff, "Law & Order: Organized Crime."
Fans had to sit through basically the entire May 4 episode until they learned how Kathy would return. In the final scenes, Stabler sees movement out of the corner of his eye in the squad room and thinks it could be one of his co-workers. He calls out and walks down the hall toward an interrogation room. When he gets to the doorway, he sees Kathy sitting at the table wearing a hospital gown staring straight ahead. Then she turns and looks at him — and even appears to flash a brief smile before returning to a more serious stare.
"Kathy Stabler" started trending on Twitter, and fans were divided over Kathy's surprise return.
"kathy stabler really showed up on our tv last night … that was not on my organized crime s3 bingo card," one fan tweeted.
"kathy stabler (2023)," someone else shared, along with a photo of Taylor Swift as a zombie from her "Look What You Made Me Do" music video.
"I am so perplexed. And I miss Kathy Stabler and Isabel Gillies," another person tweeted.
"if it takes isabel gillies guest starring as kathy stabler's ghost to have elliot and olivia kiss this season i'll take it," one fan posted, speaking on behalf of the fan base who want a romantic relationship between Stabler and his longtime partner over at "SVU," Capt. Olivia Benson, who's been portrayed by Mariska Hargitay since 1999.
Meloni even responded to one person who tweeted a photo of Kathy at the interrogation table and asked for an explanation.
"You tell me," he responded.
Another fan replied to his tweet, attributing Stabler seeing Kathy to his PTSD, among other things. In the episode, Stabler grapples with his mom's (Ellen Burstyn) declining health on top of a case about a murdered woman who was also a widow. When he returns home one night, Stabler sees his mom, Bernie, cooking dinner. Instead of setting the table with two plates, Bernie says she put three plates out because one is for Kathy, before she remembers that Kathy's no longer with them.
"I just can't believe I could forget about Kathy," Bernie says to her son.
"The way I look at it, she's already here with us. So whether you put out an extra plate or not it doesn't matter," Stabler responds in what turns out to be a moment of foreshadowing.
Combine those things with Stabler witnessing a vehicle explosion in last week's episode.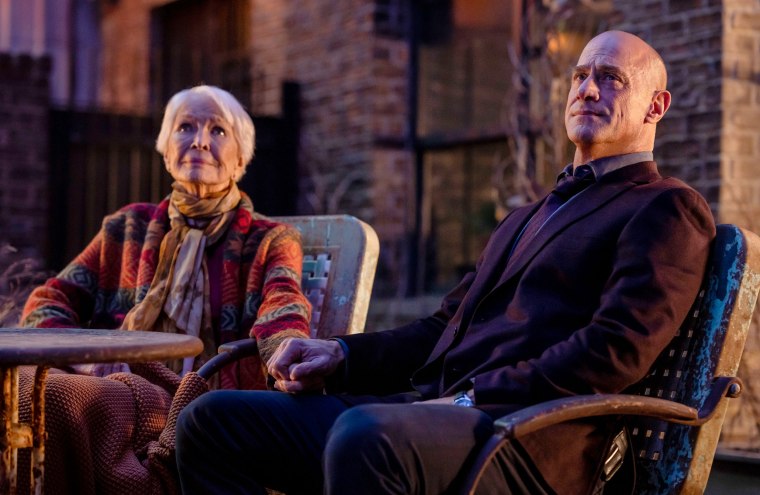 "El's beyond tired, scared to know he may be losing his mom slowly (please no! I love Jr Detective Bernie!) and he's battling his ptsd. All stressors converging to bring her forward as a hallucination. (And what was Isabel's reaction to having to be in a hospital gown again? 😂)," the fan tweeted at Meloni.
"You….you….creative spirit!" Meloni responded. "every one else…gets an F for lazy."
As for if we'll see the scene with Kathy continue on next week's "Organized Crime," that remains to be seen. Something that fans have seen recently, however, is Stabler wearing what appears to be a wedding band on his left hand again during recent photos from filming.
In the May 4 "OC" episode, one of the perps asks Stabler if he's married or single since he notices Stabler doesn't have a ring on. Stabler tells the man his wife passed away, to which the guy responds, "Regret and guilt are like slow poisons."
Maybe the ring has nothing to do with Kathy at all, but fans will soon find out in the remaining episodes of "Organized Crime" and "SVU," which Meloni will also guest-star on next week before a three-episode crossover finale begins in the following "OC" episode into the May 18 season finales.
The promo for the May 11 episode of "SVU" shows Benson and Stabler reuniting on the steps of the New York Public Library.
"It's good to see you, partner," a grinning Stabler says to Benson.
The last time viewers saw these two together was back in January when they shared their closest scene yet in Benson's kitchen, where Benson and Stabler nearly kissed and a scared Benson pulled away after telling Stabler she "wants to" but fears what would happen if they don't work out. Stabler, to his credit, responded: "And what if things work out?" Before that moment, Stabler had picked up Benson's son and brought him home after a gang — BX9 — greenlit a hit on Benson and her son.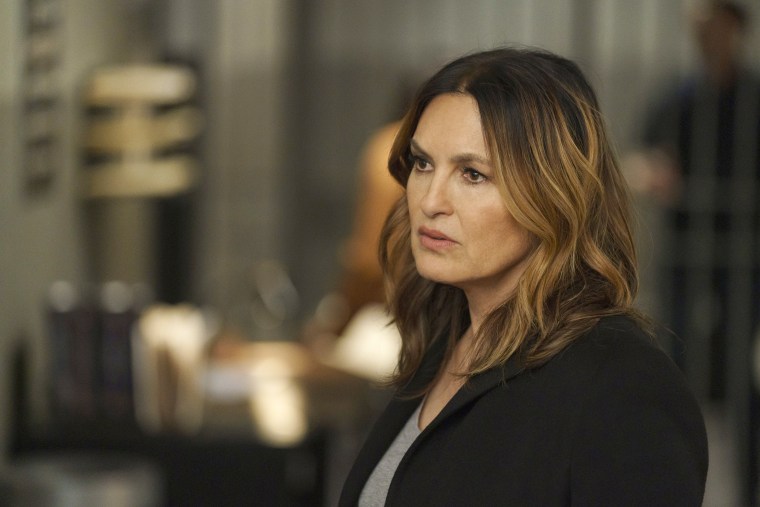 That same gang was referenced as part of the case in this week's "Organized Crime" episode, and in a promo for next week, we see Stabler appearing to rough up the gang's leader who previously crossed paths with Benson: Oscar Papa. On top of all of that, beloved "SVU" character Amanda Rollins (Kelli Giddish) will be reprising her role for the final episodes of the seasons for both shows. Stabler has previously crossed paths with Rollins, who's now a professor, at work and appears to seek her out for help with the case. Rollins also is fully aware of the complicated feelings between her pal and former boss, Benson, and Stabler.
In February, Hargitay teased what's to come for Benson and Stabler during a chat with TODAY.com using one of her favorite methods: hashtags.
"#ItContinuesToGoDeeper," she said. "#ItsGonnaTakeAMinute. But #ThingsMayNotLookLike … #ThingsMayNotAppearAsTheyLook."
As if those weren't enough to get our heads spinning, she threw in a few more: "#ThingsMayBeCloserThanTheyAppear. #NeverGiveUp. #LoveWins. #TheLoveIsReal."
"Law & Order: Organized Crime" airs Thursdays at 10 p.m. ET on NBC, after "Law & Order: SVU" at 9 p.m.