Benson and Stabler took a break from nabbing bad guys for a day to learn how to fight fires.
Christopher Meloni and Mariska Hargitay gave us a one-time glimpse of what a "Law & Order: FDNY" show would look like when they donned firefighter gear to support a foundation run by fellow actor Denis Leary.
Hargitay, 59, and Meloni, 62, not only wore the gear but also learned firefighting techniques as part of International Firefighters Day last week.
The day was set up by the Leary Firefighters Foundation, which was created in 2000 by actor Denis Leary after his cousin, childhood friend and four other firefighters were killed in a blaze in Worcester, Massachusetts. Leary guest-starred last year on "Law & Order: Organized Crime," which stars Meloni, as a fellow cop turned rogue.
The foundation helps build training facilities and supply vehicles, technology and firefighting tools to fire departments across the country.
Meloni and Hargitay not only put on the firefighter suits, they also trained in them. Hargitay shared video on Instagram of herself rappelling down the side of a training building in a harness after climbing out of a window.
"So… This happened today," she wrote. "Wait for it …Thank you @learyfirefighters and @denisleary What a day!"
In a separate Instagram post, she added one of her trademark long hashtags, #IMNOTSCAREDOFAHARNESS.
"You are incredible my friend," actor Kathy Najimy commented.
"Amazing," actor Debra Messing wrote.
Hargitay also gave the "Law & Order" fans what they wanted, sharing a pair of shots of Meloni giving her a kiss on the side of her head.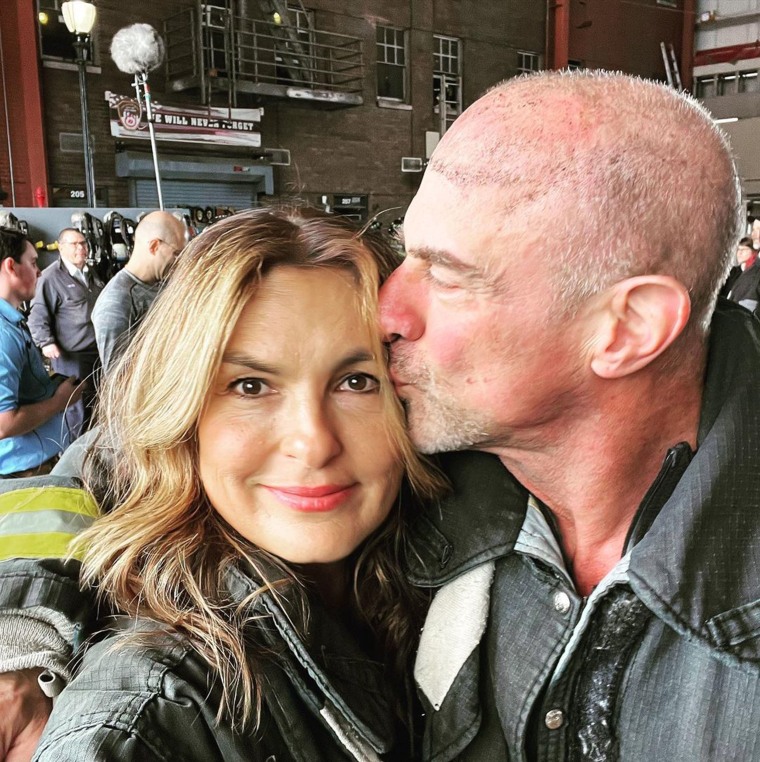 "I don't even know what to say right now! This feels like I'm 5 and it's Christmas morning! 😍😍😍😍" one fan commented.
Meloni posted photos on Instagram of him putting on the protective fire gear and posing in front of a statue of firefighters.
"So…this happened with @denisleary and @bobby1960 @therealmariskahargitay to help out @learyfirefighters #learningthetrade #respect #NYBravest," Meloni wrote.
The carousel of photos included another shot of him with Hargitay, Leary, actor Billy Crudup and actor Robert Burke, the last of whom appeared as a regular character on both "Law & Order: SVU" and Leary's former firefighter-themed drama, "Rescue Me."