Kristin Davis is getting real about the work she's had done and how it's impacted her emotionally.
In a tell-all interview with The Telegraph, the "Sex and the City" actor revealed that she initially tried Botox, saying she was "super excited" to not have lines along her forehead.
Davis said she didn't do any other procedures "for a long time," until she eventually turned to fillers.
"I have done fillers and it's been good and I've done fillers and it's been bad," she said. "I've had to get them dissolved and I've been ridiculed relentlessly. And I have shed tears about it. It's very stressful."
Referring to any recent work she had done, Davis told the publication that she "can't keep it up," explaining that she doesn't have the time. She added that people also place a lot of judgement on the procedures when they don't turn out as planned.
"You're trusting doctors [but] people personally blame us when it goes wrong — [as if] I jabbed a needle in my face…" Davis said, referring to lip-related procedures.
"No one told me it didn't look good for the longest time," she continued. "But luckily I do have good friends who did say, eventually. The thing is you don't smile at yourself in the mirror. Who smiles at themselves in the mirror? Crazy people."
The 58-year-old also got real about her fitness and diet routine as a single mother of two children, telling The Telegraph that she typically doesn't have much time for workouts and dieting.
"I just eat what the kids are eating. It's exhausting to make something different for myself," Davis said.
In her early 20s, the actor gave up drinking, calling herself an "alcoholic" at the time, according to the publication. "It was enough of a problem for me to go, 'This is something that could get in the way of what I want to do in life.' Luckily my first boyfriend out of school was sober — which was super-duper helpful."
As she celebrates 25 years of "Sex and the City," Davis, who plays Charlotte York on the popular series, was recently featured in a social media video by HBO for the show's anniversary.
"We're just here to say thank you." she said in the clip.
Davis was joined by co-stars Sarah Jessica Parker and Cynthia Nixon, who portray Carrie Bradshaw and Miranda Hobbes, respectively, to show their gratitude for their fans.
However, fans pointed out that one member of the iconic quartet wasn't featured in the video: Kim Cattrall, who plays Samantha Jones.
Though making a splash on the show from 1998 to 2004, the 66-year-old declined an offer to portray Jones in the offshoot series "And Just Like That...," which is about to launch its second season.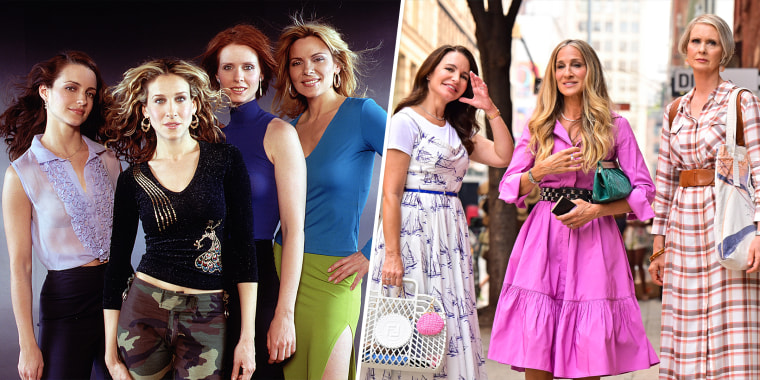 Formerly, Cattrall had strong remarks on never reprising her role, saying in a 2022 interview that "it's a great wisdom to know when enough is enough." But last month, the "And Just Like That..." official Twitter account announced that the actor would be back for a brief appearance in the upcoming season.
When asked during her interview with The Telegraph about her relationship to Cattrall and her co-star's current choice to not play a major role in the franchise, Davis responded, "You have to respect people's wishes."
"I'm not gonna waste energy on it," she continued. "I can't change anybody. I do understand fans' feelings — that they're upset… I wish I could fix it, but I can't, it's not in my power."
Season Two of "And Just Like That..." will premiere on June 22 on Max.