Kourtney Kardashian Barker is not taking hate comments to heart.
Kardashian Barker seemed to take a page out of Jimmy Kimmel's book to re-create his famous "Mean Tweets" segment, except this time with mean comments on TikTok.
In a video shared on the official TikTok page for her health gummy brand, Lemme, the reality TV star showed off her new blond bob as she sat down and read the hate comments from her phone.
But in a hilarious twist, she also added her own colorful commentary after reading each.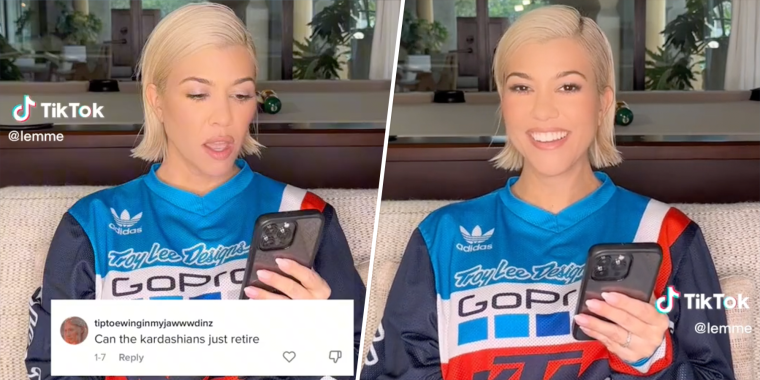 "Can the Kardashians just retire," one comment read, to which she casually responded, "That would be nice."
Several of the comments Kardashian Barker read were directed at her for wearing a shirt from a band the TikTok users accused her of not knowing.
"A Kardashian wearing an Agnostic Front shirt. Really? Does she even know who they are?" she read.
Kardashian Barker immediately responded, "Absolutely not and we're not playing that game today."
Another comment told her to name three songs from the band, to which she said, "It is a shirt from my husband's closet and I will wear his shirts for life."
One comment accused the Lemme founder of not eating her own brand's gummies. Rather than responding with words, Kardashian Barker chewed several times before showing that she was eating the product.
"Why she speaks in slow motion," the last comment read.
Her response? "Because it's a vibe."
Earlier this month, Kardashian Barker popped into the comment section of a post showing several behind-the-scenes moments from a recent photoshoot for her supplement brand.
One person in the comments wrote, "Is she pregnant?"
"(I only acknowledge this comment bc I do think it's important to know how IVF affects women's bodies and it's not spoken about much) …" the Poosh founder began her response to the comment. "Also are we still asking women if they're pregnant?"
Kardashian Barker also shut down pregnancy rumors in another post back in September 2022 after she shared several photos posing in a nude bandeau bra and matching underwear, including one with her hand placed on her lower stomach.
"Wait a minute did I miss that she's pregnant," one commenter said, to which Kardashian Barker responded, "nope, but you're missing a woman's body."