Kim Kardashian has been through her share of drama with her sisters over the years on her family's reality shows, but she says the new season of "The Kardashians" takes it to another level.
"Out of filming 'Keeping Up with the Kardashians' or 'The Kardashians,' this season was probably my most emotional and frustrating internally with family that I haven't really seen or experienced before," Kardashian told Savannah Guthrie on TODAY on May 16.
The teaser for the third season of the Hulu reality series shows Kardashian's sister Khloé Kardashian saying this season, which premieres May 25, will be anything but "a mild, relaxing, serene" experience.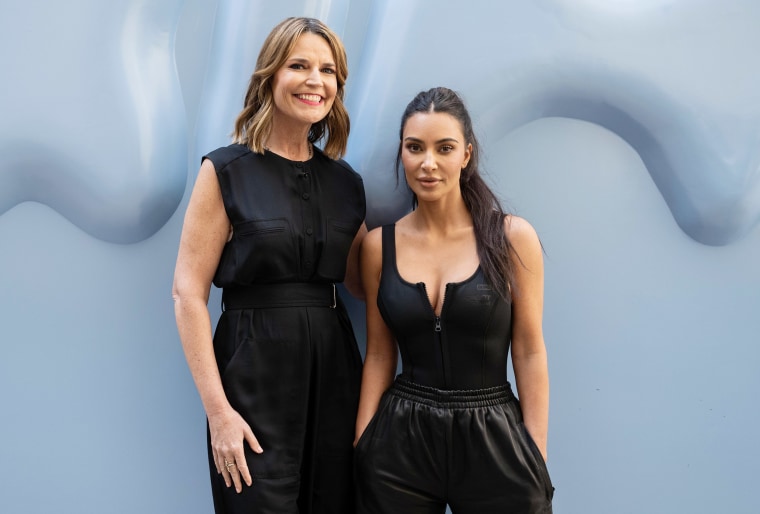 Kardashian confirmed that some of the tension seen on screen is between her and sister Kourtney Kardashian in relation to Kourtney's wedding to musician Travis Barker.
"We've been there before, and we'll always be OK," Kardashian said on TODAY. "We're always family, that's how we were raised. But I'm also proud that everyone's really vulnerable because I'm sure so many other families have gone through similar things.
"Maybe on different levels and experiences, but I'm proud that we're still so open and still driven to show and share so much."
Kardashian, 42, was at Rockefeller Center in New York City for the opening of her pop-up shop for her Skims clothing line. She described how the initial filming of emotional scenes for the show can sometimes be only the beginning of the friction between the sisters.
"There's different cycles," she said. "You film it, and we think we're good and we make up, and then you edit it, and then I'm seeing all the things she's saying about me behind my back, and she's seeing all the things I'm saying about her behind her back.
"The tension rises all over again, and then you have to wait more months for the audience to see it and get everyone else's opinions."
Kardashian has tried to use those moments for growth.
"I think I like to look at it as therapy, kind of like get through it, but it gets really tricky and it gets really emotional," she said. "But at the end of the day we still love sharing our life, and I don't see that changing anytime soon."
The business mogul is currently studying to be a lawyer and hopes to take the bar exam in "the next year or so." Regardless, she looks to continue sharing her life on reality television like she has done since "Keeping Up with the Kardashians" began 16 years ago.
"When we signed up for this, we wanted to always be super open and honest, and there's obviously different seasons where some people feel like they just have some boundaries and want to protect some things, and then other people really want to open up and share way more," she said. "I'm so blessed that there's so many of us that we can always respect each other's space."