"Succession" may have already aired its series finale, but a cute exchange between cast members Kieran Culkin and Brian Cox is reminding fans of their onscreen characters.
The HBO drama told the story of the Roy family, owners of the global media and entertainment conglomerate Waystar RoyCo. With Roy family patriarch Logan Roy (Cox) aging, his power-hungry family members, including his immature and impetuous son Roman Roy (Culkin), all angle to take control of the family business.
Cox, 77, and Culkin, 40, reunited recently when Culkin hilariously crashed the Scottish actor's photoshoot with English star Emily Blunt, 40, for an upcoming "Actors on Actors" feature for Variety. Culkin was nearby for a converastion with fellow actor Claire Danes.
On June 9, Variety tweeted a cute video of the exchange. In the video, Cox and Blunt are seated, prepared to have their photo taken, while a newly bearded Culkin, 40, stands next to them chatting. (Warning: The video contains profanity.)
Culkin, whose hapless character long yearned for his abusive dad's approval, moves in to give Cox a hug.
"Who are you?" Cox jokes.
Culkin teases back, "Who are you? Are you grumpy today?"
The three actors continue chatting, and soon, Culkin's hugging Cox again.
"Are you all right? Is everything all right?" Cox asks his TV son.
"Everything's great," Culkin assures him. "And you?"
"Fine," replies Cox.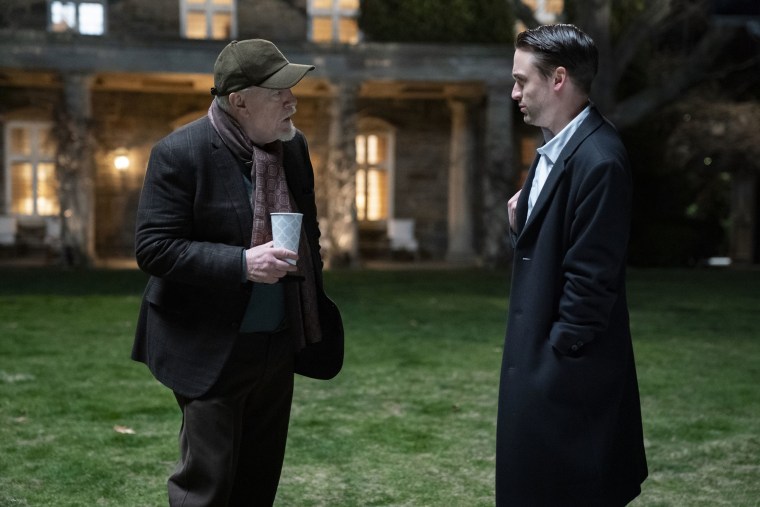 Culkin next embraces Blunt before suddenly backing away, self-conscious. "I've infiltrated your (photoshoot)," he says.
As Culkin begins his exit, both Blunt and Cox note his facial hair.
"When did the beard come on?" Cox asks.
"I'm unemployed," Culkin jokes.
The seemingly real family dynamic had commenters thinking back to the Roys. "I'm always gonna assume The Roys are a real family. That's it," a Twitter user wrote.
Culkin opened up about playing Cox's son during his own recent "Actors on Actors" conversation with Clare Danes.
"Whenever I have to shoot with Brian, it's like, 'Dad, I feel like I'm 7,'" said the actor. "He can be a scary guy. Not to me — I can approach him as an adult. But for whatever reason, in character, I feel like I'm 7 with him."