Bob Saget's widow, Kelly Rizzo, reunited with some of her late husband's "Full House" co-stars last month to honor the one-year anniversary of the actor and comedian's death.
Rizzo was participating in an Instagram Q&A Feb. 16 when a fan asked if she was still close with Saget's former co-stars. Rizzo replied by posting a recent photo of herself standing alongside Candace Cameron Bure, Lori Loughlin, John Stamos and Stamos' wife, Caitlin McHugh.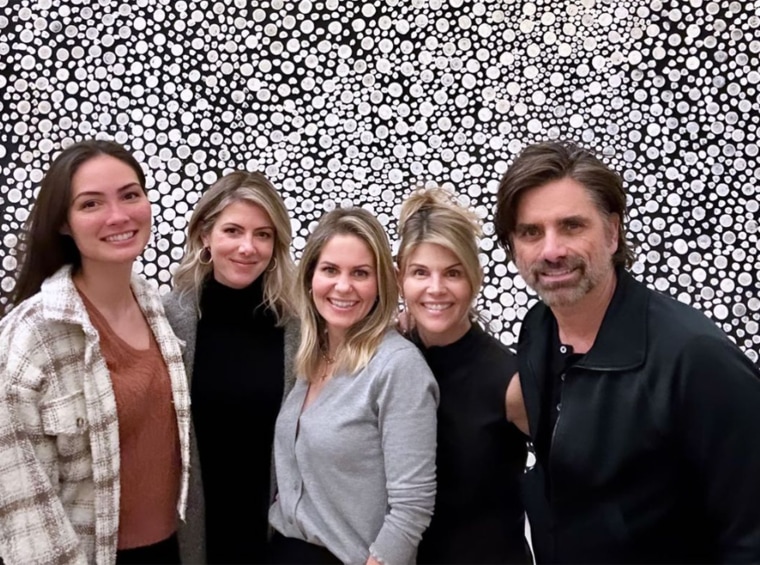 "Love them dearly... this is when we got together last month for the 1 year anniversary," Rizzo wrote over the image.
Rizzo, 43, married Saget in 2018.
Saget was found dead from head trauma at age 65 in an Orlando hotel room on Jan. 9, 2022.
This year on Jan. 9, Rizzo paid tribute to her late husband by posting a video montage filled with images of her and the comedian hugging and kissing one another.
"One Year," Rizzo captioned it. "Our hearts are so heavy. How could I not have talked to or seen my loving husband in a whole year? The surreal-ness never subsides."
"I've accepted the reality long ago but it still seems unreal when I see photos or videos of him so full of life," she continued. "But there is one thing I carry with me every single day that makes this survivable. I AM THE LUCKIEST.
"I am the luckiest that I got to be his wife. I am the luckiest that I got to live with his warmth, and laughter, and brilliance, and love. I am the luckiest that I get to have his girls by my side. I am the luckiest that I got to watch him first hand help people, make them happy, and make the world a better place," she wrote.
Rizzo, who is the host of the food and travel show "Eat Travel Rock," concluded her post by marveling over Saget's love of life.
"Some people can live 1,000 lifetimes and never live a life as fully as he did," she wrote. "And to that I have to say, Well Done. You really won life, honey. And that is why I will be forever grateful for him and all the endless love he gave me, until my last day."
During a Decemebr interview on TODAY, Rizzo explained how her grief over Saget's sudden death was now accompanied by "tremendous gratitude."
"The missing him and the being sad about it doesn't go away, but the grief now has really morphed into just this tremendous gratitude for the time that we had together," she said.
Rizzo shared that she intended to honor Saget by trying to live her own life with his brand of love and joy.
"When I look at the beginning of the year, of course I'm like, 'This is the worst thing I and my family and Bob's family and friends have ever gone through,'" she said. "But then I'm also really trying to take from it what you can do to turn this into a positive experience because Bob did that."
"He had so much loss in his life, and he turned everything into a positive, reflective experience," she continued. "If he did that, then I want to use this experience in the same way."