Kelly Clarkson is speaking out about a recent report detailing "The Kelly Clarkson Show's" alleged "toxic" environment on set. 
In May, Rolling Stone published an article with interviews with former and current employees about what they described as challenging working conditions that were "traumatizing to their mental health." The staff said they were overworked and underpaid and had to pick up additional jobs as "babysitters, dog walkers, and Uber Eats drivers" for financial security. 
The 41-year-old singer revealed how she felt when the workplace allegations surfaced in an interview with The Hollywood Reporter published on June 22.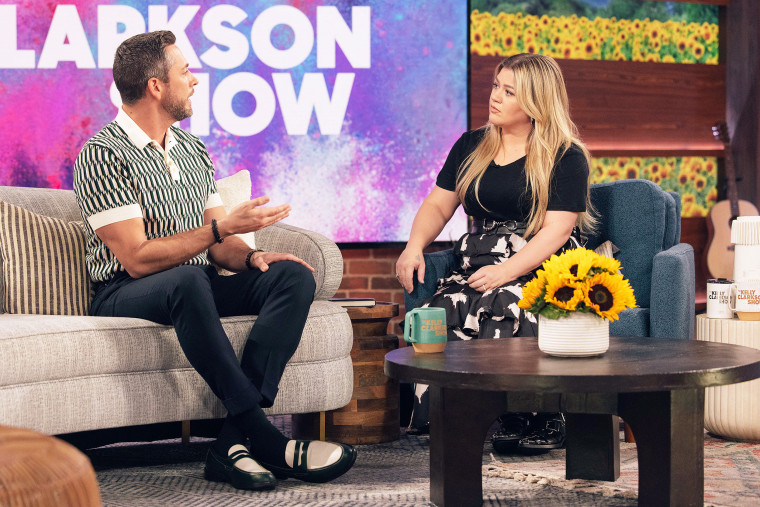 "I definitely was blindsided," she said. "But I think the important thing is, we get into this mindset of canceling everything or everyone. And that's not unhealthy because it's like, 'OK then …' Because what you're saying is every time somebody says something, then it's just over. And that's not how you work on things."
She wanted to take a different approach with her staff. 
Clarkson continued, "You have to progress. You have to go, 'Oh man, well, maybe we can do better at this. Obviously, we might have missed the mark here, so what can we do better?'"
Following the Rolling Stone report, Clarkson released a statement on social media on May 13. "I love my team at 'The Kelly Clarkson Show' and to find out that anyone is feeling unheard and or disrespected on this show is unacceptable," she said. "I have always been, and will continue to be, committed to creating and maintaining a safe and healthy environment at 'The Kelly Clarkson Show.'"
She also mentioned the show's plan to relocate to the East Coast, noting that there would be leadership training for all members of the senior staff, including her.  
During her interview with THR, she confirmed the crew was contemplating how to improve "connection" and "inclusivity" before the article was released due to the move. 
"We were already planning because we were having L.A. people coming to New York and we were having the New York crew come in and our whole thing is connection, inclusivity, everything like that," she shared. "So we were already planning on (addressing), 'How are we going to marry these groups and make sure everybody feels like they're valued and a part of the team?'"
Now that the host and the show have moved across the country, she views the upcoming season as a fresh start.
"I know it sucks to have something, anything happen behind the scenes that you maybe didn't know. But I think, also, it's a great point," said Clarkson. 
The "Breakaway" singer added, "Season five, let's start, let's remind everybody who we are, not only on the outside, but on the inside and how we like to carry ourselves and how we like to … I don't know, just proceed in everyday work life."
She said that as she ages she has realized how important it is for "everybody to feel happy and feel empowered and inspired" at work. After recognizing the problem, the crew and host are working to set a better example. 
"So we're already doing that, and adding on to what we already had planned initially, just to make sure everybody feels included and a part of the team," she concluded. 
The Rolling Stone article's sources called out executive and senior producers as well as HR for allegedly contributing to the poor environment. The employees who spoke to the publication said they were "confident" that Clarkson didn't "have a sense of how unhappy employees are with the working conditions."  
In addition to Clarkson's initial statement about the allegations, NBCUniversal also shared a response at the time. (NBCUniversal is the parent company of both "The Kelly Clarkson Show" and TODAY.com.)
"We are committed to a safe and respectful work environment and take workplace complaints very seriously, and to insinuate otherwise is untrue," a spokesperson said in a statement. "When issues are reported, they are promptly reviewed, investigated and acted upon as appropriate. 'The Kelly Clarkson Show' strives to build a safe, respectful and equitable workplace that nurtures a culture of inclusivity and creativity."
Season Five of "The Kelly Clarkson Show" will film at NBC Studios in 30 Rockefeller Plaza when it premieres in the fall, an NBC spokesperson confirmed in May. 
Variety previously reported that the show has been renewed to 2025.