Katherine Heigl knows about her reputation. During a conversation with former "Grey's Anatomy" co-star Ellen Pompeo for Variety's "Actors on Actors" series, Heigl opened up about how her vocal stances in the late '00s gave her a difficult label.
"I'm always the bad guy. People like me to be the bad guy," she said.
Heigl faced a series of media controversies while she was on "Grey's Anatomy." In 2007, Heigl told Vanity Fair the movie "Knocked Up," which she starred in, was "a little sexist," painting women as "shrews, humorless and uptight." Director and co-star Seth Rogen told Howard Stern on his SiriusXM show that he thought everyone was having a "a really good time while filming, and felt his "trust" was "betrayed" by the interview.
Heigl, the same year, decided to pull out of the 2007 Emmys. The "Ugly Truth" actor told The Washington Post that she "did not feel that I was given the material this season to warrant" an award, per People.
Then, during a 2009 interview with David Letterman, Heigl griped about working conditions on the ABC show, saying days on set would last 17 hours. "I'm gonna keep saying this 'cause I hope it embarrasses them," she said, calling the schedule "cruel and mean."
Heigl later said she faced backlash for these comments. "I very publicly and for many many years after got my ass kicked for speaking up," she wrote on an Instagram post in 2021 supporting the IATSE strike.
Looking back, Heigl said she felt "justified" in where she was coming from, specifically for the "Knocked Up" interview in 2007.
"I got on my soapbox and I had some things to say, and I felt really passionate about this stuff. I felt really strongly," Heigl told Pompeo. "I felt so strongly that I also got a megaphone out on my soapbox. There was no part of me that imagined a bad reaction. I felt really justified in how I felt about it and where I was coming from."
Heigl said she didn't think she was going to get a "strong reaction" to her comments. After being labeled "difficult," she said she started to believe her naysayers until she reached her mid-30s.
"It took me until probably my mid to late 30s to really get back to tuning out all of the noise and going no, but who are you? Who are you without all of the opinions of who you are? Are you this bad person? Are you ungrateful? Are you unkind? Are you unprofessional? Are you difficult? Are you these things?" she asked. "Because I was confused. I thought maybe I was."
After she reached a place of self acceptance, Heigl jokingly said, "That's when I got comfortable with my role as the villain, and really enjoyed it."
Heigl added that her starring role on "Grey's" gave her a "false sense of confidence" that made her start to get "mouthy" because she had "a lot to say."
"There were certain boundaries and things that I was not OK with being crossed," she said. "I didn't know how to fight that."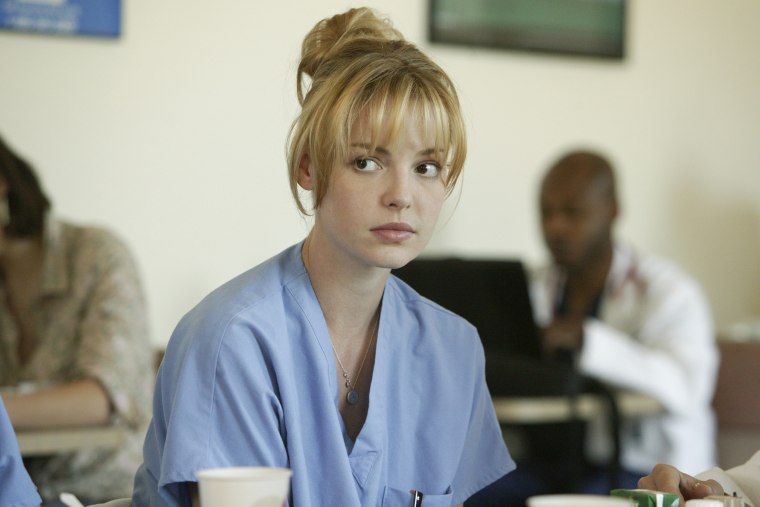 Pompeo later agreed with Heigl's comments on the "Grey's" work environment.
"She was 100 percent right, and had she said that today, she'd be a complete hero," Pompeo said on an April 2022 episode of the "Tell Me" podcast. "But she's ahead of her time, made a statement about our crazy hours and of course, let's slam a woman and call her ungrateful when the truth is she's 100 percent honest and it's absolutely correct what she said."