Jerry Springer, the legendary talk-show host of the raucous daytime hit "The Jerry Springer Show" and a former mayor of Cincinnati, has died at 79, his publicist confirmed to NBC News.
Springer died on April 27 at his home in suburban Chicago, publicist Linda Shafran said. The cause was pancreatic cancer, according to Jene Galvin, a family spokesperson.
Galvin, a longtime friend and the executive producer of Springer's podcast, called the host "irreplaceable" and pointed to Springer's surprisingly sincere sign-off from his confrontational and unapologetically crass TV show: "Take care of yourself, and each other."
"Jerry's ability to connect with people was at the heart of his success in everything he tried whether that was politics, broadcasting or just joking with people on the street who wanted a photo or a word," Galvin said.
"He's irreplaceable and his loss hurts immensely, but memories of his intellect, heart and humor will live on."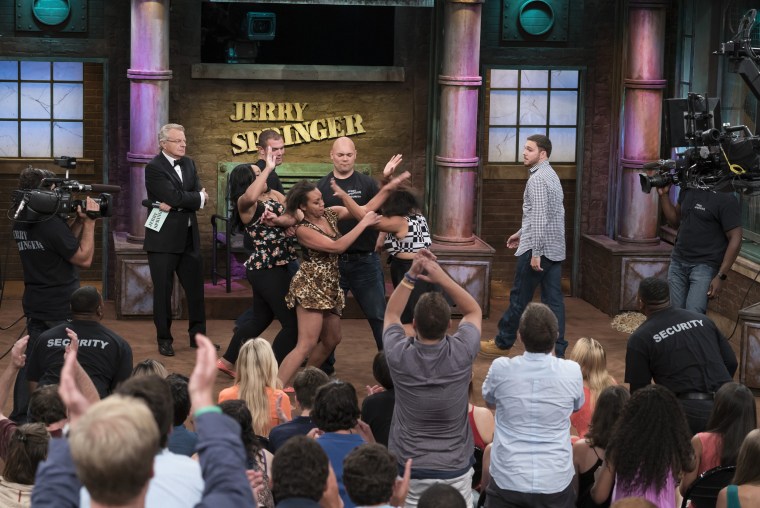 The former politician hosted his tabloid talk show for 27 seasons from 1991 through 2018. He later starred in another daytime program, "Judge Jerry," a reality courtroom show.
Springer reflected on the legacy of "The Jerry Springer Show" on TODAY in 2019.
"I think what was really the only good thing about the show, at least the part that I thought, is that it was the first time we really saw regular people on television," he said.
"When people criticize the show, if you're honest about it, they're not criticizing what they're talking about because celebrities will do the exact same thing."
He also addressed criticism of the show, which often featured fistfights between guests and thrown furniture, as trashy.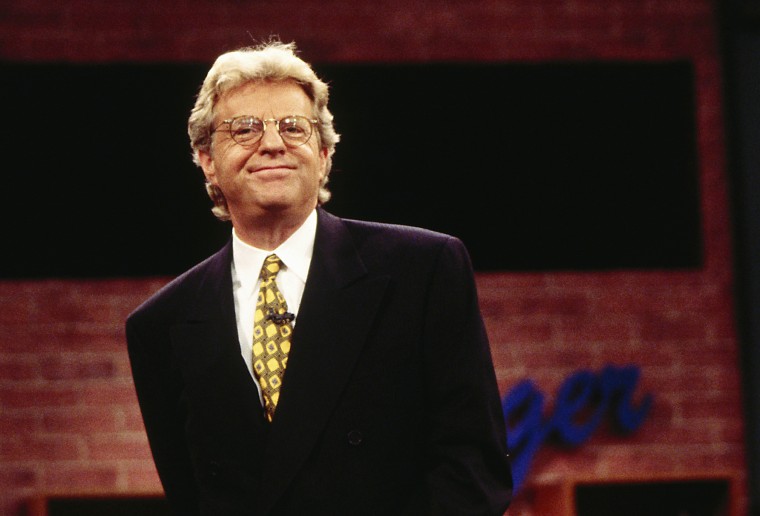 "How many times do people take these talk shows, and they say, 'Oh these people are trash,'" Springer said. "No, maybe they didn't have the same luck in the gene pool of parents, maybe they weren't born with the same brain, they didn't get the same education. We're all alike, we're not better than these people, we just dress better."
Born in London in 1944, Springer grew up in the Queens borough of New York City as the child of Jewish refugees who fled Nazi Germany prior to World War II.
After graduating from law school at Northwestern University in 1968, he started his career as a lawyer in Cincinnati before getting into politics as a city councilman. He was then elected mayor of Cincinnati in 1977.
When a bid to become governor of Ohio failed in 1982, he switched gears and went into television as an anchorman for NBC affiliate WLWT. Springer's next move was from local news to hosting his eponymous talk show for 27 years.
Springer also made dozens of appearances in TV shows and films over the years — usually playing himself — and was a fan-favorite contestant on "Dancing With the Stars" in 2006.
Other credits included "Austin Powers: The Spy Who Shagged Me" (1999), voicing himself on "The Simpsons," and "The Ringmaster" (1998), which he starred in and produced.
Maury Povich, whose former daytime show, "Maury," was a rival to Springer's, shared a similar format and spent several years taping in the same Connecticut studio, released a statement calling Springer "not only a colleague but a friend."
"I am shocked and saddened by the passing of Jerry," Povich said.
"We worked for the same company for decades. He was joyful, smart and, in his own way, a unique showman. I will miss him," he added.
TV host Steve Wilkos, a former Chicago police officer, got his start as a security guard on Springer's show, oftentimes leaping onto the set to break up fights between guests. He received his own spin-off, "The Steve Wilkos Show, in 2007.
"Other than my father, Jerry was the most influential man in my life. Everything I have today I owe to Jerry," Wilkos said in a statement.
"He was the smartest, most generous, kindest person I've ever known. My wife and I are devastated. We will miss him terribly."