You better dot all your i's and cross all your t's when competing on "Jeopardy!"
Nine-day champion Ben Chan saw his reign come to an end May 23 after he misspelled a word by one letter during Final Jeopardy.
"Both of the names of these two lovers in a Shakespeare play come from Latin words for 'blessed,'" was the clue in the category of "Shakespeare's Characters."
The correct answer is Beatrice and Benedick from "Much Ado About Nothing," but Chan wrote Beatrice and Benedict, which host Mayim Bialik informed him was wrong.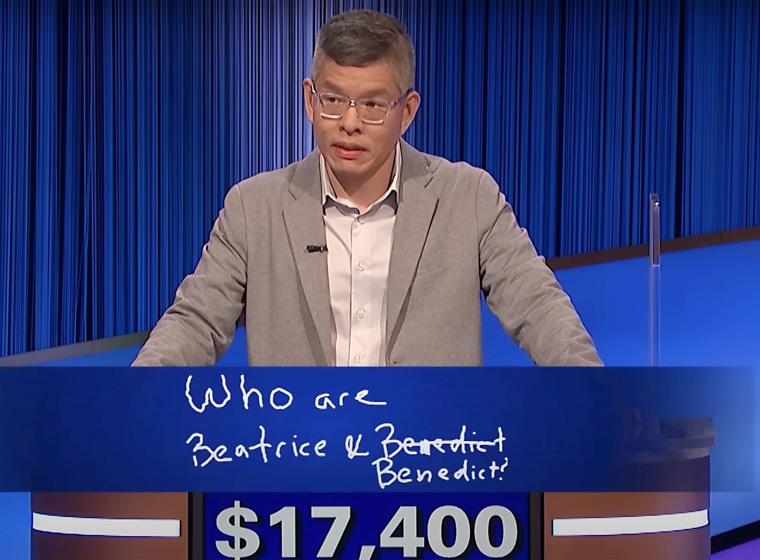 "It's a very memorable miss, right?" he told the show afterward. "So if you're going to go out on a miss, go out on a memorable miss."
"Jeopardy!" fans were less than pleased by how Chan was penalized for what he wrote and were not shy about expressing their disgust on Twitter.
"Holy smokes was Ben Chan robbed on @Jeopardy tonight," one person wrote.
"Since when does being off by one letter count in final jep? There's no other character he could have meant," another person pointed out.
"@Jeopardy wow. Ben Chan loses over a t??????" another flummoxed person chimed in.
"Awful ruling against Ben Chan on tonight's #Jeopardy," someone else wrote.
While many fans were up in arms that Chan lost, the show does specify that contestants must spell properly when necessary.
"'Jeopardy!' is not a spelling test — unless, of course, the category requires it," it states on the show's website.
"Written responses to the Final Jeopardy! clue do not have to be spelled correctly, but they must be phonetically correct and not add or subtract any extraneous sounds or syllables."
Interestingly, the new "Jeopardy!" champion, Lynn Di Vito, wrote "Romeo and Juli" in Final Jeopardy, which Bialik read as "Romeo and Juliet."
Despite the loss, Chan leaves behind quite a legacy. He became the first "Jeopardy!" champion to have his first nine wins be a "runaway," which means no other contestant could catch him.
Viewers will also see him again, since he has qualified for the show's Tournament of Champions.