"Ted Lasso" star Jason Sudeikis brought his own parental experience to the title role of the Emmy-winning series, which returned for a third season on March 15.
Sudeikis, who shares son Otis, 8, and daughter Daisy, 6, with ex-fiancée Olivia Wilde, said being a dad has been useful when it comes to playing the role.
"It does help, yeah," he said March 15 while appearing on TODAY with Hoda & Jenna with co-star Brendan Hunt. "I'm not learning about parenting on Wikipedia. You know, be like, 'OK, how's empathy change your life, change your DNA?' It's method. I went full method. My training."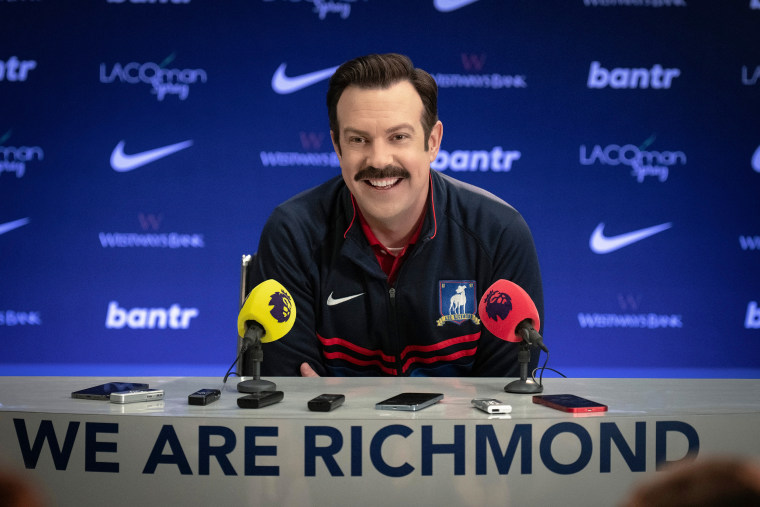 Ted is a dad on the show, raising a son, Henry, who lives in the United States with his ex-wife. He said that part of the coach's life comes into focus even more in the new season, starting with his son's visit to England in the first episode.
"We were sort of sitting there, at least with Ted's specific journey, of questioning, like, 'Why am I here? Why are we still here?'" he said.
"He's still kind of investigating that, because he just spent six weeks with his kid in London and has to say goodbye," he continued.
"Sometimes when you work for a living and you leave, you have to compartmentalize that. Ted's been able to do that to a certain degree, and put his family focus on his chosen family of the team and the people surrounding the team. Now the little guy (had) been part of that during the summer and he's like, 'Now what?'"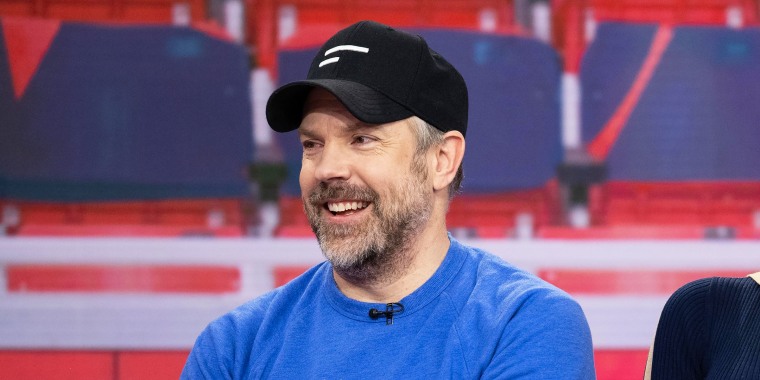 Sudeikis and Hunt were introduced to TODAY with a clip featuring Brett Goldstein as ornery Roy Kent, using some foul language. Sudeikis said he's OK with his kids being exposed to the show's more PG-13 content — up to a point.
"My kids watch it," he said. "One, so they know where Dad goes and they know what he's doing. But, I'm like, 'You can hear it, but you can't say it.'"
With its warmth and team spirit, "Ted Lasso" has established itself as one of today's most beloved series.
Sudeikis said the time required to make this show — or any project — has to pay off, since it's such a time commitment. His kids joined him for the London shoot.
"A big part of it is like, especially after having kids, is: Is the thing that you're going to do worth the time, the energy?" he tells TODAY.com. "Because the kids were in London with us, it wasn't like Ted and his son. But you just want it to not be inconsequential, it's got to be worth it."
"Ted Lasso" has twice won the Emmy Award for best comedy series, with Sudeikis himself scoring two wins in the best actor category, all while the cast remains coy about a possible fourth season.
"We were overwhelmed by the response, continuously," he said while appearing with Hunt and co-star (and fellow Emmy winner) Hannah Waddingham earlier in the day on TODAY.