Looking back on her days as one of the original stars of "Saturday Night Live," Jane Curtin says working with one original castmember in particular wasn't always a pleasant experience.
The actor, now 75, reflected on her "SNL" stint in a new interview with People and shed new light on the addiction issues her co-star John Belushi battled before his death by drug overdose in 1982. He was 33 at the time.
"I got along with everyone (on the cast)," Curtin said. "But I did have problems with John (Belushi)."
Curtin was quick to note that the problems originated because of the addiction Belushi was battling.
"But that was because John wasn't John. He was an addict," she said.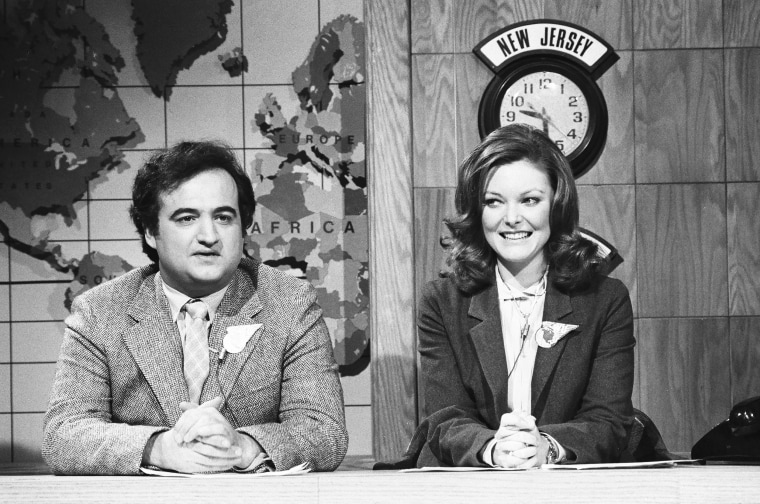 While looking back on her experience on the show, Curtin explained that she was more focused on building her career than partying.
"I had a life — a dog, a husband, an apartment with a little garden. It was a life I really enjoyed," she said.
The actor said she watched how her co-stars were affected by partying a bit too much.
"John, obviously, he could party with the best of them, but the next day these guys were just so miserable. Plus, the 90 minutes on the show were so exciting and adrenaline-pumping, I felt all the other stuff was self-indulgent and seemed hard," she said.
Curtin also told People she cringed a bit when she watched her old episodes of "SNL" with her family a few years ago.
"We were sent the five year compilation video of 'Saturday Night Live's' first five years a few years ago, and I gave one to my daughter," she said. "We were out visiting her daughter one Christmas, and her husband said, 'Have you ever watched any of these? And I said, 'God, I haven't seen them in a long time.'"
When her son-in-law put an episode on, Curtin was underwhelmed by the show.
"It wasn't funny. Not one thing was funny. There was not one utterance of a laugh or a giggle," she said.
"I think it was just one of those, you had to be there in the moment things," she added. "That's what happens with live TV, and with topical TV. It gets dated after a while. Remember, this was almost 50 years ago. But after we rewatched, I was like, 'That really wasn't a very good show. It was terrible!'"
There are a few skits that Curtin remembers fondly, including one featuring Dan Aykroyd pitching a kitchen appliance made for blending bass.
"See, the Bassomatic, I still think it's funny," she said.