We're living in a Barbie world.
HGTV announced that it is bringing the iconic doll's dreamhouse to life in the new competition series "Barbie Dreamhouse Challenge." Hosted by model Ashley Graham, eight teams filled with famous faces will work to transform a Southern California home into a real-life doll house. At the end, one Barbie fan will win a sleepover staycation in the newly-renovated dreamhouse.
The four-part show, which premieres July 16, will include Mika and Brian Kleinschmidt, Jasmine Roth, Antonia Lofaso, Anthony Elle Williams, Michel Smith Boyd, Kristina Crestin and Jonathan Knight. Alison Victoria, Ty Pennington, James Bender, Christina Hall, Evan Thomas, Keith Bynum, Mike Jackson and Egypt Sherrod will also be a part of the event.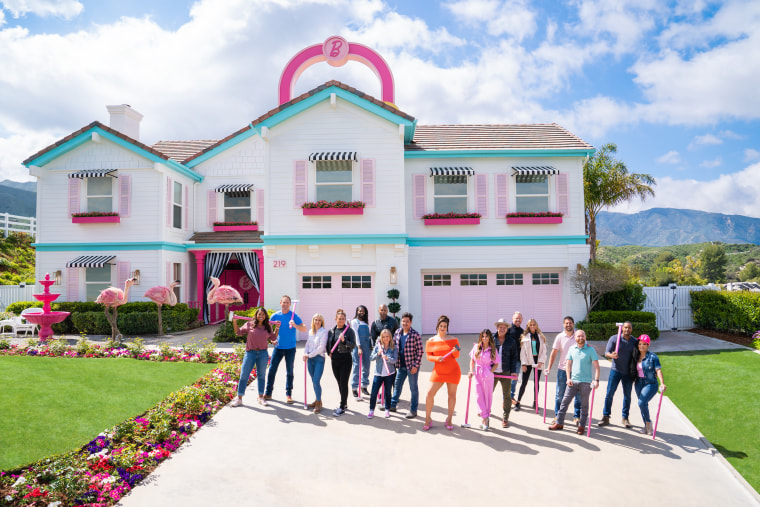 Each week, a celebrity guest judge will join head judges designer and Barbie collaborator Jonathan Adler and Barbie Dreamhouse expert Tiffany Brooks as the teams construct Barbie-themed spaces, including a light-up dance floor, dream closet and more.
Each team will be designated to a room. See who's in charge of each of what below:
Real estate and design power couple Egypt Sherrod and Mike Jackson will reimagine the entryway, living room and dining room, described as an "over-the-top pink paradise"
Expert builder Jasmine Roth and Food Network's Antonia Lofaso will design the kitchen and family room from the 1960s
Ty Pennington and Alison Victoria will build create a groovy Disco-themed 1970s den for Ken
Jonathan Knight and Kristina Crestin will tap into 1980s glam to bring the primary suite to life
Keith Bynum and Evan Thomas are in charge of the front yard and home exterior  
Brian and Mika Kleinschmidt will give the backyard a Y2K-themed spin
Christina Hall and James Bender will surprise viewers with their take on Barbie's futuristic closet and dressing room
Michel Smith Boyd and Anthony Elle Williams will design a chic office for Barbie.
The first episode of "Barbie Dreamhouse Challenge" premieres Sunday, July 16, at 8 p.m. on HGTV.