With slicked-back hair, leather jacket and signature "Ayyy," Henry Winkler captivated a generation of TV viewers as Arthur Herbert Fonzarelli, a.k.a Fonzie, a James-Dean tough guy with a heart of gold on "Happy Days."
Now, nearly 50 years after the sitcom debuted in 1974, Winkler has gained a new legion of fans thanks to his starring turn on the HBO series "Barry."
A role, he says, that might never have happened had fate not stepped in.
"We made a pilot for ABC, which was the home of 'Happy Days.' It was almost a thing — and then it wasn't," Winkler says of a project he was working on with his son, director Max Winkler, at the time.
"If it had gone, would I have been available for 'Barry?' he wonders during a sit-down interview with TODAY.com.
The series has proven to be a windfall for the veteran actor, who nabbed an Emmy in 2018 for his portrayal of Gene Cousineau, a narcissistic acting coach who mentors assassin-cum-actor, Barry Berkman, played by Bill Hader.
Currently wrapping its fourth and final season, Winkler, 77, says filming the last scene of the dark comedy was "very emotional" during a recent appearance on Hoda & Jenna.
"I walked out of the room and the crew was there and Bill (Hader) hugged me and whispered in my ear and said, 'I love you. Thank you for being such a collaborator."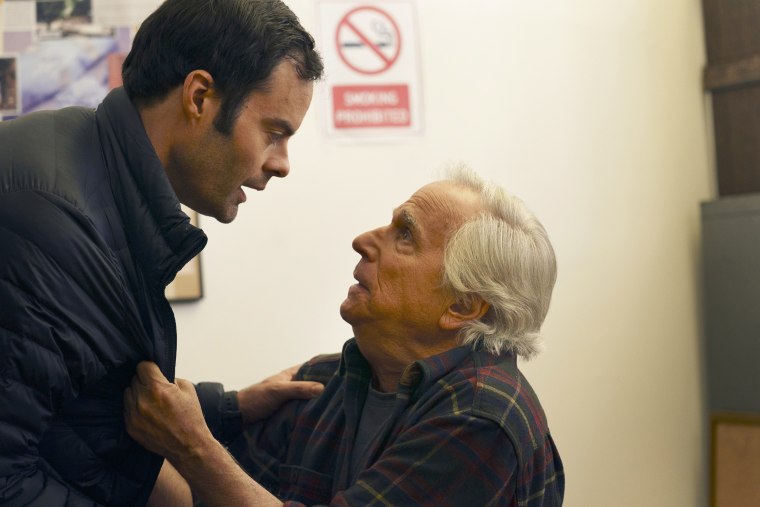 Now that production on the series has ended, Winkler tells TODAY.com that he's ready for whatever comes next.
"My destiny is still destiny-ing. I'm still having the best time ever," he says.
But it hasn't always been easy. Winkler says that finding work post-Fonzie, the seminal role that made him a household name along with spawning a variety of spin-off shows and even an action figure in his likeness, was difficult.
"There were eight or nine years at a time when I couldn't get hired because I was 'The Fonz,' because I was typecast," he says.
"I had psychic pain that was debilitating because I didn't know what to do. I didn't know where to find it, whatever it was, I didn't know what I was going to do. I had a family. I had a dog. I had a roof. Oh. My. God."
Though it was challenging, the uncertainty also proved to be the catalyst for reinvention, leading Winkler to form his own production company in 1985 out of what he says was sheer "will and fear."
The first show it produced? The hit series "MacGyver," which aired for seven seasons and scored five Emmy nominations along the way.
Despite the acting drought that followed the end of "Happy Days," Winkler says if had to do it all over again, he wouldn't change a thing.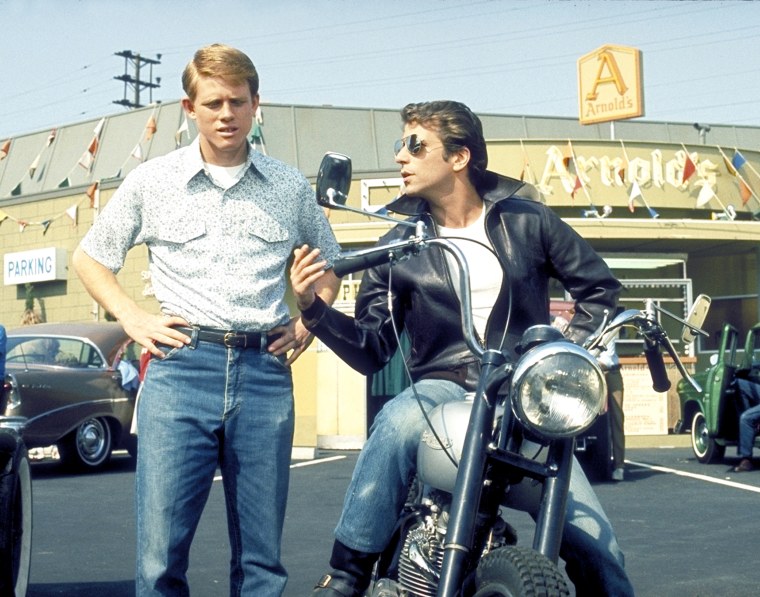 "I loved doing it. I loved playing 'The Fonz.' I love those people. I loved learning how to play softball. I loved traveling all over the world together with the cast. I would not have traded it," he says.
"Not only that, but also, I don't know that I would've gotten here if I hadn't gone through the struggle."
And now more than ever, 'here' is a good place to be, according to Winkler.
"People say, 'Hey, you were The Fonz! What's cool?'"
What's "cool," he tells TODAY.com, is authenticity, something he's "spent a long time" searching for.
"I think that is the key to living. And it is not easy to find your authenticity."
Henry Winkler on the key to life
"I think that is the key to living. And it is not easy to find your authenticity," Winkler says. "I've opened so many doors. I've found canoe paddles. I found scuba gear. I found unread books. I never found, for the longest time, authenticity, which I now know."
Now that he's hit his stride, what would he go back and tell his younger self if he could?
"Life is more fun than you think it is, than you allow it to be. Don't worry so much," the "Barry" actor says. "I worried way too much, to the point where it literally made me inert."
After decades of being "The Fonz," Winkler says there's one other cultural icon that he wouldn't mind swapping signature monikers with.
"If I could, I would like to be 'The Boss,' he says. "I would like to be Bruce Springsteen."
It's because he can't sing (but has always longed to) that Winkler says, makes him wish he could trade places with Springsteen.
Having been to three of his idol's concerts, Winkler says he's working up the nerve to ask for a selfie the next time he goes. Will he do it?
"I get nervous."