Jerrie Johnson, Grace Byers and Shoniqua Shandai want you to know one thing: "Harlem" is not "Sex and the City."
"Harlem," whose second season dropped on Amazon Prime in February, can be seen as a successor to HBO's Emmy-winning show: Both feature storylines of four friends conquering New York one sexcapade at a time, and in runway-fashion.
But Johnson tells TODAY.com that there's one crucial element that sets the shows apart. "Harlem," according to Johnson, is set in the real New York, home to many different cultures.
"In 'Sex and the City,' they created their own white female utopia," Johnson, who plays Tye, explains. "For me, watching 'Sex and the City,' was like, 'Wait, you're going to this restaurant in Manhattan and there's not a Black person?' I was like, wow. It felt crazy."
Johnson says that "Harlem" filled the void she felt watching "Sex and the City." The show is populated with demographics that are more reflective of New York, but still has an escapist feel. It is, essentially, the "Sex and the City" she always wanted.
"Run the World" on Starz, which also features four Black friends in New York, and is heading into its second season, demonstrates a hunger for these stories.
"With 'Harlem,' we can create that Black utopia."
Jerrie Johnson
She continues, "With 'Harlem,' we can create that Black utopia. We can go to Black female doctors. We can have our Black-owned restaurants. We can create these Black women superhero figures that are dressed well and represent Harlem, but also Harlem 2.0."
Shandai, who plays Angie in the series, agrees with Johnson that "Harlem" is a way for people of color to "see themselves on screen," and for everyone to see New York as a "beautiful and diverse" place.
Her lovable and carefree character might share "Sex and the City" Samantha's love for noncommittal sex, but the comparisons stop there, as Shandai's "Harlem" character is grounded in the specifics of life as a Black performer.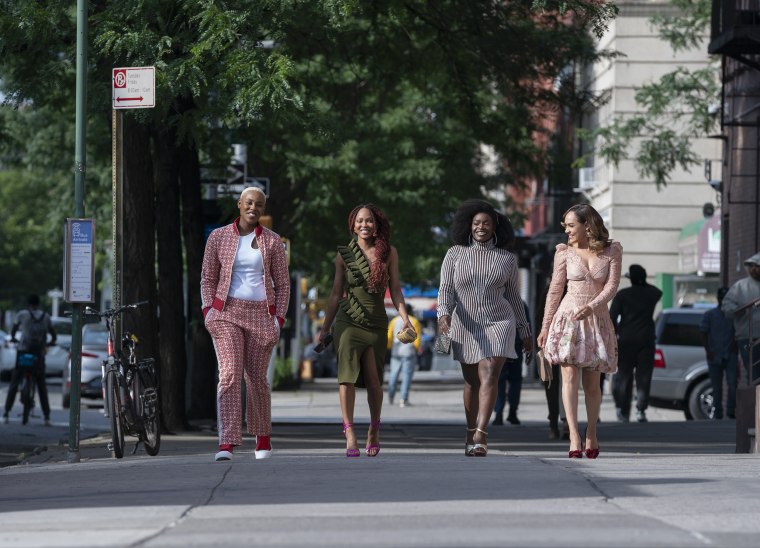 Angie, in Seasons One and Two, faces difficulty as a dark-skinned Black woman trying to make it in the entertainment industry. After almost getting her big break in Season One, her music deal falls through and she's forced to sleep on her friend Quinn's (Grace Byers) couch. 
Success in Season Two comes with a cost. She lands a job as an actor in a Hallmark movie, but only after doing some cringe-worthy interviews with white people who knew nothing about Black culture.
Often taking the role as the show's comic relief, even moments meant to be funny in Angie's journey are tempered by the reality of her situation.
At one point in the series, Angie auditions for a role where she has to sing and dance. At first, it seems Angie is up for for a serious role as she's seen singing a beautiful ballad in front of a white talent scout. Suddenly, the beat changes, and Angie begins rapping while performing her best twerk moves. The scout who keeps telling her to dance harder. To land the job, Angie gives him everything she's got and even jumps on his desk. Despite the lengths she goes to, Agie doesn't get a callback.
Shandai said her fake audition could be all too real for Black people in the entertainment industry.
"It's such a beautiful commentary of what it's like to be a Black artist in this industry where it's being ruled by people who don't understand the culture," she says. "It's these moments where you feel that way, like, 'OK, am I being ridiculous in order to get this part and (am being) completely and utterly ogled by people who have no attachment to the culture, who are commenting on my Blackness, who are judging my Blackness, but they are the gatekeeper to this to this role?' It was a hilarious way of commenting on what it is to be a Black performer.
Byers' character also faces share challenges in the show as well — and in a realm that "Sex and the City" hardly touched on in its six seasons: Mental health.
After she gets dumped by her first girlfriend, Quinn stops showing up at work and tries to hide her feelings from her friends, only to realize that the only way out of a bad situation is to address it head-on.
"I think that mental health is something that affects everybody and I love whenever we can bring it into the fold of the Black community because I think that is something that is just now being discussed more and more openly," Byers tells TODAY.com. "It's deeply important."
As for Season Three? Nothing has been confirmed as yet. But Johnson says that if the fans want them to come back for another season then all they have to do is support the show.
"The writers are ready, the producers are ready, the creators are ready, the actors are ready. We just have to get that go. And if you all continue to support us, we will get that go," Johnson explains.