The doctors on "Grey's Anatomy" rarely get a moment's rest. Kim Raver, who stars as Grey Sloan Memorial Hospital's newest chief of surgery Teddy Altman, would know.
After heading up the cardiothoracic surgery department in Seasons Six through Eight, Teddy left Grey Sloan due to the devastating loss of her husband, Henry Burton (Scott Foley), who died during surgery.
Five years later, Raver returned for Season 14, now following Teddy on a "wonderfully complicated journey" of motherhood, a second marriage and now, leadership.
Raver herself says she never saw this arc coming.
"There's not many shows that have this long of a run where you actually get to play like a whole lifetime of a character," Raver tells TODAY.com. "I didn't ever do the futurizing of where she would be."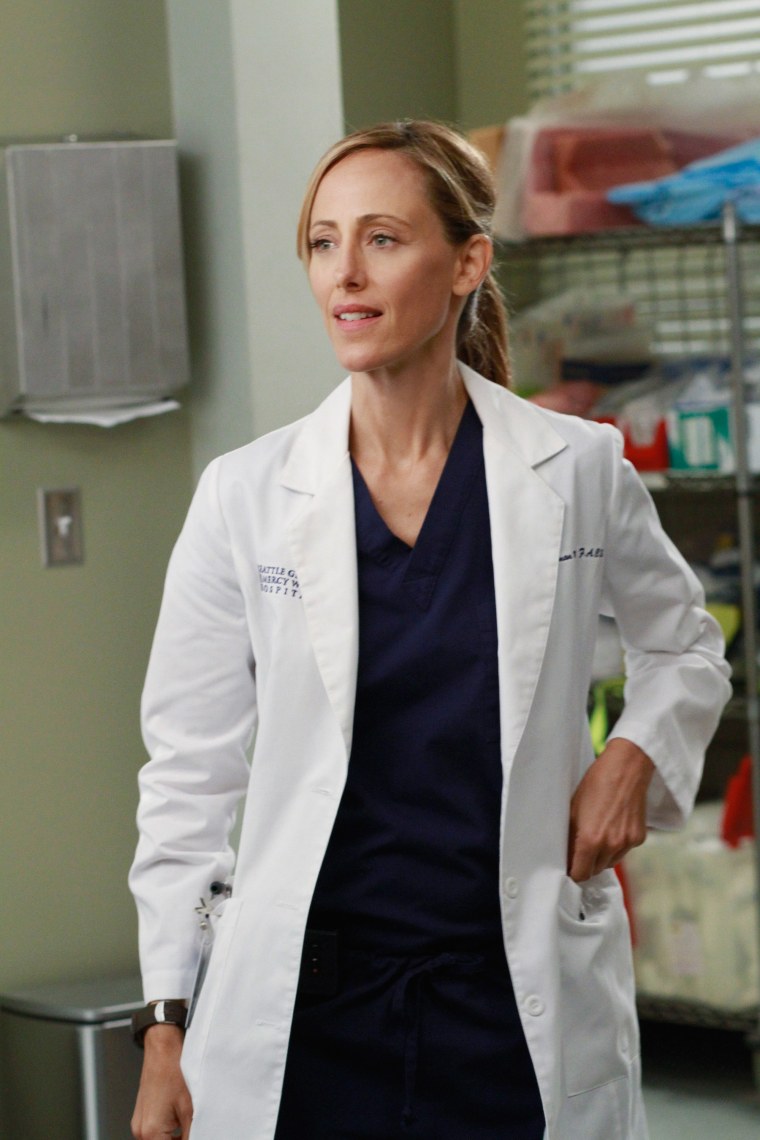 Teddy's tenure as chief of surgery follows in the wake of Meredith Grey's departure from Grey Sloan in the Feb. 23 episode of the show. After 19 seasons and more than 400 episodes, Pompeo has hung up her white coat as Meredith relocates her family to Boston.
Filming her goodbye scene was "emotional" for the whole cast, Raver says.
"It's definitely a huge mark of time," she says. "The one scene where we're all kind of raising a glass for (Meredith), it was a very real life reflection of the characters raising a glass to this huge accomplishment that Ellen Pompeo has done and the story that she has told."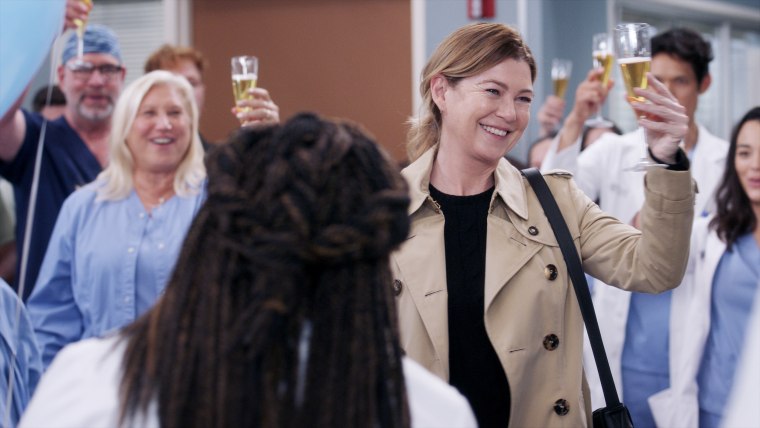 While Pompeo is no longer starring in the show, she has stayed on as a producer for the series. She is also set to appear in the Season 19 finale, according to Deadline.
"She's made a huge mark for women in television. I have huge respect for her," Raver continues. "I felt like we got to toast her and her amazing accomplishment in this transition for her and the next thing in her life, which was very similar with what was happening with Meredith Grey."
And like Pompeo, Raver is embarking on her own new journey: Directing. After shadowing Debbie Allen, a "Grey's" star who also directs episodes, Raver made her directorial debut with the upcoming Episode 11 of Season 19, entitled "Training Day," out March 23.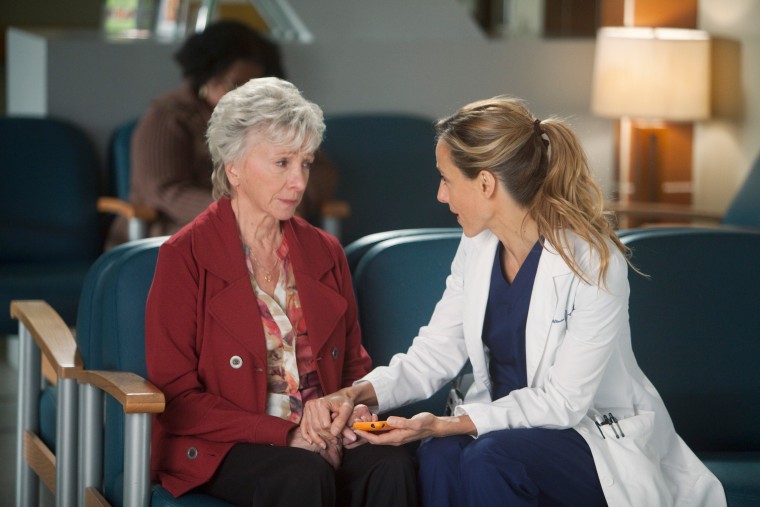 Promos for the episode reveal that Kate Walsh will guest star as OB-GYN Addison Montgomery, who went on to have her own spinoff, to tell the story of Grey Sloan facing a violent anti-abortion protest.
In the preview clip, Blue, an intern played by Harry Shum Jr., gets hit in the head with a brick that smashes through a hospital window. Meanwhile, Teddy has to step up to lead the defense, announcing, "Grey Sloan is on a hospital-wide lockdown."
Raver says directing the episode put her and her character in comparable positions.
"I had a walkie in my hand as a director, and I also had a walkie in my hand as Teddy, so it was an interesting mirror up to life," she says.
She also emphasizes the gravity of the March 23 episode, which comes after the overturn of Roe v. Wade and the rise in state laws restricting abortion care.
"It's happening in our real world," Raver says. "What happens in Shondaland is that they're brave enough to talk about very topical and important subjects and then allow the audience to come up with an opinion and have discussions about it."
"Grey's Anatomy" creator Shonda Rhimes has long advocated for depicting present-day issues on the hospital-set drama, such as as COVID-19 and abortion. The executive producer told HuffPost in June 2022, "I feel strongly that abortion should be portrayed on TV — especially on medical shows like 'Grey's' and 'Private Practice' — even though it is in direct conflict with my own personal experience."
"Personally, I would never make the choice to have an abortion, but I would fight for any other woman's ability to make that choice for herself," Rhimes continued. "That is what choice means. My shows portray the entire spectrum of health. Health includes showing women having agency over their own bodies. And I feel strongly about women's health and I truly believe in choice."
To prepare, Raver says she researched real-life examples of anti-abortion protests and "stuck to the script."
"I had some very cinematic moments in my episode, so in terms of prepping, it was really important for me to advocate for certain moments that highlighted women's power and women's voices in their own reproductive rights," she says.
She sees her episode as laying the groundwork for future episodes about the topic. "My job was to start the conversation," she says.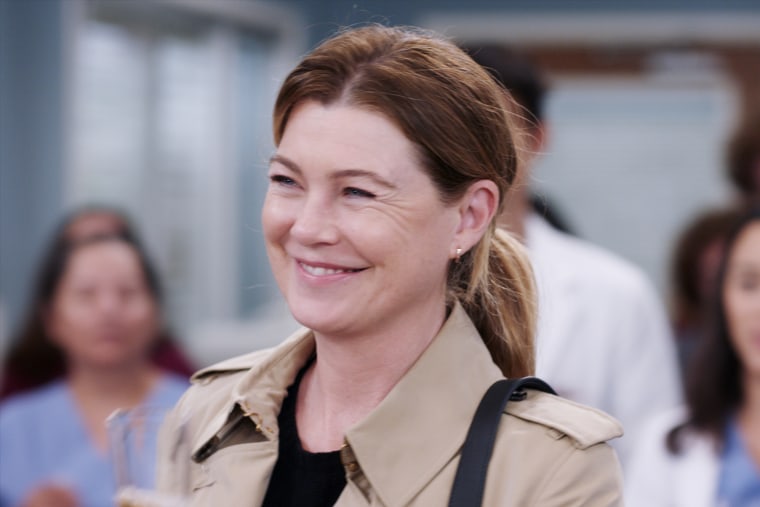 For the fans worrying about how the show can continue without titular character Meredith Grey, Raver says fear not: There are still "wonderful stories to be told in the quintessential 'Grey's'" style.
"When cast members leave, it's hard to say goodbye," Raver says. "But I also think that there's some incredible new stories to be told with these amazing new actors who are playing the interns."
This season, Shum, Adelaide Kane, Alexis Floyd, Niko Terho, and Midori Francis joined the cast as interns Benson "Blue" Kwan, Jules Millin, Simone Griffith, Lucas Adams and Mika Yasuda.
"I feel like if we've all loved 'Grey's' this many years, now we get to watch and engage in these really fun stories that are funny and heartfelt. (It's) a really great path of the new interns and how they interact with the characters that they also know and love," she says.