"Ginny & Georgia" doesn't turn away from complex topics surrounding mental health. For fans, that's part of the appeal.
Season Two of "Ginny & Georgia," which premiered on Jan. 5 on Netflix, has topped the streamer's Top 10 chart for two weeks, and has been applauded for its depiction of characters struggling with eating disorders, anxiety and depression.
"I'm loving this trope of addiction, abuse, and mental health and the accurate portrayal of social issues as the main theme in films and works of art in general ... the world needs more stories about them. Everything isn't always good or bad," one viewer wrote on Twitter.
"When (Ginny) confessed to her dad and the panic attack I cried hard. I felt her pain so deep! #mentalhealth #ginnyandgeorgia," another wrote.
Writer Olivia Truffaut-Wong called the show's depiction of depression — specifically, Ginny making a joke about her own — "refreshing," writing, "I still struggle to joke about my own depression with other ppl because I worry about how it will make them feel, but sometimes you just need to laugh."
Speaking to TODAY.com, executive producer and writer Sarah Lampert and showrunner Debra J. Fisher say they hoped to show, through their characters, that "everyone's fighting a battle — even if you can't see it."
Mental health became a major theme of the show back in Season One by depicting Ginny's (Antonia Gentry) experiences with self-harm, which is further explored in Season Two. Ginny struggles with a childhood defined by multiple moves and bearing the weight of her mother Georgia's (Brianne Howey) secrets.
Lampert and Fisher tell TODAY.com they worked with psychologist Dr. Taji Huang and Mental Health America to accurately portray the inner lives of high schoolers.
"We wanted to do a realistic portrayal," Fisher tells TODAY.com in an interview. "We didn't want to be a teen show that resolves these lifelong issues in one episode, or one-story arc or one season. This is something the characters are struggling with, and we want to show the realistic ups and downs of that."
"We love to say that everyone's fighting a battle you can't see" Lampert TODAY.com. "We really apply that to each character. We like to show the complexities of each character."
"We love to say that everyone's fighting a battle you can't see."
sarah Lampert
While writing the first season, Fisher and Lampert say they began thinking about Season Two including how to highlight Marcus' (Felix Mallard) depression and Zion's (Ginny's dad, played by Nathan Mitchell) involvement in Ginny's plans to start therapy.
Fisher says incorporating Zion and Georgia's opposing perspectives as parents was a conversation they'd had even before Season Two was announced.
In the new season, Zion signs Ginny up for therapy after learning she is self-harming. Ginny hides her therapy sessions from her mom after learning Georgia doesn't believe in therapy, a belief informed by her hardscrabble upbringing.
Later on in the season, Georgia confronts Ginny about her burns and learns that Zion has sent her to therapy to get help. She joins her daughter for a season, and realizes how helpful therapy can be.
"I think it's very important for kids because not all parents agree about therapy or how to go about things. It opens up a really important conversation," Fisher says.
Although the topics "Ginny & Georgia" covers are sensitive, Lampert says the show's writers didn't want to skirt around issues that young adults actually go through.
"Because that's life," she adds. "Life is messy and complicated and people mess up and we want to give them room to mess up and room to grow."
What makes Season Two so emotional for Lampert and Fisher is the personal stories and perspectives that informed the scenes, coming from writers, actors and directors. Fisher shares she personally struggles with crippling anxiety and panic attacks.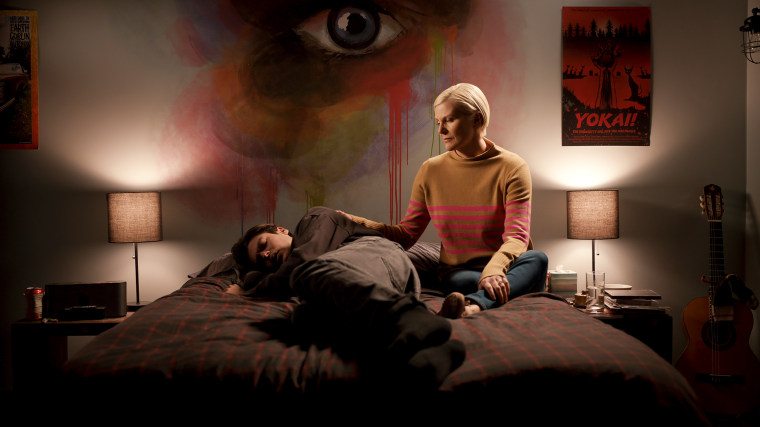 Lampert tells TODAY.com she was in a "dark place" when writing the voiceover for Marcus in the episode devoted to his depression. Seeing people's positive responses to his storyline has been powerful and gratifying for her, she says.
"Having these responses being like, 'Because of the show, I started therapy, or because of the show I feel seen' ... I mean, those are the most important responses to me," Lampert says.
In an interview with Netflix, which you can see here, Gentry and Mallard discuss their personal journeys dealing with mental health and self-discovery.
Mallard said that, similar to Marcus, if he's not doing well, he'll withdraw from people — especially the ones he loves. "It's really hard for me to admit that I'm not doing well. You know, I don't want to let them down and so it's easier to not be in touch," he said.
Gentry said she's struggled with feelings of shame, but has been able to find people in her life to help mitigate those feelings. 
"You never know who in your life is there to help you unless you actually allow them to help you," Gentry said. "It's important to have people who understand that and who are patient. But you also have to be patient with yourself."