Warning: This article contains spoilers from Season Two of "Ginny & Georgia." 
"Ginny & Georgia" fans have a lot to digest after speeding through the show's second season.
As soon Netflix released Season Two of the hit dramedy on Jan. 5, the series immediately trended on social media as fans discussed Georgia's complicated love life and strained relationship with her children, Ginny's therapy and her breakup with Marcus and an unexpected murder (of course). 
The season was packed with moments both intense and sweet, which executive producer and writer Sarah Lampert and showrunner Debra J. Fisher dissected in an interview with TODAY.com. 
Lampert and Fisher also broke down Episode 10's dramatic final moments.
Below, find out what the executive producers have to say about the Millers' future. 
How does Season 2 of 'Ginny & Georgia' end?
Season Two tests Georgia (Brianne Howey) and Paul's (Scott Porter) relationship up until the final episode.
The arrival of Austin's dad Gil (Aaron Ashmore) in Wellsbury causes Georgia to hide more secrets from her fiancé. But after Ginny (Antonia Gentry) and Austin (Diesel La Torraca) convince their mom to tell Paul the truth in Episode 10, she confesses to most of her crimes, and Paul stands by her. 
The happy couple decides to get married at city hall in front of their friends. Ginny gives a moving speech about her mom being a great "force" in her life. As Paul and Georgia dances together, private investigator Cordova (Alex Mallari Jr.) interrupts the reception. He brings a group of police officers who arrest Georgia for killing Cynthia's comatose husband Tom. 
Georgia is taken away in handcuffs and Austin runs after the police car. Ginny stays behind but looks concerned as she watches her recently reunited family get torn apart.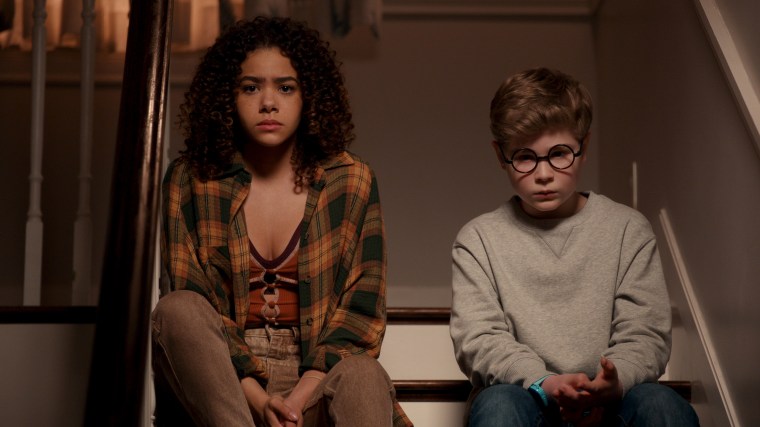 What have the writers said about the cliffhanger?
Fisher and Lampert tell TODAY.com that Georgia being taken into custody sets up more storylines for the Millers that would be explored in a possible Season Three. 
"Sara and I obviously know — in (the event of) of a Season Three — where we're going," Fisher says. "We spent all of Season One breaking (the Millers) apart. And (the Season Two finale) is such a pivotal moment because it's the first time when all three of them are on the same page and united, truly."
The showrunner continues, "It's so important where we go at the end of the season with the cliffhanger with Austin chasing after his mother." She calls it an "intentional" move, and a place where a potential Season Three would start.
Lampert says, "Ultimately, our goal is to really put the viewer in Wellsbury and have you emerge from the season being like, 'What the hell just happened?'" 
She also explains that the close-up on Ginny's face as Georgia is arrested shows her grappling with a conversation she has with Cordova earlier in the season. Cordova warns Ginny that if her mom kills again, she would bear some responsibility.
"Ginny is always going to struggle with (her mom's murders) a little bit more than Georgia is. That's just going to always be a tension that exists in their dynamic together," Lampert says, describing how Ginny would feel at the start of a third season. 
She then adds, "But yes, going into a Season Three we want all Millers united against the world."
Fisher hints at the Millers facing even more challenges in future and says, "They'll need to be all right." 
Lampert agrees. "For all that's coming for them, absolutely," she says. 
When will Season 3 be released?
Netflix has not announced if "Ginny & Georgia" has been renewed for another season. The first season originally premiered in February 2021. According to Fisher, the team spent 20 weeks in the writers room crafting up storylines for Season Two. 
So, fans might have to wait at least a year to be reunited with the Millers and all their favorite Wellsbury residents. If it is anything like Season Two, then it will be worth the wait.