(Warning: Spoilers from the season finale of "Perfect Match" ahead)
The most talked about contestant on Netflix's newest dating show "Perfect Match" is Francesca Farago — and it's not the first time she's shaken up a Netflix reality show.
Farago, who previously appeared on "Too Hot to Handle" and has a huge social media presence with nearly six million followers on Instagram, had viewers critiquing her every move and anxiously wondering who she would couple up with next.
When "Perfect Match" premiered on Feb. 14, Farago was one of the first contestants on the competition show, which takes fan-favorites (and villains) from past Netflix series and puts them in one house together.
The goal was to make it to the end of the show and find a soulmate. But a constant stream of new contestants meant relationships were tested and hearts were broken.  
The winners of each compatibility challenge selected two new cast members to join the house every episode. Farago won a few competitions, giving her the power to add cast members she wanted to date. Throughout the show's 12 episodes, she matched with Dom Gabriel ("The Mole"), Damian Powers ("Love Is Blind" Season One) and Abbey Humphreys ("Twentysomethings"). 
Some of her decisions, like her choice to leave Gabriel and explore a romantic connection with Powers, rubbed some viewers the wrong way. Fellow cast member Chase DeMoor ("Too Hot to Handle" Season Two) repeatedly referred to her as a "villain" on the show.
In an interview with TODAY.com, Farago speaks to the importance of having a game plan on "Perfect Match." 
"You have to strategize to stay in the house," she says. 
She explains that the premise of "Perfect Match" required the cast to win competitions so they could possibly meet someone who wasn't currently in the house. 
Farago says, "(You) kind of have to work the playing field and make sure that you stay in the house, honestly. So it's love, but there was a lot of additional strategy to it as well."
The social media influencer was among the first group of contestants who moved into the luxurious home in Panama, meaning she had more pull and power in the house from day one, she shared. 
Fellow contestant Anne-Sophie Petit-Frere also confirms to TODAY.com that being an original cast member was an advantage. 
"I feel bad for the people that came like midway through on a date and (had) to quickly figure out what's going on," the "Selling Tampa" star says. "People were already coupled up. Because I was there first I got to see the lay of the land." 
Despite some criticism on social media, Farago's strategy on the competition show proved to be successful. She tested connections with a few cast members until she ultimately decided in Episode 11 to remove herself from the game.  
Where does her relationship with Damian Powers stand now?
Looking back on her experience, Farago said she views all her matches in the villa equally. 
"I have a different relationship with each of those people now," she revealed. "I'm definitely the least close to Damian now and I was probably the closest to him in the house with our friendship, but I can't really put a level on each relationship."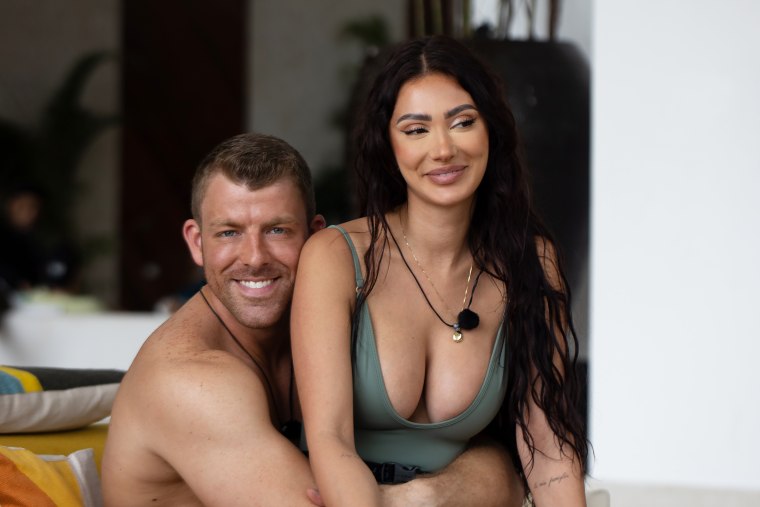 She adds, "They're all very different, but I'm glad each of them happened."
Fans first noticed some sparks between Farago and Powers when she made a surprise appearance during Season One of "Love Is Blind." Powers brought Farago as his date to a party in the "After the Altar" special, upsetting his ex-fiancée Giannina Milady Gibelli. 
At the time, Farago and Powers told Gibelli and the cameras that they were just friends. On "Perfect Match," Farago chose to go on a date to test and see if their relationship was strictly platonic or if it could grow into something more. 
After getting together and then briefly separating, Farago ended their romantic relationship on "Perfect Match" after questioning if Powers truly knew the real her.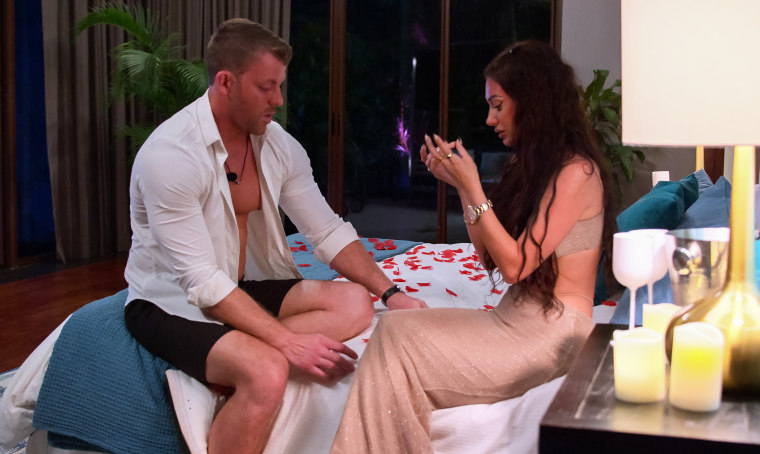 Farago is in a relationship with TikTok star Jesse Sullivan
Since the show ended, Farago has moved on and is now in a relationship with TikTok star Jesse Sullivan. The two share photos together on social media, but they have received hateful comments on some of their posts.
Sullivan shared more of their story together in a TikTok, tracking their journey from long distance and back again.
Farago, who spoke about being bisexual on "Perfect Match," told Variety that the couple has experienced hate toward the LGBTQ+ community online. 
"My boyfriend is trans, and he gets death threats on his posts," she said in an interview with the publication. "And he's just a nice normal dad. He's so sweet." 
She continued, "To have these aspects of public hate from that just proves that the more representation we have, the more positive it will be because people will see that we're just normal people."