"Firefly Lane" is undeniably a love story. The Netflix series, which concluded on April 27, didn't necessary make viewers weak in the knees during its two-season run — but it did pull at every single heartstring.
Rather than romantic love, "Firefly Lane" celebrates female friendship — and stars Sarah Chalke and Katherine Heigl were instantly drawn to the show because of it.
"That is what I loved right away from the beginning when I opened the script in my inbox," Chalke, who plays Kate Mularkey, tells TODAY.com. "It's rare to see such a strong, beautiful female friendship told in this way and told with all of the good parts, all of the hard parts, all of it altogether."
Season Two Part Two sees the main characters reuniting after a painful feud tore them apart in the prior season. Early on in the final installment, Kate and her best friend, Tully Hart (Heigl) make amends as Kate battles cancer.
"I love that for this last seven (episodes), they came back together early on so you can really have them go through that journey together. Because at the end of Season Two, Part One when Kate gets the diagnosis, everything else falls away and she realizes the person she wants to be by her side the most is Tully," Chalke explains.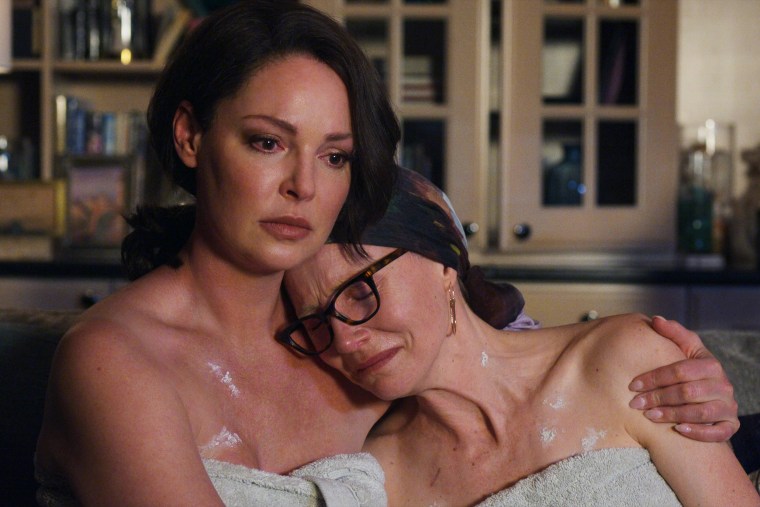 "Firefly Lane" follows the decades-long friendship between Kate and Tully, and Heigl and Chalke's onscreen chemistry is contagious. According to the stars, that mutual love and respect also spilled off the screen, and Heigl calls their real life friendship a "crazy blessing."
"It's not a given and I think most of the time you enter into any kind of job, you're unsure if you're gonna make real connections with your coworkers or if it's just going to be a respectful kind of working environment," she tells us. "And it's not that it had to be what Sarah and I found for us to have been able to do our job, but it just makes your job a hell of a lot easier and a lot more fun."
Heigl said she instantly experienced a "weird kismet energy" when she first met her co-star.
"I felt that with Sarah so immediately. I think that was just Sarah's spirit in her heart. It was very clearly one I could feel safe with, which makes everything so much better," she says.
Chalke says they have formed a "great bond," adding that Heigl will be a "friend for life."
"I feel so lucky for that, because it's great on any job when you get along. But for one like this, where you're dealing with this kind of subject matter and it's hard, I can't imagine that any other way," she says.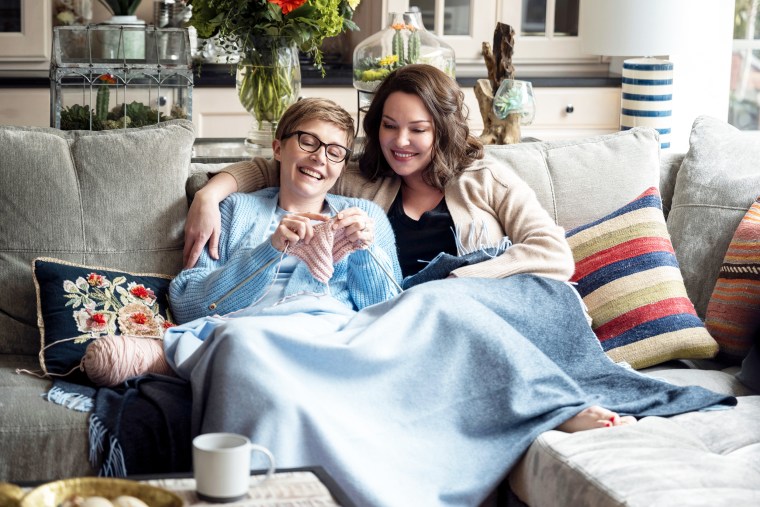 Since the show first debuted in 2021, Chalke says many fans have commented on how much the show has meant to them.
"One of the coolest takeaways from this whole experience was people reaching out afterwards saying, "It made me call my best friend and it made me call my sibling and it made me reach out. And if that ends up being a net effect then that's pretty cool for us," she says.
Heigl, a mother of three, and Chalke, a mother of two, say the show helped them talk to their kids about friendship.
"This show has informed how I talked to my daughter about female friendship when I find that there's strife or drama going on and how much of it has to do with boys," Heigl says. "Tully and Kate have become this model of like, Don't let that get in between you and somebody who's got your back."
The star also said she wants to teach her daughters that female friendship "is not not less important than a romantic relationship."
Chalke, whose daughter is 6 years old, says it's one of her "greatest wishes" for her to have strong female friendships like the ones she has.
"I feel so lucky that I did and I quite frankly can't imagine my life without it," she says. "I'm so lucky to have best friends since kindergarten with people who truly care about each other and root for each other. I talk to my best friend every day and I truly can't imagine if I didn't have that."
Now that "Firefly Lane" has aired its last episode, Chalke says she hopes the show leaves behind a legacy of love.
"I hope people call their best friends and make those connections, and if they've lost touch over the pandemic that they just take the time to nurture them, because they're the most important thing," she says.