Warning: This post contains spoilers for Season Four of "You."
There's a new killer in London on the latest season of "You," and this time it might not be Joe Goldberg.
By the end of Part One of the show's fourth season, which was released on Feb. 9, viewers may have had a hunch as to the identity of the Eat the Rich killer, who has been murdering socialites in Joe's elite new friend group.
But Part Two, out on March 9, completely changes things. Here's a journey into the identity of the killer (and why it takes so long to figure it out).
Joe thinks he's being framed as the 'Eat the Rich' killer
At the end of Season Three, Joe stages his own death and frames his wife Love Quinn (Victoria Pedretti) as the culprit. He moves to London under a new identity to start over.
Attempting to keep a low profile, Joe works as an English professor. Still, Joe finds himself limelight-adjacent, thanks to his wealthy new friends.
It doesn't take long for the murders to begin.
Joe wakes up midway the first episode to find his neighbor Malcom (Stephen Hagan) dead atop his dining room table with a dagger plunged through his chest. Because Joe blacked out from drinking the night before, he assumes he killed his new friend and decides to decapitate and dispose of the body, in classic Joe fashion.
On his way to a dinner with the new group, Joe receives a text from an unknown person confessing that they had killed Malcom, and was surprised to see how well he was able to get rid of a dead body.
In the first five episodes, the unnamed killer also takes the lives of Simon (Aidan Cheng) and Gemma (Eve Austin), while continuing to threaten Joe via text message.
Meanwhile, Joe develops a new love interest on Malcom's girlfriend, Kate (Charlotte Ritchie).
Following Gemma's murder in the fifth episode, Joe confesses to Kate that he's being framed and stalked by the person the media has dubbed the Eat the Rich killer.
Joe convinces the world that Roald is the 'Eat the Rich' killer
Kate's friend Roald (Ben Wiggins) convinces the remaining that Joe is the killer. They turn on their new friend. During a forest chase, Joe knocks out Roald.
Then Rhys Montrose (Ed Speelers), a memoirist and London mayoral candidate in the friend group, unexpectedly appears and hits Joe unconscious.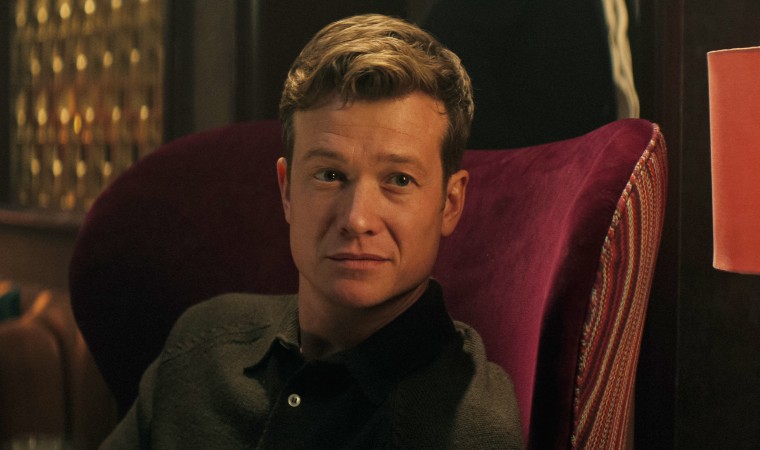 Joe awakens to being locked in a cellar with Roald, not yet conscious, and Rhys, who reveals that he's been the one texting him and suggests that they pin the murders on Roald.
When Joe doesn't immediately comply, Rhys lights the place on fire and bids Joe farewell ... unless he can escape and return to London.
In a close call, the two narrowly breakout of the dark cellar with the help of Kate and Joe begins his fight to expose Rhys as London's Eat the Rich killer.
Rhys confesses to being the 'Eat the Rich' killer — but it's complicated
Part One ends with Rhys making a confession that he's the Eat the Rich killer. This turns out to be only half true. Yes, he has been preying on people in Joe's circle. But he's not real.
Turns out Rhys is actual the embodiment of one half of Joe's split personality – the part of him that he compartmentalized into doing the kind of nefarious deeds that once defined him, and that he was trying to move away from in London.
Joe, in Part Two, kills the real Rhys in an attempt to find Marienne (Tati Gabrielle).
Before he dies, Rhys claims he has never seen Joe before. Indeed, they have never met: Joe listened to Rhys' audiobook and became obsessed with him. His personality split after he captured Marienne and put her away. Feeling such shame at harming the woman he supposedly loved, he splintered.
If you thought Joe was the 'Eat the Rich' killer all along, you were right
Joe is Rhys, Rhys is Joe – and Joe can't help but be a killer. By the end of the season, Joe kills Kate's father Tom (Greg Kinnear). He tries to take his own life. Instead, he wakes up in the hospital and finds that Kate fully accepts him.
Now, Joe is moving forward with the "Rhys" part of him in the driver's seat. He is the "Eat the Rich" killer and he feels no shame.