Drew Barrymore loves her fans just as much as they love her.
In a May 25 clip from "The Drew Barrymore Show," the talk show host, 48, stopped what she was doing and rushed into the audience to comfort a crying fan.
"Are you OK? Did anything happen? Whose a-- do I have to kick?" she said while walking over.
But when the fan's friend explained that her pal just loves Barrymore "so much," Barrymore replied, "Oh, thank God, it's nothing bad."
One of the crew members gave the crying fan a mic and that was when she said, "You're just, like, my childhood idol. I don't want to be that person to cry."
Barrymore responded, "Be that person!"
"I really love you. I'm sorry," the fan said.
At that point, Barrymore went into the stands to give the crying fan a hug, and the fan revealed her name was Olivia.
"I have the urge to do this," Barrymore said as continued to embrace her.
"This is just such an honor for me to meet you," Barrymore continued, then joking, "I'm sorry, I have dumpling breath."
"And it's so funny that you would say, 'I don't want to cry here.' I cry here all the time," Barrymore added as the audience laughed.
Barrymore, whose known for getting up close and personal with her guests on her talk show, has had a lot of memes created of herself having intimate interviews with her guests.
When she appeared on "The Tonight Show," host Jimmy Fallon pointed out that she really has a hands-on approach to interviewing, like when she knelt down on the floor in front of Chlöe Bailey and they held each other's hands.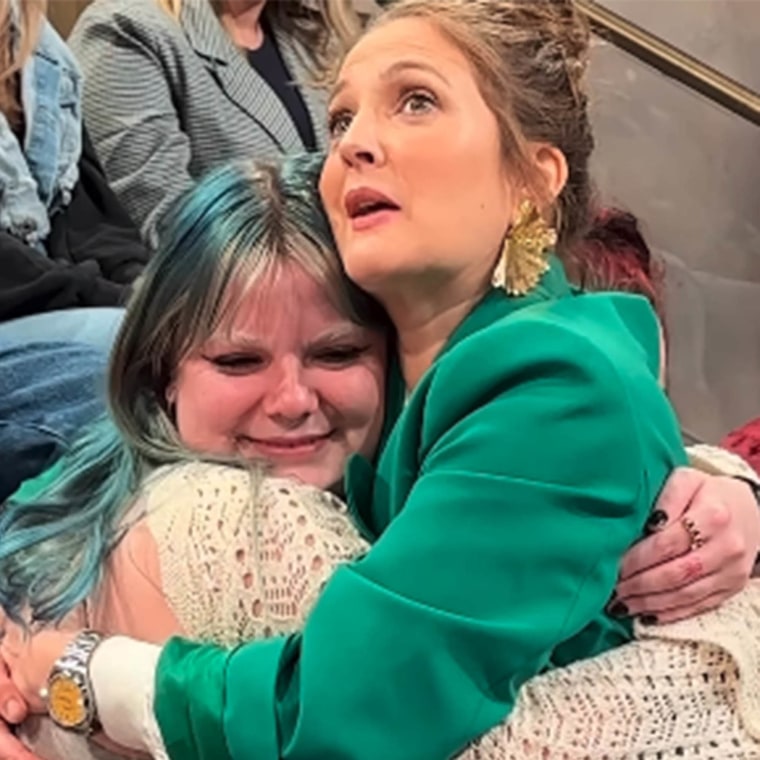 When asked why she does that, Barrymore said, "I feel this magnetic pull."
"I love doing the show so much. I get to learn from people every day. I get to have these incredible conversations that I definitely take something away. It's always improving my life, it's profound, it's fun," she explained.
"I love people. I love every human being on the planet," Barrymore added. "I'm fascinated and everyone has a story and every person is exceptional and interesting. And it is so fun to literally get to be a conversationalist at work. It's the coolest thing in the world."