Dolores Catania has no issue standing strong on her own.
Whether she's standing up against a castmate or joking around with her ex-husband, Catania never backs down, even if she's standing alone. 
Catania returned for her seventh season of Bravo's "The Real Housewives of New Jersey" on Feb. 7 alongside OGs Teresa Giudice, Melissa Gorga, Margaret Josephs and Jennifer Aydin and newbies Danielle Cabral and Rachel Fuda. "RHONJ" veteran Jackie Goldschneider stays in the mix as a friend of the cast this season, joined by new friend Jennifer Fessler. 
Season 13 promises a refreshed version of the fan favorite franchise. Catania says that this season showcases her in a different light as fans will "see a vulnerability about me that no one's seen before ... including myself."
In a conversation spanning new castmates to new feuds, TODAY caught up with Catania to hear her reaction to the premiere episode, and tease what's to come.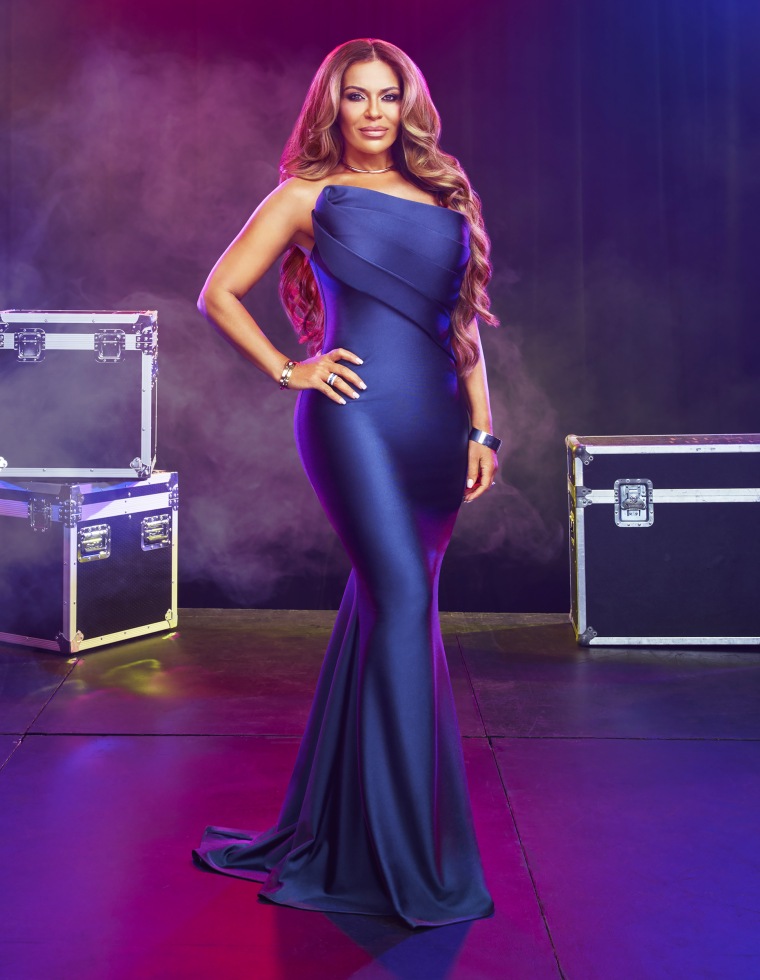 Catania says all of her castmates cause drama this season
With a rock-solid main cast, bringing new ladies to the group that fit in has been quite the challenging task. For example, former NFL star Tiki Barber's wife Traci Johnson joined the group last season as a friend of the cast, only to return this year as a guest.
Enter Fuda, Cabral and Fessler, who Catania says "blend in very well" with the rest of the group, which is "different than other times we've had new faces for a short time."
Social media sleuths pointed out that Fuda once had an Instagram account called "BravoLover1234." Catania tells TODAY.com, "there's nothing wrong with being a fan of the show and coming on. People have said it about Jackie (Goldschneider)."
"People can say it about a lot of people because everybody watches the show. If you're a part of our lives, you watch the show. These girls are friends of ours, so there's no shame in being a fan of the f------ show," she continues.
By the looks of the Season 13 trailer, the newbies get into the drama too. "Everybody took their turn. Everybody had blood on their hands this season," she says.
Even with new blood entering the mix, Catania shares that the group still finds time for positive moments.  
"There was some bonding that I can't seem to let go of. Our cast trip was so nice and so much fun. To know we can have that, it was a reminder that we could still have fun together no matter what's going on," Catania says.
Catania says it was 'very nice' to see Giudice apologize to Josephs
Season 13 is a big season for Giudice, as it showcases the lead up to her nuptials with Louie A. Ruelas after their relationship was the most talked about topic between her castmates during Season 12.
Last season, Josephs communicated her concerns about Giudice's relationship with her, which culminated in a shocking food fight. Giudice propelled a table of food and drinks at Josephs.
The Season 13 premiere showed Giudice apologizing to Josephs, and Catania tells TODAY.com, "to see her apologize verbally was very nice."
Giudice also signaled that she turned a new leaf, one with less grudge-holding. "I can't speak for her how she feels inside, but she's going to try to get past things that in the past have not been great to hold a grudge," she says.
"When you self-reflect, you can evolve and I think it's a good time for Teresa to do that. She has someone in her life who's there to say 'Listen, why don't you do it this way?' Before, she didn't have anyone to tell her," Catania continues.
Giudice seemingly still holds a grudge when it comes to her relationship with her brother Joe Gorga and his wife and "RHONJ" star Melissa Gorga. In the premiere, Giudice said, "Now that I have Louie's family, it's filling the void I never had before." 
Many have interpreted Giudice's statement as shade towards her brother and sister-in-law, but Catania says that Giudice's statement may have been more of a matter-of-fact comment. Catania tells TODAY.com, "I didn't see any shadiness, because I know when she's being shady. She's not very discreet with her feelings."
"Teresa always wanted a family, she always wanted sisters. She wants closeness and she has that in Louie's family, so that's what she was talking about, The fact that she lost her parents in the past couple of years has been really hard on her, so Louie has a close family, and that's what she wants," Catania continues. 
Catania refuses to give Aydin's 'erratic' argument more life
At the Season 12 reunion, Catania found herself at odds with Aydin …a feud that made for a fiery kick start to Season 13. 
In the premiere, Aydin said she thought someone "ultra jealous" that "wants her to fail" may have put an evil eye on her, and implied that person was Catania.
While speaking to TODAY.com, Catania says, "I'm not even addressing those things that she says because they're so unfounded and meritless. I wouldn't even address that in a private conversation because where is it going to go?"
Aydin also brought up Catania's former relationship with David Principe in the premiere, saying to other castmates, "When a man is with you for five years and he still doesn't know … guess what? It's a no."
Catania says, "She did question my relationship with David when we were at the apple orchard. She did say things in the past. That argument was so erratic and all over the place that I'm not even addressing it to her, much less anybody else, because I wouldn't give it anything."
As for why things get so heated between the pair?
"Jennifer doesn't let me speak, and Jennifer is stubborn when she gets something in her head. Jennifer and I always needed to just sit down away from the crowd and talk privately, which she didn't want to do until recently, so that's why it would get explosive," she says.
Catania spills on her relationship ... and her relationship with her ex-husband
Season 13 offers viewers the opportunity to get to know Catania's boyfriend Paul Connell, whose influence has pushed Catania to be more vulnerable than ever.
"He cares about me and wants to be part of my life. He cares about me, he's there for me. I'm a loner. I've always been, even when I was a kid. So for me to allow somebody to even do that, I had to drop some walls and some guardedness. I'm trying to get used to it, and I kind of like it," she says.
Catania's relationship with her ex-husband, Frank Catania Sr., will also continue to evolve this season as the trio navigate new boundaries now that Connell is by Catania's side. 
The premiere showed Catania Sr. expressing discontent over how their relationship had evolved, and from the looks of the Season 13 trailer, the conversation will continue as the season progresses.
Many have pushed Catania to get back with Catania Sr., but has that added more tension to their relationship? Catania says, "I never succumb to peer pressure ever. Clearly, I don't pick a side when somebody wants me to. I don't go against a friend because someone else doesn't like them. I don't get engaged or married because someone says I should."
"People want the best for me, (so) I don't get offended when people tell me they want me back with Frank. They're saying it because they like him, and they want to see me happy."