"The Voice" blind auditions continue to bring in amazing talent.
On Monday, March 13, ALI, who was born deaf, completely shocked coaches Kelly Clarkson, Chance the Rapper, Blake Shelton and Niall Horan when she performed an amazing cover of the Fugees' version of "Killing Me Softly with His Song."
When ALI took the stage and began to sing, all the coaches were immediately intrigued. Chance started bopping his head, followed by Clarkson and Horan as they started moving in their chairs.
Shelton also looked quite surprised when he heard ALI riff during the verse. After ALI riffed again into the chorus, Chance hit his button to see who was singing, with Clarkson following right behind him, signaling to ALI that she has two coaches interested in bringing her onto their team.
At the end of the song, ALI revealed that she was 24 years old and hearing-impaired.
"What?" Clarkson said shocked.
ALI added, "I wear two hearing aids. I was born deaf. I'm so blessed to be able to share this."
After the audience clapped for ALI, the coaches shared how taken they were by her performance.
Horan said, "You are incredible. Any sort of adversity that you've had in your life, you are just jumping hurdles here and it's incredible to watch, so I wish you the best of luck, ALI."
Shelton added, "If you had lined up all the singers that we've heard so far and then said, 'Pick one which is hearing-impaired,' you would probably be the last one that I would say. That vocal was just incredible. The only reason I didn't hit my button is because that's so far out of my lane musically. Outside of that, wow."
Clarkson noted she thought ALI's version of the song was well done, and while sometimes it can be "weird" to hear a song you like performed a different way, she adored the changes that ALI made.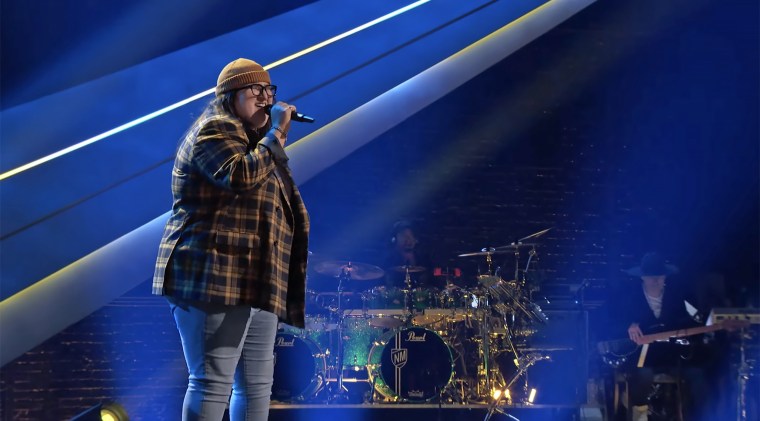 "They were so you," she said. "I was like, I need to turn around and see who is singing this."
Chance agreed and said, "ALI, I'm just still so stunned to hear that you're hearing-impaired," going on to say it's "so dope" that other performers in the deaf community can turn to ALI for inspiration.
"Naturally, you have an amazing voice, and all the choices that you were making felt very soulful. I would love to hear you sing some gospel."
"I grew up singing that," ALI shared.
"I could tell," he added.
Although being on either Clarkson's or Chance's team seemed enticing to ALI, she chose to have Clarkson as her coach.
"Yeah!" Clarkson shouted as she sprang out of her chair to give ALI a hug.