As Lt. Christopher Herrmann on the hit NBC drama "Chicago Fire," David Eigenberg gives a terrifying look into the life-threatening scenarios of first responders. But how does the show compare to the lives of real firefighters?
In a conversation with TODAY.com, Eigenberg and Capt. Dan Olivas, head of Fire Station 16 in Los Angeles, showcased in the new docuseries "LA Fire & Rescue," speak about the comparison.
After the two briefly catch up, Olivas wants to make it clear that he approves of Eigenberg's portrayal of a firefighter on the show.
"He does a good job portraying a firefighter. I mean, they train, they work hard," he says. "It's what the fire service is all about — what they do on 'Chicago Fire.' So, it makes me happy when I watch the show and just say, 'Man, they're doing a great job.'"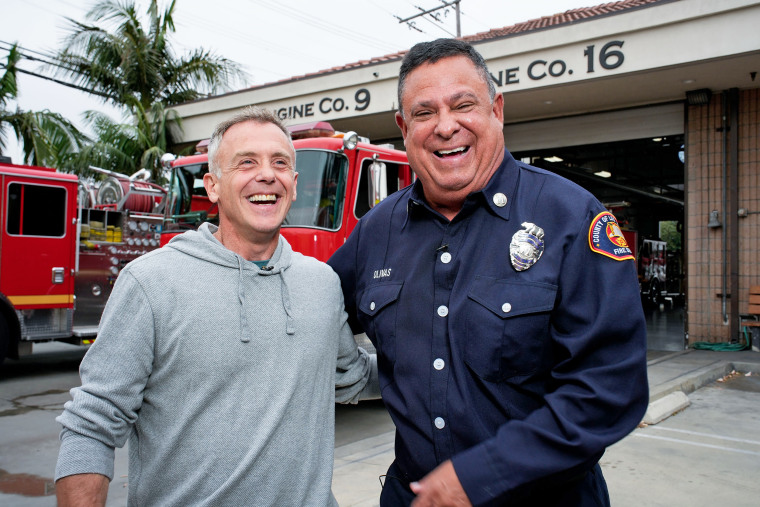 The bulk of training Olivas references took place about 11 years ago south of Chicago in Champaign-Urbana, Illinois, at the Illinois Fire Service Institute, Eigenberg explains, where they mimicked fires and were required to crawl through small spaces, like closets.
"You can get lost in it, believe it or not, in a heartbeat because your brain is doing something different," the actor explains. "You're not prepared for that. So your brain goes, 'All right,' and you're following the wall because you're dragging your hand along the wall and you can't see and then all the sudden you don't know where you are."
However, Eigenberg says they re "very, very safe" while reenacting fires on set — which Olivas says he could "totally tell a lot of it is just for TV" based on smoke conditions.
"They're always walking into a situation which they know is safe, but could turn on them and go bad at any second," Eigenberg says, comparing the scenarios to reality.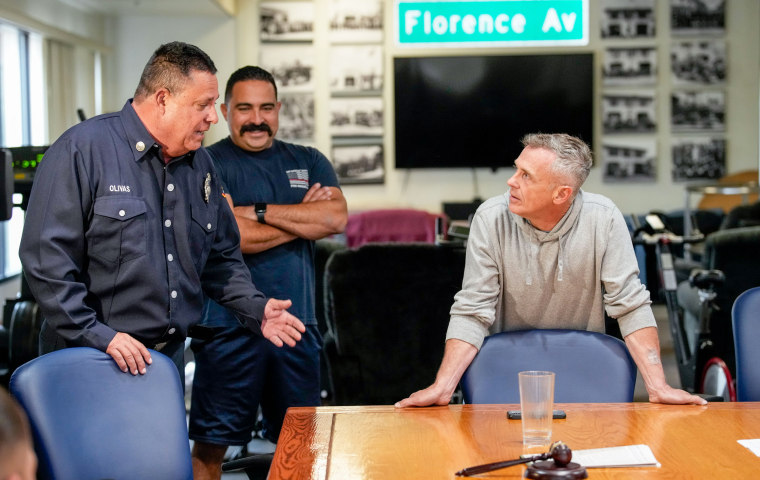 Olivas seconds that, adding that the actors are running into controlled fires, while "anything can happen in an instant" amid real flames.
One characteristic of firefighters that Eigenberg picked up on while spending time with first responders: their sense of humor.
"They laugh just as hard as we do, I think, and one thing I missed on the show is first responders deal with ... a lot of real-life scenarios, which are horrifying for a normal person," he explains. "They deal with it in a way that they get through it, but it also sits with them and they have a great sense of humor, which helps them laugh about bad scenarios."
Eigenburg says that "Chicago Fire" couldn't embrace the humor because it "wouldn't be understood by a general viewing audience."
"That's the one thing that really stinks," he says, "because it can really, really help make people laugh after you come through really something horrible."
Olivas says the life-threatening and sometimes fatal events he sees on the job "eats you up inside," especially when seeing horrible situations involving children.
What we actually see on our job, most normal people don't see it ever in their lives. It's the stress we have, the emotion we see.
Fire Capt. Dan Olivas
"You go back and you try to talk about it, but it's hard to talk about," Olivas says. "You basically just hold it inside. I hold a lot of stuff inside that I see in kids and stuff. And you think you can get over it, but it eats you up and it's just something I have to deal with."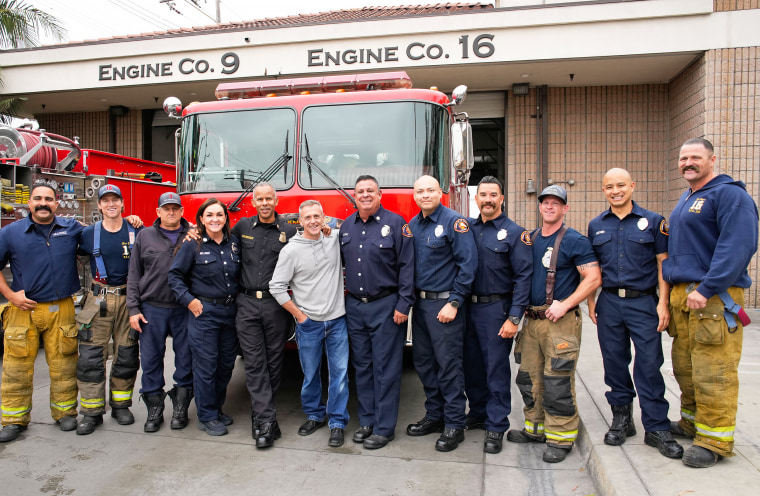 Both Eigenberg and Olivas discuss a recent influx of efforts to bring mental health services to fire stations, which they say is explored in "LA Fire & Rescue."
"Now, like Dave said, we have peer support groups that come by the station, and now we have support dogs," Olivas explains. "There's always somebody to talk to when there's a traumatic (event, like) kids die or we see something horrible. They always send a team to the station and so you can talk things out. But most guys, they don't want to talk it out. They'll just listen to the guys talk, but it's progressing though."
For Olivas, whose story is told on the opening episode of "LA Fire & Rescue," he wants viewers to understand that firefighters "are people, too."
"What we actually see on our job, most normal people don't see it ever in their lives. It's the stress we have, the emotion we see," Olivas says. "I mean, most people don't see people get killed. The fires we go in, the traffic collisions — it takes a toll on us. And I want (viewers) to know that we have families, too. We have kids. We're just like them, and we're in the station 24 hours a day. I don't think a lot of people realize that it's a third of our lives."
But, like other firefighters, the trauma and stress hasn't stopped Olivas from serving the community day in and day out.
"That's what I signed up for is to help in my community. And I love the people I serve," Olivas says. "I just want them to know that. And anytime they need somebody in the fire service, they come by the station, we're there to help you."
"LA Fire & Rescue" airs Wednesdays at 8 p.m. ET on NBC. Episodes are available to stream the next day on Peacock.
(Peacock is part of our parent company, NBCUniversal.)