Axe is back.
Damian Lewis, who plays self-made billionaire Bobby Axelrod on "Billions," confirmed the hedge fund mogul would be returning to the show after a season-long absence.
"Axe is back and it's exciting," Lewis, 52, said on "The Late Show" with Stephen Colbert on Feb. 28. "He's not been around for a couple of seasons, but he's back."
Colbert asked when Bobby would be returning, and Lewis replied, "I can't tell you!"
Showtime, the show's network, said in a statement on Feb. 28 that Lewis would return for six of the 12 episodes in Season Seven of the show, which will air later in 2023.
Lewis' character fled to Switzerland at the end of Season Five of "Billions" to avoid prosecution in New York, and hasn't appeared on the show since.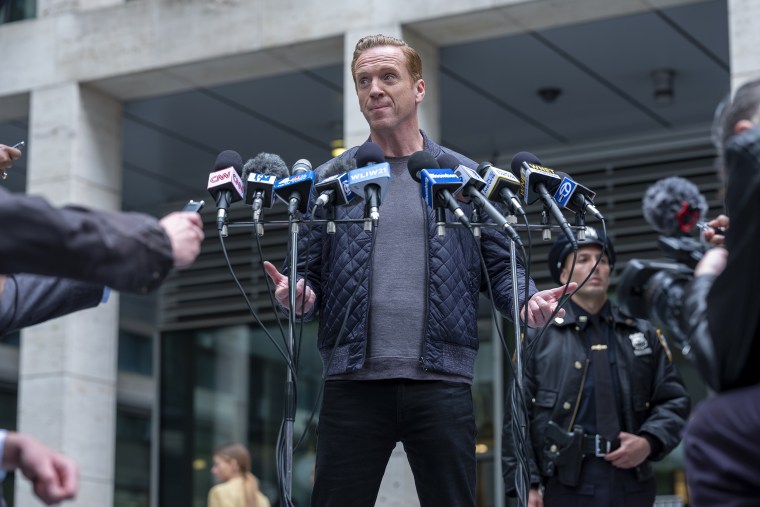 His exit from the show occurred months after the death of his wife, Helen McCrory, in 2021. Lewis said in a statement on April 16, 2021 that McCrory died of cancer at age 52. They have two children together.
"I'm heartbroken to announce that after a heroic battle with cancer, the beautiful and mighty woman that is Helen McCrory has died peacefully at home, surrounded by a wave of love from friends and family," Lewis said. "She died as she lived. Fearlessly."
Lewis' character didn't appear in Season Six. Instead, his nemesis Chuck Rhodes (Paul Giamatti) found a new sparring partner in Mike Prince (Corey Stoll), who took over Axe's hedge fund.
Season Seven is currently in production, which means all of Bobby's big reunions — from Wags (David Costabile) to Wendy Rhodes (Maggie Siff) — may be taking place as you read this.