"Daisy Jones & The Six" is a time machine back to the 1970s, complete with bell bottom jeans and classic rock. 
The Amazon miniseries, based on author Taylor Jenkins Reid's book of the same name, follows the formation of the popular (and fictional) rock group Daisy Jones & The Six before one Chicago performance causes the band to disassemble at the height of their fame.
"Daisy Jones & The Six," which airs its first three episodes on Prime Video on March 3, stars Riley Keough as singer-songwriter Daisy Jones and Sam Claflin as heartthrob Billy Dunne, lead singer of The Six. 
At the show's red carpet premiere in Hollywood on Feb. 23, Reid and Reese Witherspoon, who serves as executive producer on the series under her Hello Sunshine production company, spoke about the book's journey to the screen — and how they made it happen together.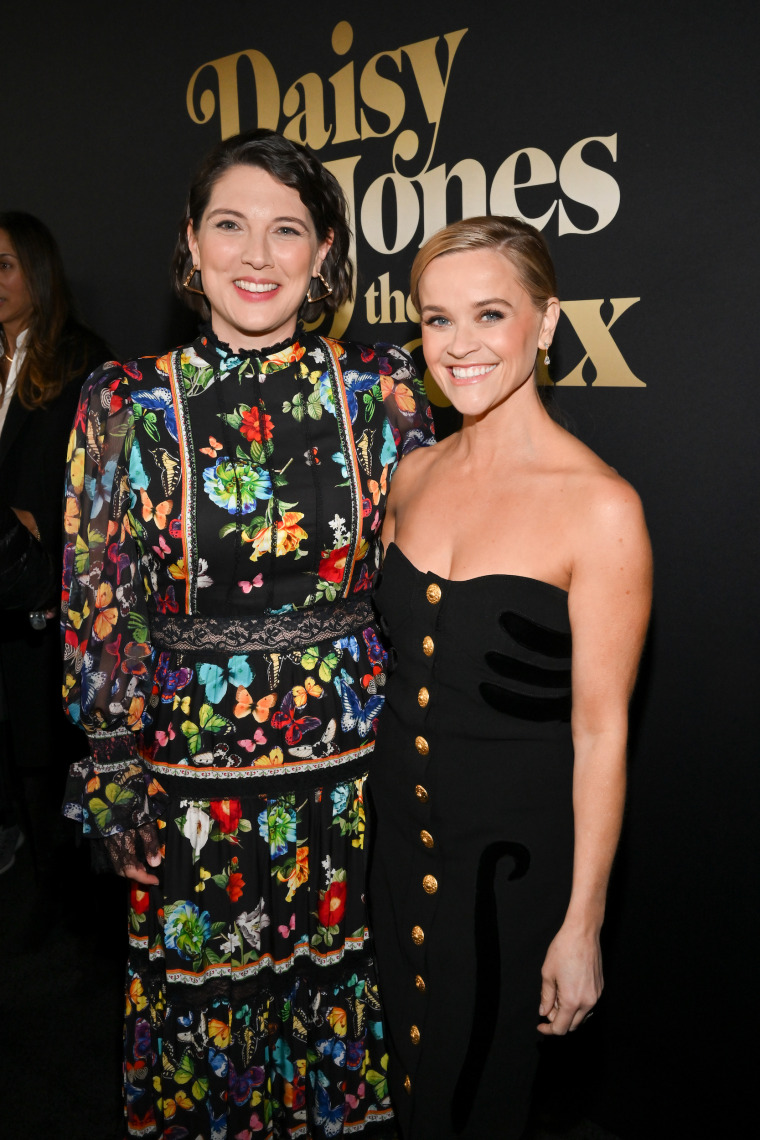 In 2019, "Daisy Jones & The Six" landed on the New York Times bestseller list and was selected as one of Witherspoon's picks for her book club. 
While on the red carpet event, which was held at the historic TCL Chinese Theatre, Witherspoon tells TODAY.com how the book first got into her hands.
The "Your Place or Mine" star says that she was on vacation when her producing partner Lauren Neustadter, who is also an executive producer on the upcoming Prime Video series, called her and said, "Stop whatever you're doing and read this book right now."
Witherspoon started reading "Daisy Jones & The Six'' and quickly understood Neustadter's fascination with the story. 
"It read like a movie or television show with back in time, but also had this great documentary footage angle too," the 46-year-old actor and producer says. "You got to see people talking about their life in a way that built this mystery."
Unspooling like a documentary, "Daisy Jones" reveals the reason behind the band's fallout through flashbacks. 
Witherspoon says the music, which was sung by the actors, will draw audiences in further and make them yearn for a time and place when artists "could create anything, particularly (albums), where you had to listen to every song in sequence."
To keep viewers invested in the drama and relationships between the band members, the show needed actors capable of resembling authentic 1970s rock stars.
Reid, who is also a writer and producer on series, says that when Keough auditioned for the leading role, there was no doubt she was up for the challenge. 
"Riley came on really early," she tells TODAY.com. "I think we all thought it was going to be really hard to find Daisy Jones because she's this really larger-than-life character. And then Riley showed up and immediately (we were) like, 'Oh, there she is. She is Daisy Jones.'"
She says, "I might have written the book for her and not have known it."
But having the perfect leading lady meant the producers had to find an actor who could be just as mesmerizing in a scene with her. 
"It took a little while to find that person. And I firmly believe that the reason for that was that we were just waiting for Sam Claflin," Reid says. 
Although Keough and Claflin were cast and their characters had a magnetic connection, it didn't mean the rest of the band would come together on camera.
Reid says she was surprised to feel the chemistry between the entire cast. 
"I don't think I've seen chemistry quite like this before."
Taylor Jenkins reid on Daisy Jones & The Six's cast chemistry
"I didn't see that coming. Not because I didn't think that it was possible, but because I don't think I've seen chemistry quite like this before," she says. "It's really beyond what I could have imagined." 
This is Reid's first novel being adapted to screen, but not the last. Reid said she was not nervous to watch her words come to life because she trusted Witherspoon, the Hello Sunshine team and all of the executive producers on the show to recreate what she imagined in her head. 
"We deserve a fun TV show to watch. That's what this is. I think regardless of whether you like '70s rock or you read the book, it's a fun ride," she says.
While watching the show, she hopes that viewers ask themselves the questions she contemplated when writing the book.
"We know that things have changed since this period of time. Have they just taken a different form? Have some of the hurdles that we put up for women, people of color, and other people just gone underground?" she asks. "I want to ask the question of: Yes, things have changed. But how much?"
It's a question at the center of another one of the author's novels, "The Seven Husbands of Evelyn Hugo," being adapted into a movie for Netflix. 
Although Reid did not share many details about the development process so far, she did confirmed that she will be teaming up with "Daisy Jones & The Six" exec Brad Mendelsohn again.
"Both of us are working day and night to make sure that 'Evelyn Hugo' can hold up to the high bar of 'Daisy Jones,'" she said.