The cast of "Daisy Jones & the Six" needed to channel their inner rock stars to bring author Taylor Jenkins Reid's popular book to life.
The show and the novel, a New York Times bestseller, tell the story of the rise and fall of a fictional 1970s band led by the ethereal singer-songwriter Daisy Jones and Billy Dunne, the dreamy lead singer of a rock band called The Six. 
The trailer for "Daisy Jones & the Six" and a couple songs off the show's highly-anticipated soundtrack have already given fans a glimpse at stars Riley Keough and Sam Claflin transformation into music icons Daisy and Billy. 
At the show's red carpet premiere in Hollywood on Feb. 23, Keough, Claflin and the rest of the cast spoke to TODAY.com about the real '70s legends who inspired their interpretation of the beloved characters. 
Keough, who is leading a series for the first time in her career, portrays Daisy as a determined, wistful singer looking to make her dreams come true.
The 33-year-old actor tells TODAY.com she wanted to capture Daisy's "essence" in her depiction of the character. 
"In the book, she's messy and she's unpredictable and she's wild," the granddaughter of rock 'n' roll legend Elvis Presley says from the red carpet in front of the TCL Chinese Theatre. "But I also wanted to figure out who she is underneath all of that."
She says she did not draw from one famous '70s musician but instead watched videos of multiple artists like Joni Mitchell, Cher, Stevie Nicks, Linda Ronstadt, Jimi Hendrix and the Eagles to transport herself back in time. 
Claflin says he had one particular music icon as his "focal point" for Billy's captivating performances: Bruce Springsteen.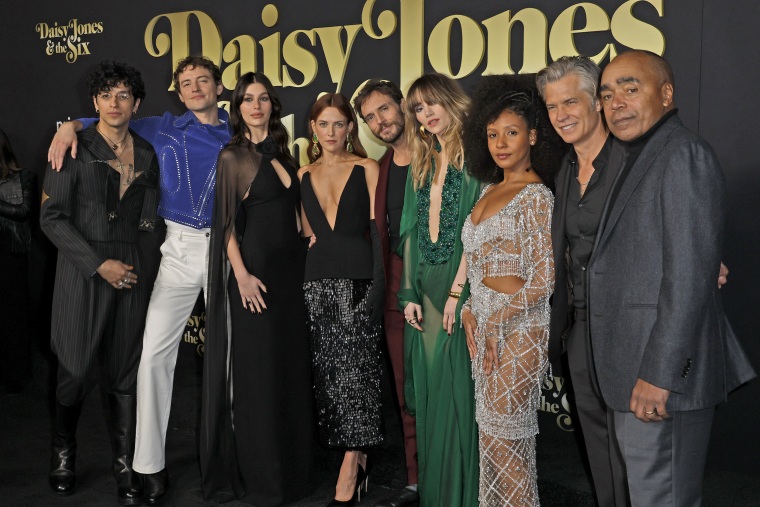 "I don't know that I can sort of say I channeled him much on stage but I did my best," he shares. 
He also says that most of his performance scenes required him to play off Keough because of their characters' undeniable chemistry. "Most singers are professional but Daisy and Billy are a bit obvious with their relationship," he laughed. 
They are not the only two characters that seem to have an instant connection. During their gigs and jam sessions, all the members of the group resemble an authentic, close-knit '70s band like Blondie, The Rolling Stones, or — naturally — Fleetwood Mac. Reid wrote in a blog post the plot is loosely based on Lindsey Buckingham and Stevie Nick's relationship and how it played out in Fleetwood Mac.
Josh Whitehouse, who plays Eddie Roundtree, says that the cast bonded after traveling to Sound City Studios in Los Angeles, where Fleetwood Mac recorded together, before filming began. 
"We were taken there straight away to rehearse and to learn all this music together. We had months and months of preparation together," Whitehouse says. 
Then, the COVID-19 pandemic hit, which delayed shooting ... and increased cast bonding. "It gave us an extra year and a half of spending time together," he says. 
By the time they started shooting, Whitehouse says the chemistry between his co-stars, whom he referred to as family, felt real. 
Tom Wright, who plays music manager Teddy Price, praises his cast members for the authenticity they captured in their performances.
He recalled his co-stars holding a concert for Hello Sunshine, the media company founded by Reese Witherspoon that produced the series, as Daisy Jones & the Six to mark their first public performance together.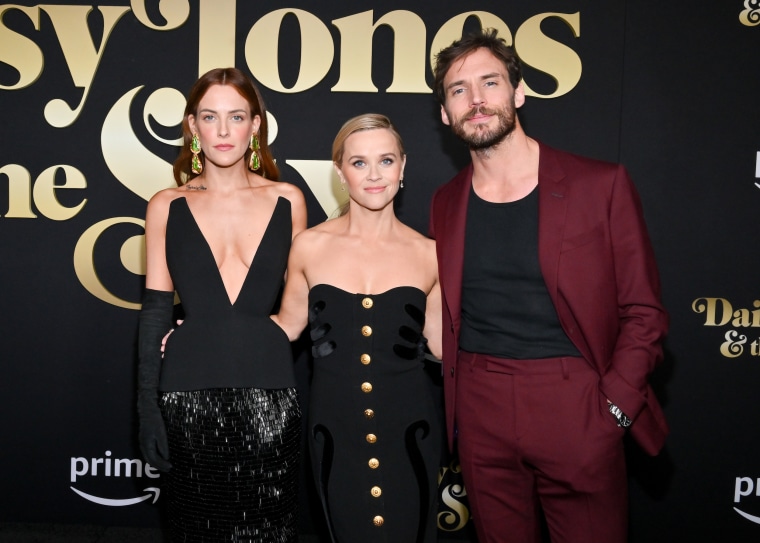 "I was very skeptical, thinking like, 'Well, we got some people who haven't sung much, who haven't played their instruments very often,'" he shares. 
The 70-year-old actor quickly changed his mind. "I was blown away. I was knocked out. They looked, they sounded and they felt like a real band," he says, who channeled legendary record producers Quincy Jones, Berry Gordy and Al Bell for his character. "And that's when I knew I was gonna have to step my game up."