The last new episode of "The Real Housewives of New York City" aired in August 2021, and while some of the ladies have used the time off the air to lay low and relax, Luann de Lesseps has continued to thrive as a performer through her cabaret.
The Countess, as she's lovingly still referred to by fans, began her nightclub endeavor five years ago, which de Lesseps describes to TODAY.com in a new interview as "a variety show" that "kind of morphed into" her own cabaret.
The show featured many guests, including fellow "RHONY" star Sonja Morgan, 'N Sync's Lance Bass, "SNL" alum Rachel Dratch, comedian Bridget Everett and Broadway star Tony Yazbeck.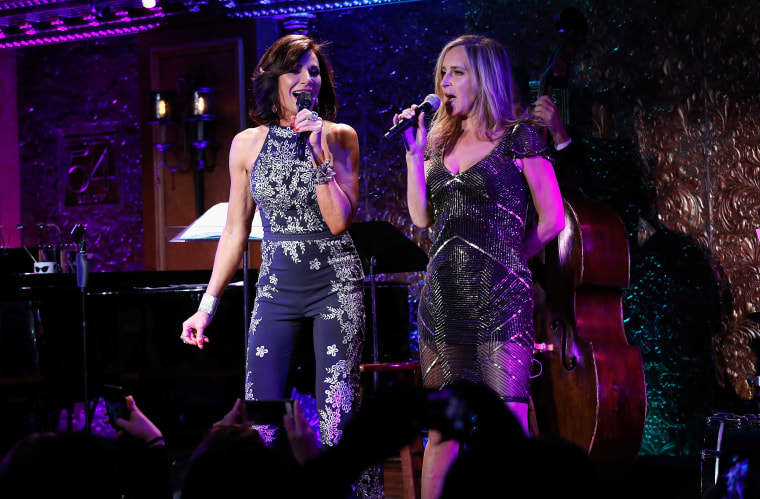 But de Lesseps eventually had a realization that led to the show turning into one that really became her own.
"I realized that when somebody else would come onstage, everyone would get on their phones, go to the bathrooms or get drinks," she explains. "So I realized that, really, they came to see me. And so, it morphed into my own show and, therefore, Countess Cabaret."
The show includes an "immersive" experience for the audience, de Lesseps says, complete with a Q&A and clips of "famous things that have happened" to her — and not necessarily bits that fans had seen on "RHONY."
The 57-year-old has been working with a new director, Richard Jay-Alexander, who has also collaborated with Kristin Chenoweth and Barbra Streisand, and, according to de Lesseps, was so blown away after seeing one of her shows, he told her she wears "a dress like nobody" he's ever seen and that she was "going to be a huge star." And then, de Lesseps' cabaret became part of a Live Nation tour.
"The fans are so supportive and amazing. They're just there to hold me up, and they love the show," de Lesseps says.
"I think the proof is in the pudding," she adds. "It's successful, and it's because I deliver. They come in maybe driving a flatbed Ford, and they drive out in a Rolls-Royce."
"It's successful, and it's because I deliver. They come in maybe driving a flatbed Ford, and they drive out in a Rolls-Royce."
Luann de lesseps on fans who attend her cabaret show
The fans have also been known to bring de Lesseps gifts. One of the more "creative" ones she received that she thought was "so funny" was a "tiny, little coffin" jewelry box where she could put her old wedding rings. De Lesseps' marriages were mentioned multiple times over the years on "RHONY." (Who could forget: "Please don't let it be about Tom"?)
Fans at the cabaret have seen de Lesseps cover Fleetwood Mac's "Dreams" and Bonnie Raitt's "Something to Talk About," which is accompanied by a video headlines package of what de Lesseps describes as "all the worst things that have ever happened to me." One of those "worst things" that may quickly come to the minds of many "Housewives" fans is when de Lesseps was arrested in Florida in December 2017 on charges of battery of an officer/firefighter/EMT and resisting arrest with violence, among others.
"When bad things happen to you, you just have to pick up where you left off and hold your head high and keep it moving," de Lesseps says.
She adds that her philosophy is "Viva La Diva," which is also the name of one of her songs.
"That's why I wrote that song," she explains. "It's really all about our inner strength and our love and passion for things."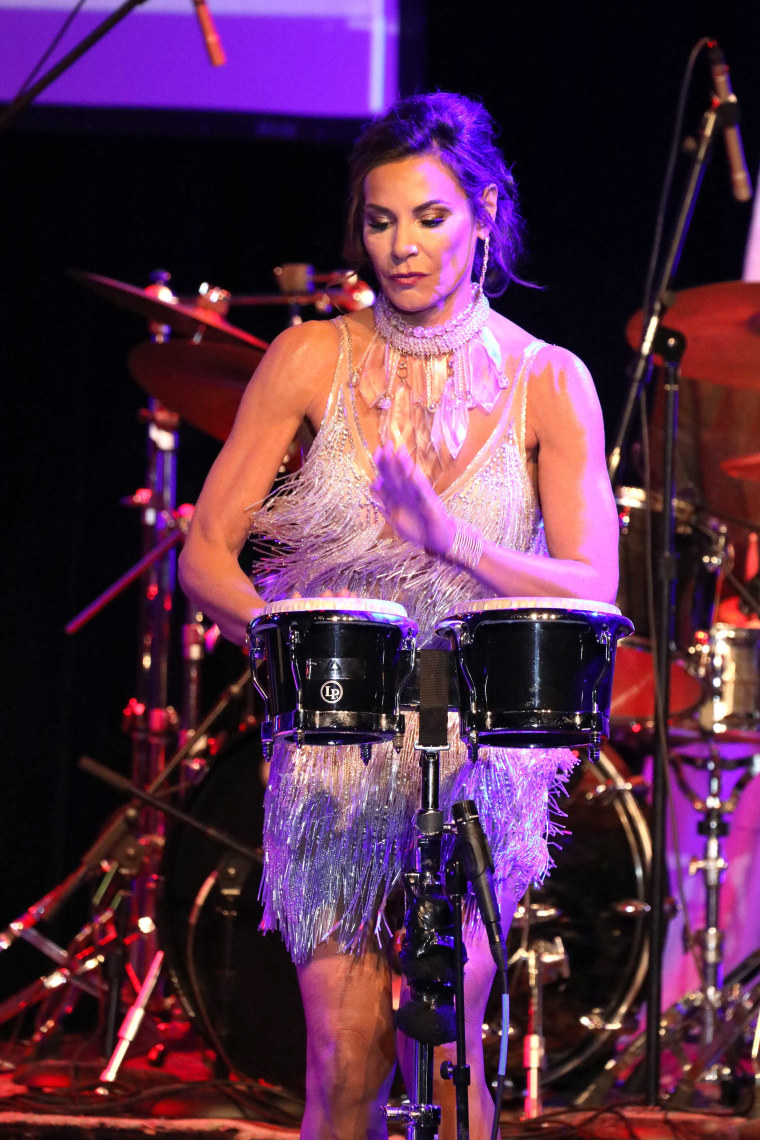 The "Something to Talk About" portion of the cabaret has become such a hit with the fans, we had to ask if the Countess has considered releasing that portion of her show on social media or even as a streaming special so people at home could see it.
"I would love to do that, and there's been talk about that," de Lesseps says. "So it's something that I have in the works because I would love for everyone to be able to see it."
She also hopes to continue taking her cabaret international to places like Australia and England after performances in Canada more recently. She says "it means such a huge amount" to her that "people from all over the world" want to see her show.
As for whom the Countess would love to cover that she hasn't yet at a show, she says, "Maybe something by Rihanna. Beyoncé — one of the fabulous divas out there."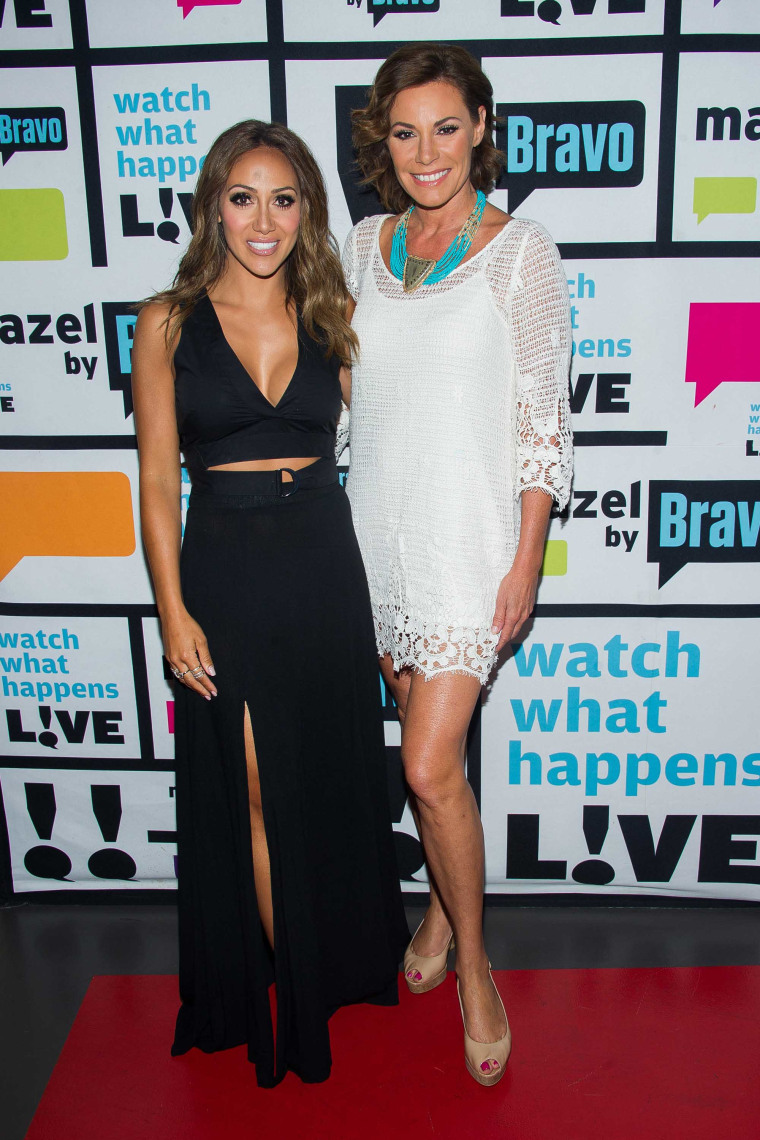 Many other "Real Housewives" have released music of their own, including Kandi Burruss ("Real Housewives of Atlanta"), Adriana de Moura ("Real Housewives of Miami") and Candiace Dillard Bassett ("Real Housewives of Potomac"). But if de Lesseps had to cover a song by another "Housewife," she'd choose one from a neighboring state: "Real Housewives of New Jersey" star Melissa Gorga's "On Display."
"'On Display' is kind of on brand for me," de Lesseps jokes.
As for her former "RHONY" co-stars, fans can expect to see de Lesseps reunited with Ramona Singer and Dorinda Medley soon as part of a one-night special filled with "love & laughter shared among friends."
"Until we start up '(RHONY) Legacy,' we felt like we want to see our fans, and our fans want to see us," de Lesseps says.
The trio recently came together for a meal and posted about the outing on social media.
"We were talking about how proud we are of our children," de Lesseps says. "My kids are both artists, Dorinda's daughter's at Harvard, which is amazing, and Ramona's daughter just started her own business."
It appears the antics that made the show entertaining are still playing out for the women in real life. She adds that Singer invited her to daughter Avery's launch party for her bachelor and bachelorette trip business, BachBoss.
"Ramona said, 'You have to come. I always show up for you.' I'm like, 'Ramona, I would love to be there, but I have a ski trip with my family I cannot cancel,'" de Lesseps recalls.
"It's so great through all this time in the years, we've seen our children grow up — even on the show," she says.
De Lesseps adds they also discussed "RHONY's" upcoming "Legacy" spinoff, which was announced nearly a year ago as another iteration of the show featuring original cast members. "RHONY" will still continue on Bravo with a brand-new cast, which was revealed in October 2022. There's already been drama with casts on both shows, as "RHONY" newcomer Lizzy Savetsky left the series after what she described as "a torrent of antisemitic attacks," and rumors began swirling online about "Legacy" falling through after Page Six published a story in January saying the series "is dead." The next day, "Real Housewives" executive producer Andy Cohen tweeted, "Don't believe everything you read," along with the hashtag #RHONYLegacy.
"We talked about how that we may be 'on pause,' but Bravo is like our family," de Lesseps says. "We are like family, and so we're going to figure it out."
"We are like family, and so we're going to figure it out."
luann de lesseps on 'Rhony's' upcoming 'legacy' show
One thing that is for certain is the return of "RHONY" OG Alex McCord for the fourth iteration of "Real Housewives Ultimate Girls Trip," which will take place in Morocco, the site of a famous "RHONY" cast trip in Season Four. Bravo fans immediately wondered how de Lesseps would respond to the news of McCord's return to the country, given an unforgettable scene between the two in Season Four that's referenced to this day by fans.
"What is that? Is that a buffalo coming down the stairs," de Lesseps famously says on the trip, as McCord loudly clomps into the room wearing heavy shoes.
At the time of the "RHUGT" announcement, de Lesseps posted the clip to her Instagram page, writing, "Well……guess who's out of the cabinet😂 @mccordalex Love this! ❤️ #RHUGT  Congratulations to all the #OG housewives! 👏"
De Lesseps says production called her from the plane saying they were going to Marrakesh.
"I'm like, 'Without me?!'" she recalls.
De Lesseps says she thinks "it's great" McCord is back even for a short period of filming. McCord currently lives in Australia with her family, and de Lesseps doesn't think her former castmate would ever come back to "Housewives" full time given the distance.
"I think a week of her time on this trip is kind of epic because I'm sure they'll show some flashbacks, and I think that the fans want to see her — what she's like now after all this time," de Lesseps says.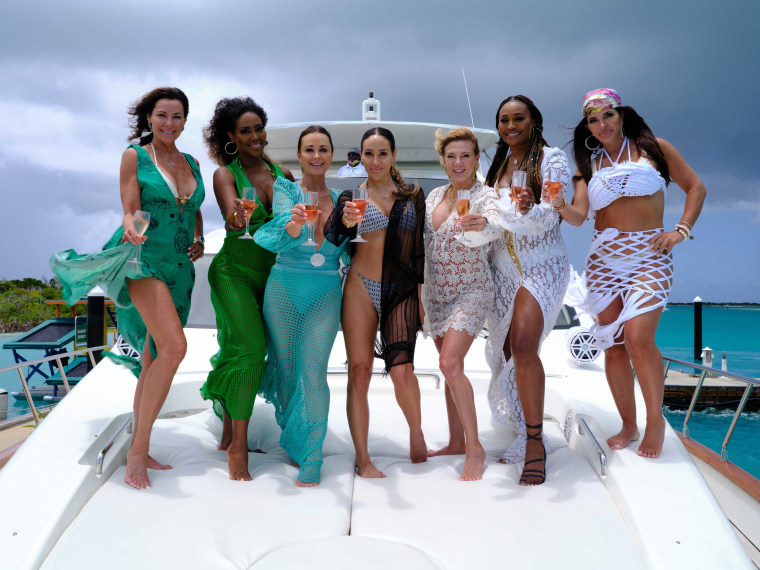 De Lesseps was one of the "Housewives" on the first season of "RHUGT," which took place in Turks and Caicos. If she were to take part in the show again, de Lesseps says she'd "love to go to Latin America" because it's a place she's never been but has wanted to visit.
"So like Argentina," she says, "I think we need to mix it up with some Latin boys: Don't you?"
"Latin action! Dancing," she continues. "Tall, dark, handsome men. So that would be my place to go."
As for who she'd like to take with her on the trip, de Lesseps says she'd like to go with "the OGs of 'New York.'"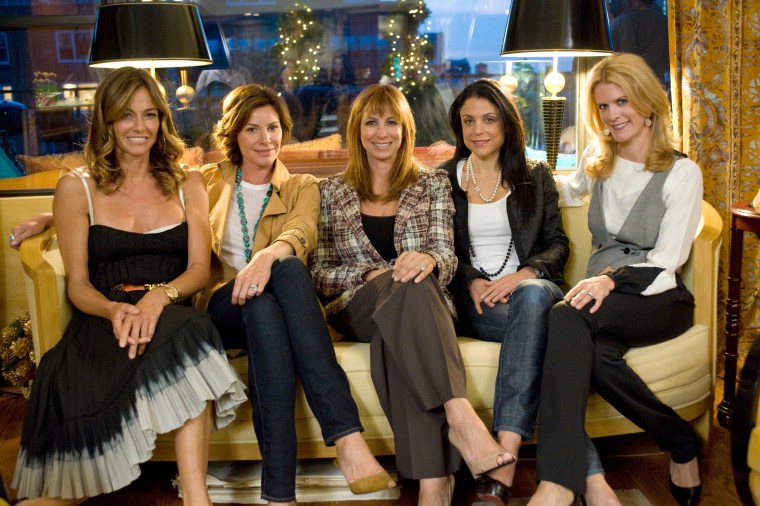 But not Bethenny Frankel, because "she doesn't want to be a 'Housewife' anymore, don't forget."
De Lesseps believes fans will soon see former "Housewives" like Jill Zarin and Kelly Killoren Bensimon come back on "Legacy."
"We are actually friends," de Lesseps says of the OG "Housewives," "and that is something you can't create, which is the chemistry between people that actually know each other."
"A lot of problems with franchises now sometimes is that they throw together people, and they're not really friends sometimes," she adds. "I think that makes a big difference, and I think people can feel that."
Fans will soon see de Lesseps reunited with one of her "RHONY" and cabaret pals, Sonja Morgan, on a new show this summer called "Luann and Sonja: Welcome to Crappie Lake," which she describes as "comedy."
And if she had to choose another "Housewife" to incorporate into her cabaret again, de Lesseps says she'd choose Medley.
"Dorinda's funny, and she's got all these great lines," she says. "A sketchy thing with Dorinda would be fun."
De Lesseps adds that Medley will also be attending one of her upcoming shows in New York this week. The Countess has a few stops left, including shows in NYC and one in Tarrytown on Feb. 25.
After wrapping up these shows, de Lesseps says she'll be back with a new cabaret called "Marry, F, Kill."
"I'm super excited because that will come on the heels of probably Sonja and I's new show," she explains.
"I'm thinking right now that I need to make a new song about 'Marry, F, Kill,'" she adds.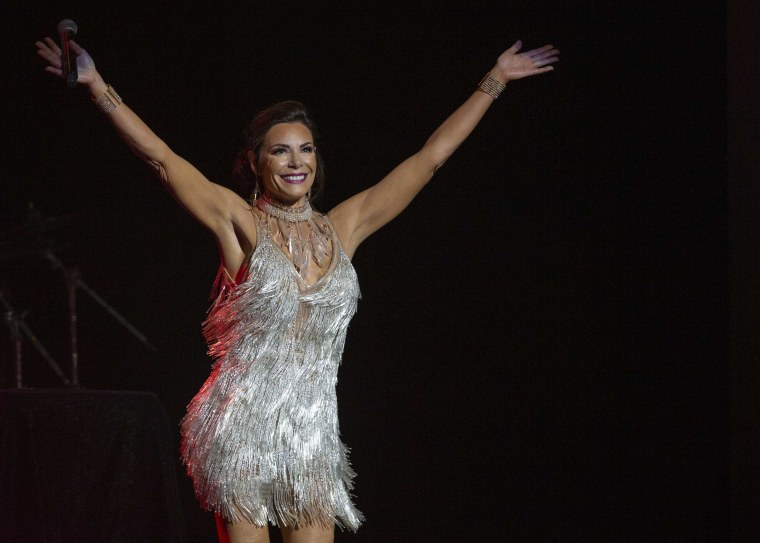 De Lesseps says if she could collaborate with an artist, she'd choose Cardi B, Pink or Fergie.
"They're all fans of 'Housewives,' so I would love to do a collab with one of these amazing divas."
At the mention of Rihanna, another "Housewives" fan, de Lesseps says, "Maybe I can get her to do a little vocal (on 'Marry, F, Kill'). That would be hysterical."
But for now, life will continue being a cabaret for the Countess.
"Cabaret is something that I love to do," she says. "I come there, I spread the joy! It's really just a fun night out: It's a party. Everybody has a great time."