Christina Applegate has revealed the poignant reason she struggled to watch the third and final season of "Dead to Me" and see herself on screen. 
Season Three of "Dead to Me" debuted in November 2022, more than two years after its sophomore season premiered, due to Applegate's multiple sclerosis diagnosis during filming.
Since the 51-year-old first publicly shared in 2021 she has MS, she has discussed the support she received from the "Dead to Me" crew and co-star Linda Cardellini as they shot the final season.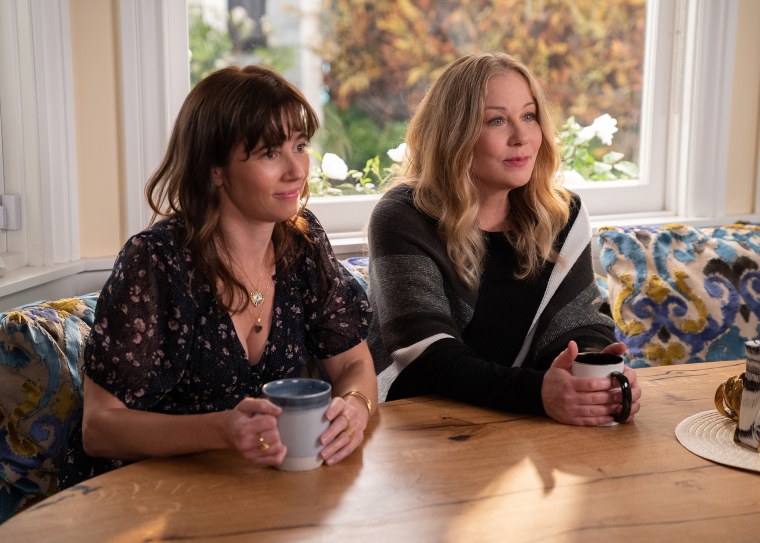 In an interview with the Los Angeles Times, Applegate opened up about why she found it difficult to revisit the show after they wrapped Season Three. 
She told the publication that she waited months before watching the final 10 episodes of "Dead to Me." 
"I don't like seeing myself struggling," she explained in an article published on Feb. 7. "Also, I gained 40 pounds because of inactivity and medications, and I didn't look like myself, and I didn't feel like myself."
Applegate said she watched the episodes by herself and she frequently took breaks when some moments were too agonizing. But, she eventually powered through to see the ending of Jen and Judy's story. 
"At some point I was able to distance myself from my own ego, and realize what a beautiful piece of television it was," she shared. "All the scenes I wasn't in were so much fun to see and experience for the very first time."
All of her emotional scenes, particularly the ones where Jen was caring for a bedridden Judy, resonated with viewers, who applauded Season Three on social media. 
Applegate's performance earned her multiple nominations, including one for female actor in a comedy series at the Screen Actors Guild Awards on Feb. 26. It is the third time her portrayal of Jen has been celebrated by her peers. 
Her attendance at the SAG Awards will be bittersweet. "It's my last awards show as an actor probably, so it's kind of a big deal," she told the Los Angeles Times. 
She added, "Right now, I couldn't imagine getting up at 5 a.m. and spending 12 to 14 hours on a set; I don't have that in me at this moment."
Applegate previously shared in an interview with Variety that she believes Jen will be her final big role. 
Instead of acting, she tells the Los Angeles Times she plans to focus on producing, developing projects and "doing a s---ton of voice-overs to make some cash to make sure that my daughter's fed and we're homed."
Her 12-year-old daughter, Sadie, whom she shares with husband and musician Martyn LeNoble, will be Applegate's date at the SAG Awards, according to the Los Angeles Times.
In January, Applegate attended the Critics Choice Awards, her first awards show since announcing her MS diagnosis, with Sadie. 
The actor posted photos from the event on Twitter that showed off her manicure honoring Jen and Judy. In a second photo, Applegate smiled while posing next to her daughter. 
"Critics choice awards nails," she wrote on Jan. 15. "It says Jen and Judy. And the other pic is of the best date ever … my rad daughter."
Related: