It's still the place where everybody knows your name.
"Cheers," one of the most decorated and beloved sitcoms in TV history, celebrates the 30th anniversary of its finale this year.
The show, about life at a Boston bar, won over fans during the first half of its 11-year run with the romance between Ted Danson's womanizing bartender Sam Malone and Shelley Long's snooty academic waitress Diane Chambers.
"I know that I got Sam in large degree because I worked well with Shelley, and Shelley was just dazzling, I think, as that character," Danson told Harry Smith in an interview with co-stars George Wendt, John Ratzenberger and show co-creator James Burrows that aired June 5 on TODAY. The group had just reunited at the ATX TV Festival in Austin, Texas.
There are many episodes that stand out, including a fifth season classic in which the gang from the bar spends Thanksgiving together, only for a food fight to erupt.
"Oh, my God. I don't think I've ever laughed harder," Wendt said of the Thanksgiving episode.
"Cheers," which won a total of 28 Emmys, continued to thrive, even as it endured high profile cast changes. Nicholas Colasanto, who played dim-witted bartender Coach, died after Season 3 was filmed and Long left the series after Season 5.
Enter the late Kirstie Alley, who replaced Long, playing Rebecca Howe, a wannabe high-powered businesswoman whose insecurities and inability to get ahead were constantly mined for laughs.
"I certainly was worried. 'Oh, I just lost my dance partner, Shelley. So will this even work?'" Danson said.
Work, it did.
"She was the funniest person, living on the edge of just total dissolving in to tears," Danson said of Rebecca. For her efforts, Alley won an Emmy in 1991.
"Cheers" enjoyed a staggering 11-season run. Les Charles, who created the show with his brother, Glen Charles, and Burrows, says he had no idea the show would last as long as it did.
"In the beginning, we were just desperate to get — we had 13 on-the-air episodes, and there was a possibility of nine after that," he told Smith. "And we were just praying for those nine episodes, we're just hoping we could get a full season in. So it looked better on our resume that we went 24 episodes.
And I don't think we ever thought — I thought if we could get five years in, I'm gonna feel really good about this show. I had no concept in the world, this could be the success it was. And every year it went, I was more and more surprised. It's a long time. Eleven years.
"Cheers" also threaded a needle with a cast of zany characters that mixed ordinary Joes with intelligent characters, like Kelsey Grammer's Frasier Crane. As a result, some of the jokes could've easily gone over viewers' heads.
"We did surefire jokes about Schopenhauer and Kierkegaard and Pomme de Terre," Burrows said.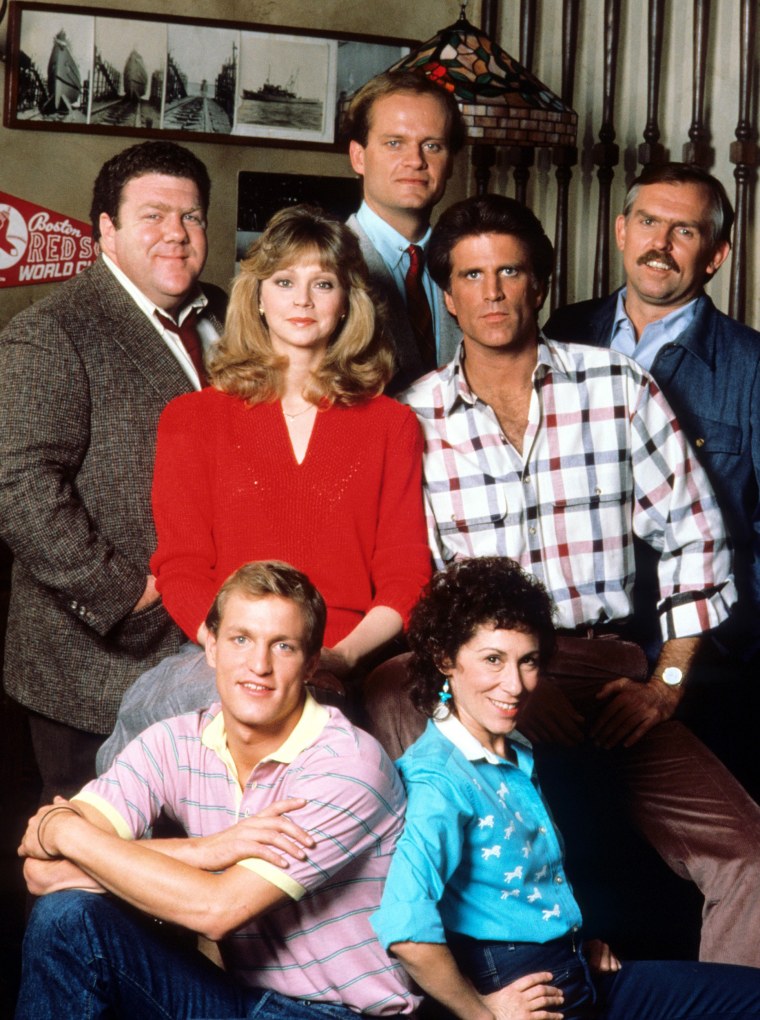 "Cheers" was not a hit right out of the gate. The pilot finished in 60th place out of 63 shows. Still, those working on the show had a sense something special was happening.
"Well, our early readings, as has been alluded to, we're abysmal and finished way down all the time until the summer remanence came around," Glen Charles said. "But we knew, and I think the cast knew, that we were doing something good because we had a live audience every week. This before the show was even on television. And the live audience was giving a response — they knew these characters, even though they had never seen them on television.
"They recognized them and laughed at them. And that was a good feeling. So we knew that this was our bottom line. If we're not successful when we get on the air, we at least have something to show on our resume. We can show them this."
The sitcom did wind up building a fan base that other shows could have only hoped to have.
"It didn't really hit me until we went to Boston, like the fifth year, and they were going to throw a big parade for us and whatever," Ratzenberger recalled. "I'm thinking, 'Great. Who's going to show up at a Wednesday afternoon?' It was a sea of faces of heads, as far as you can see, and that's when I was really speechless."
The show, which spawned the megahit spinoff "Frasier," remained true to its roots right until the very end, when 90 million viewers watched the finale.
A famous scene features Sam adjusting a photo on the wall of the bar, a subtle acknowledgement of Colasanto.
"When Nick died, Colasanto, and when we came back the next year, he had had a picture famous photograph, a sepia, of Geronimo. And we wanted it on the set. I love the little nod of straightening that because it is a nod to Nick."