Sarah Jessica Parker knows how to keep her followers on their toes.
The actor got "Sex and the City" and "And Just Like That" fans talking after she posted new photos of Carrie and her former love Aidan Shaw — portrayed by John Corbett — kissing in the middle of a New York City street.
"This. Is. Not. A. Drill," the actor wrote alongside her Feb. 9 Instagram post, adding, "X, SJ."
The post also includes a photo of Carrie holding Aiden's face as he whispers in her ear. The third snap shows Carrie with her arms wrapped around Aiden as he hugs her.
The "And Just Like That" Instagram also shared the same photos, writing, "And just like that Carrie is back on her tip toes."
HBO Max also commented on Parker's Instagram, "Not a drill but a dream come true."
Fans quickly took to the comments section to share their feelings. Andy Cohen wrote, "I'm freaking."
Gwyneth Paltrow wrote, "NO WAYYYYYY," while actor Rachael Harris added, "Dead."
"Please don't play with our emotions like this on a Thursday," Lena Waithe wrote. Meanwhile, Adrienne Bailon-Houghton commented, "Omg my heart is so happy!"
This marks the second time that Parker has shared a photo of her character with her former flame. The first time was back in January when she posted a snap of Carrie and Aiden holding hands.
"Shh. Don't tell anyone," she captioned the Jan. 13 post.
There have been no official details from HBO Max about the second season of "And Just Like That." However, earlier this month, Parker did tease a "happy reunion" between Carrie and Aiden.
"It's so nice," Parker told Extra about reuniting with Corbett and filming together. "It's so happy. He brings a lot of joy."
"He's a kind of preternaturally happy person and he's so excited to be back and it's an amazing storyline that Michael (Patrick King) and the writers have sorted out and I think will be really meaningful to the audience who feel a lot of affection for him," she continued. "I can't say anything except, it's just really great to be in his company again and to have a storyline, though, that is also happy and fun and familiar."
Additionally, photographers have already snapped several photos of Corbett on the show's set.
In a Feb. 1 photo, he is seen filming what appears to be a dinner scene with Parker, Kristin Davis, who portrays Charlotte York, and Cynthia Nixon, known as  Miranda Hobbes.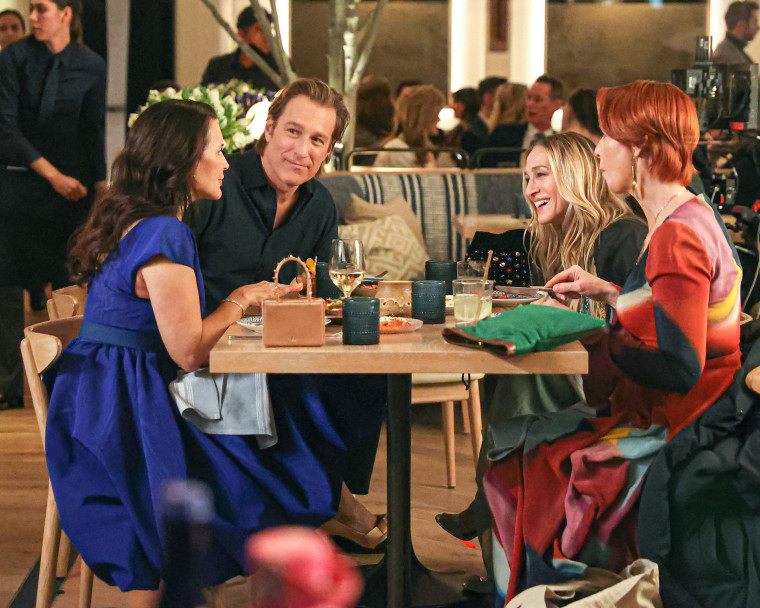 Carrie and Aiden famously dated on and off during the original series, eventually getting engaged. However, they called things off and went their separate ways. Aiden would return in "Sex and the City 2," where he shared a kiss with Carrie and revealed that he had two children. 
As for Carrie, she married Mr. Big (Chris Noth), who ultimately dies in the revival series.
Fans will have to wait to see what happens between Carrie and Aiden, as well as find out when "And Just Like That" returns. HBO Max has yet to announce a premiere date.